2022 Spring & Summer Events & Activities
John is now doing Public Speaking for Special Occasions and Events. For more Information click HERE.

You can view the fun events and activities of the 2022 Winter Events by Clicking (HERE)
* We had an awesome winter of 75 days of skiing with friends at Mountain Creek. We are now ready for a fun summer with more friends.
Golf will again be one of our activities with Buffy and John competing for the 2022 golf season honors as in past years. The chart below shows the outcome of last year's competition with John winning the end of your B&J Championship by just one stroke.
* Flag day was celebrated on Tuesday, June 14th by a visit from BigSis Peg Whiting and a fun lunch on the deck with a delicious pizza provided by Peg and home made desert and ice cream.
| | |
| --- | --- |
| John & Buffy celebrate Flag Day on the deck with Big Sis Peg | John is happy to celebrate Flag Day with his sister Peg |
* Buffy & John played their 1st round of golf for the season at Black Bear Golf Club on Monday, June 6, 2022. As noted above, Buffy won low net 91 to John's, she won match play 6 to 7 and scored a closest tot he pin for a beer. John won low puts with 34 putts to Buffy's 35.



Buffy & John take a beak on the par 3 11th hole.
* Buffy & John visited the 1st day of the Vernon Makers Market on June 4th to see the wares of local craftsman and the beautiful pottery created by friend Martha Boshart. The photos of that visit capture the visit, meeting the Mayor of Vernon and friends at Heaven Hill Farm.
| | |
| --- | --- |
| Buffy with friends and Mayor Howard Burrell and wife Reba | John & Buffy with craft person Martha Boshart |
* Memorial Day has been traditionally spent upstate with Buffy's family. With bad weather scheduled for Sunday and no softball game we decided to stay local and spend Monday, Memorial Day at one of our favorite adult beverage spots on Greenwood Lake called Emerald Point with friends.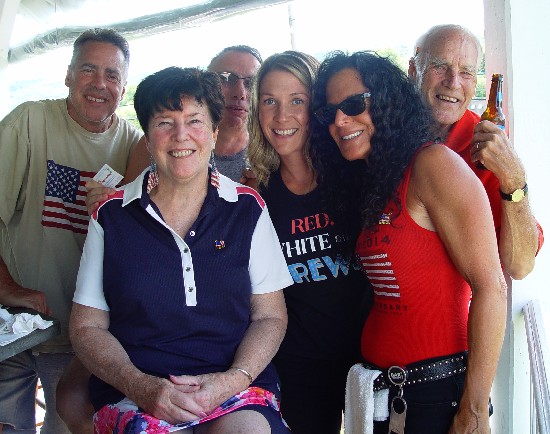 Buffy & John with bartender Angie and friends at Emeral Point
* We are looking forward to a fun summer but took a trip to BIGSnow with ski buddies Bonnie and Rich Calak to celebrate the reopening of the indoor ski area following a fire in September of 2021. The photos capture the fun.
| | | |
| --- | --- | --- |
| Buffy & John, Rich & Bonnie with Owner Joe & GM Mark | Ready to take a run at the top of the BIGSnow slope | The view or the slope from the lift |
* If you know a woman who might enjoy golf give her the gift of John's 15th book "The Women's Guide to Learning to Play Golf for Fun!". The book was written to provide women, wives, and girlfriends who may wish to join their friends, husbands, and boy friends for a fun round of golf. The book details how to make learning to play golf easy and fun. The book is available online at Lulu.com in paperback and eBook editions.