| | |
| --- | --- |
| Buffy, John, Sandy and ski buddy Lou practicing Rule #1 at Tony's | Buffy with golf buddy Dudley, Lisa and little John |
* After a long time in semi-isolation (exception - golf) Buffy and John were invited to visit their ski buddy friends Bonnie and Rich at their beautiful home in Westtown, New York to enjoy a few adult beverages and some goodies prepared by Bonnie. Buffy brought along a sample of her homemade "Buffy's Irish Cream" to toast our blessings and good health. The talk was of fishing, skiing, a bit of golf and family with the conclusion that we are blessed to have good friends and healthy families in the face of COVID-19.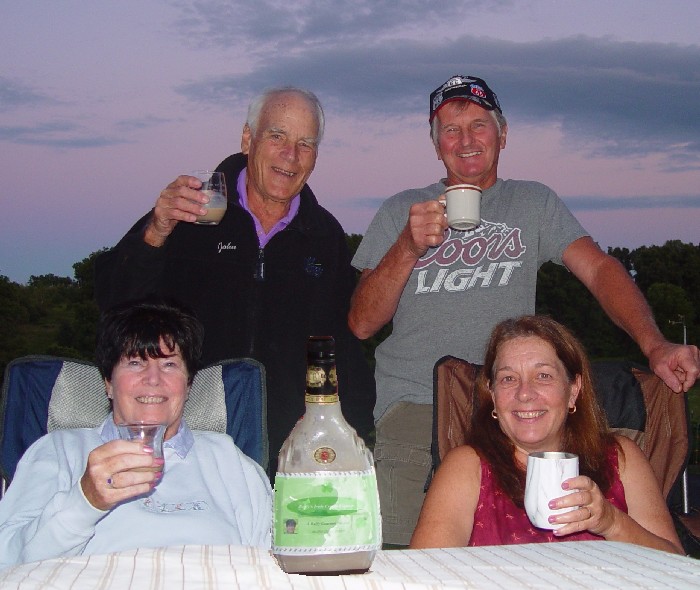 Buffy, Bonnie, John and Rich enjoy Buffy's Irish Cream to toast our good health and friendship
* Buffy and John were the guests of golfing buddy Pete De Graaf and Steve Van Dyk at the Jack Nicholas designed Mansion Ridge Golf Club on Wednesday, August 5th. It was a beautiful day on a beautiful golf course while complying with the COVID-19 Task Force Guidelines. Thanks Pete for another fun day!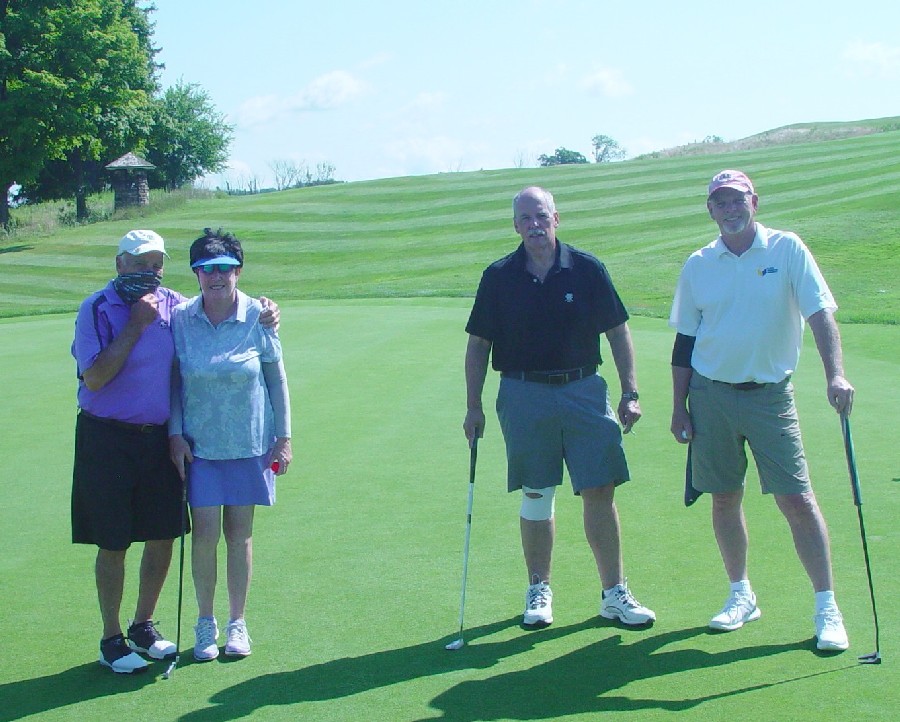 Buffy &John try to maintain social distance from golfing buddies Steve and Pete at Mansion Ridge Golf Club
* Buffy and John celebrated the birth of America, July 4th, socially distancing on the Ballyowen Golf Course and then toasted America with their friend Luis, Food & Beverage Manager on the deck of Owen's Pub with a few adult beverages and lunch. Later they toasted America again with some of Buffy's homemade Irish Cream Liqueur and a slice of Buffy's homemade lemon cake. Happy Birthday America! With all its faults we are blessed to be Americans.
| | |
| --- | --- |
| Buffy & John toast America's birthday with a glass of Buffy's Irish Cream Liqueur | Yes, Buffy made the sweetest Irish Cream Liqueur used to toast the 4th of July |
* John celebrated Father's Day remembering his Dad, Marion T. Whiting, his children, Brad and Denise, playing golf at his favorite golf course Crystal Springs. He was then treated to a delicious Father's Day dinner on the deck of their Hidden Valley home topped off with a homemade apple pie and homemade ice cream. It was a wonderful Father's Day!
| | | |
| --- | --- | --- |
| John's father Marion enjoying sailing | Father John with son Brad playing cards | Father John with daughter Denise hiking |
| | |
| --- | --- |
| Father's Day at Crystal Springs with Buffy | A Father's Day toast on the deck at home at Hidden Valley |
* Buffy and John celebrated Memorial Day on the Black Bear Golf Course with Buffy taking the win in low net and low and match play and John winning closest to the pin and low putts. They continued the celebration with a romantic dinner on the deck of their home at Hidden Valley featuring shrimp on the barbie and some of Buffy's delicious homemade Grand Marnier. She has become and expert at making better than original homemade cordials.
| | | |
| --- | --- | --- |
| B&J toast Memorial Day with Buffy's homemade Grand Marnier | The shrimp on the barbie cooked by John were delicious. | Buffy and John were joined bay a friendly Humming Bird. |
* Buffy and John ended 69 days of staying at home by playing their 1st round of golf at the Wild Turkey Golf Club. The results posted above indicate that they tied in every category except closest to the pin which Buffy won by her closest to the pin shot on the 14th par 3. Of course they complied with the COVID-19 guidelies.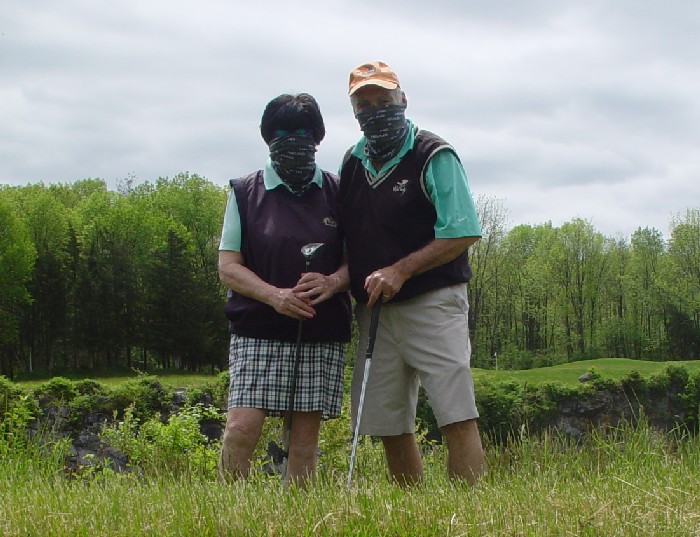 Buffy & John wearing their masks on the beautiful par 3 7th hole at Wild Turkey
* On Sunday, May 3rd Buffy and headed back to Hidden Valley Lake to see if their fishing luck had changed. It did. Buffy caught two fish and John caught one. The pictures below document their success with a little help from Photoshop on the size of Buffy's 1st fish. This was to show up our fishing buddy Lou. Her second catch is more like the first she caught. It was a beautiful day at the lake. Just the two of us and no Coronavirus.
| | |
| --- | --- |
| Eat your heart out Lou. Your fish was bait compared to this monster. | John's only catch. Don't ask why he has pants rolled up and no shoes. |
| Buffy shows off her second catch. | John keeps trying but he is unable to compete with Buffy. |
* Inspired by our fishing expert Lou, Buffy and John tried their luck fishing at nearby Hidden Valley Lake. It was a beautiful day but the fish were not biting. However it was fun and we will try it again when the fish are hungry.
| | |
| --- | --- |
| Buffy showing her expert fishing form. Too bad the fish didn't know. | Buffy & John take a fishing break at the beautiful Hidden Valley Lake. |
* What do Buffy and John do after over 40 days staying home - they go to the Flat Brook to watch their friend and ski buddy Lou fish while maintaining social distancing (most of the time). We enjoyed a couple of adult beverages and a picnic while Lou did all the work. He even caught a fish.
* The COVID-10 pandemic required that Easter Sunday be celebrated in isolation. However families got together via the Internet through a Zoom conference.
| | |
| --- | --- |
| Easter bunnies Buffy & John enjoy a Zoom conference with family | Family members participated in the Easter celebration via Zoom |
| John & Buffy in their Easter Bunny ears | Three of Buffy's knitted friends joined the Zoom family Easter conference |

* If you are thinking about Christmas gifts for your wife, John has published his 15th book "The Women's Guide to Learning to Play Golf for Fun!". The book was written to provide women, wives, and girlfriends who may wish to join their friends, husbands, and boy friends for a fun round of golf. The book details how to make learning to play golf easy and fun. The book is available online at Lulu.com in paperback and eBook editions.