2015 Memories of Summer Events & Activities
* The end of the year was also filled with rewarding activities and fun. We held an Adaptive Sports Program at Mountain Creek meeting on December 30th which resulted in the signing of the partnership between Mountain Creek and Helen Hayes Hospital along with the signing of the bylaws and the election of Directors for the Adaptive Sports Program at Mountain Creek 5001(c)(3) non profit orgainization with John elected President and Buffy elected Secretary/Treasurer making it possible to kick of the ASP-MC during the 2016 ski season. That evening Buffy and John met some old Hidden Valley ski buddies at the Allendale Bar and Grill to celebrate a great 2015 and an even better 2016!
| | |
| --- | --- |
| The ASP-MC Board of Directors elected December 30th, 2015 | Hidden Valley ski buddies Super G, John, Davey Wiley, Buffy, Jack Powers & Scott Burge celebrate friendship & good times. |
* Buffy's sister Irene hosted 2015 Thanksgiving at her home in Saugerties New York. It was a great time to celebrate the Holiday Season with friends and family. Thanks Irene for a wonderful Thanksgiving.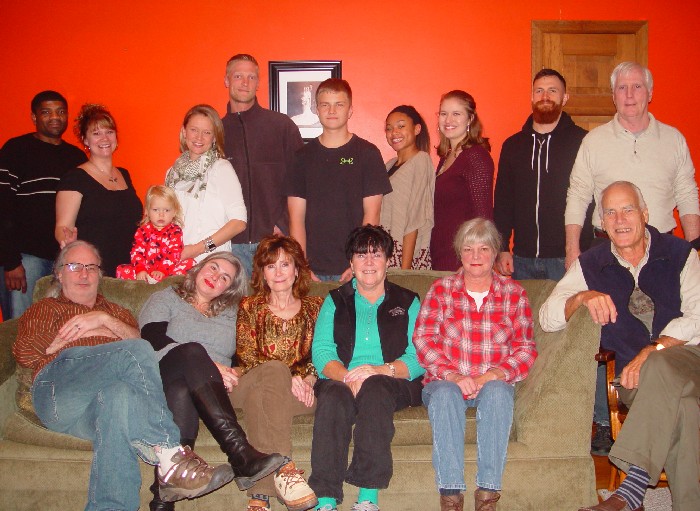 * Buffy & John have been competing in a season long head-to-head golf tournament for the 2015 golf season. The competition is played against GHIN handicaps with each match contested for low net, match play, closest to the pin and low putts honors.
The chart below reports on the end-of-season outcomes of this competition. Buffy has dominated the 2015 with low net wins 51% of the time against John's 41% win record. Buffy also dominated the match play completion with a win record of 39% to John's 29% win record. John was able to win both the closest to the pin and low putts competition.
A traditional "The Annual Buffy & John Invitational Golf Championship" was played on October 12th at the Wild Turkey Golf Club. John scored a 81 to Buffy's low net score of 90 to win the low net competition, won 7 holes to Buffy's 1 hole to win match play, had 2 closest to the pins to Buffy's 1 closest to the pin to win closest to the pin and he also won low putts with 33 putts to Buffy's 36 putts. This was the first time a sweep was achieved in this competition.

* The golf season is coming to an end with Buffy & John participating in end of season tournaments such as the Crystal Springs Crystal Cup Championship and the Hickory & Scotch Tournament at Ballyowen Golf Club. Buffy ended up capturing 2nd place in the Crystal Cup Ladies Division. Photo albums of these events can be viewed on Golf Event Photos Facebook by clicking HERE.
| | |
| --- | --- |
| Buffy & John with teammates Jose & Izzi at the Hickory & Scotch Tournament at Ballyowen GC | Buffy receives 2nd place honors in the Ladies Division - Crystal Cup from Mark & Adam |
* Bring the kids up right! On Monday, September 14th Buffy & John practiced that rule by inviting son-in-law Patrick and grandson Reilly Jones to play golf at Minerals Golf Course. It was a beautiful day in spite of the fivesome of ladies in front of us who took a hundred swings on each hole making for a slow round.
| | |
| --- | --- |
| John & Buffy with son-in-law Patrick and grandson Reilly Jones at Minerals Golf Course | Reilly Jones tees off at the par 3 4th hole on Minerals Golf Course showing great form |
* Another fun family event is Labor Day upstate with Buffy's family and friends and taking the the traditional family and friends photographs at the ball field and at Irene's at the party.
| | |
| --- | --- |
| The traditional Labor Day Family & Friends Photograph at the softball field following the game. | The party continues at Irene's home. Thanks Irene! Markie could not wait to eat (front row) |
* We celebrated our 32nd Wedding Anniversary with the traditional round of golf at Ballyowen Golf Club (Buffy won - again), an overnight stay at the Grand Cascades Hotel at Crystal Springs Resort and a romantic dinner at Milano's Restaurant with our friends Tony and Suzan.
| | |
| --- | --- |
| Buffy & John with Ballyowen Starter on their 32nd Anniversary | Buffy & John with Suzan & Tony at Milano's for a romantic dinner. |
* Recently celebrated the birthdays of John, Buffy, sister Anne and Sister Peg at on of our favorite restaurants, Portofino's on Berkshire Valley Road with owner Mendy and staff. It was fun. We are not getting older just more relaxed.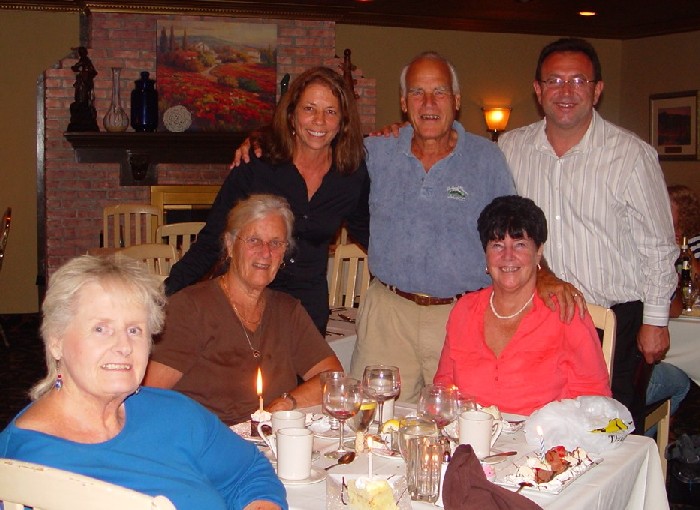 Sisters Anne & Peg and Buffy (sitting) Portofino's Hostess, John & Owner Mendy celebrate birthdays.
* During the week of August 5th through the 12th Buffy & John combined attendance at Joel & Jennifer's destination wedding in the Florida Keys with a vacation to Key West and surrounding sites. It was a BLAST!
| | |
| --- | --- |
| Buffy & John tour Key West before the BIG wedding | Buffy & John say "Hi" to George the bartender at Hogs Breath for Joe & Diane |
| Jen & Joel's wedding was on the beach and spectacular... | Including the fireworks that celebrated their SPECIAL day! |
* On Tuesday, July 24th Buffy & John played in the Bergen County Scramble with golfing buddies Pete and Dave held at the Darlington Golf Course in Mahwah, NJ. John photographed the golf course for his book "The Search for the 50 Most Beautiful Golf Holes in New Jersey. The photos of the Darlington Golf Course can be viewed on Golf Event Photos Facebook by clicking HERE. You can purchase a copy of the book in hardcover or eBook format at Barnes & Nobel, Amazon.com or Lulu.com. It was another fun day on the golf course.
| | |
| --- | --- |
| Pete, Buffy & Dave - Darlington Golf Course Bergen Scramble Tournament | The par 5 hole #15 at the Darlington Golf Course |
* On Monday, June 29th Buffy and John joined friends Pete and Sean to play in the 21st Annual Holy Name Golf Outing at the famous Hackensack Golf Club founded in 1899. No trophy but it was fun.
| | | |
| --- | --- | --- |
| Buffy makes great chip to the pin! | Pete, Buffy, John & Sean enjoyed a great day of golf. | John putts for birdie on the 18th hole. |
* The Father's Day weekend was busy with Buffy & John playing in and photographing the Crystal Springs Brews n Birdies Golf Tournament on Saturday followed by the Beer & Food Festival. We photographed the Father's Day Parent/Junior Golf Tournament on Sunday. It was a fun weekend and Buffy took home the Lady's Longest Drive prize in Saturday's event. The beer was good too.
| | |
| --- | --- |
| Buffy wins Lady's Long Drive and a golf bag to give to John for Father's Day | Buffy & John with Team Mates Ed & Elaine, friend Marge & Kohler Girl Tracie |
* The 2015 21st Annual Hidden Valley Closed Golf Classic was played on May 9th at the Hidden Acres Golf Club. Visit the www.hvclosed.com web site for more details. Photos of the event can be viewed on Buffy & John Whiting Facebook by clicking HERE.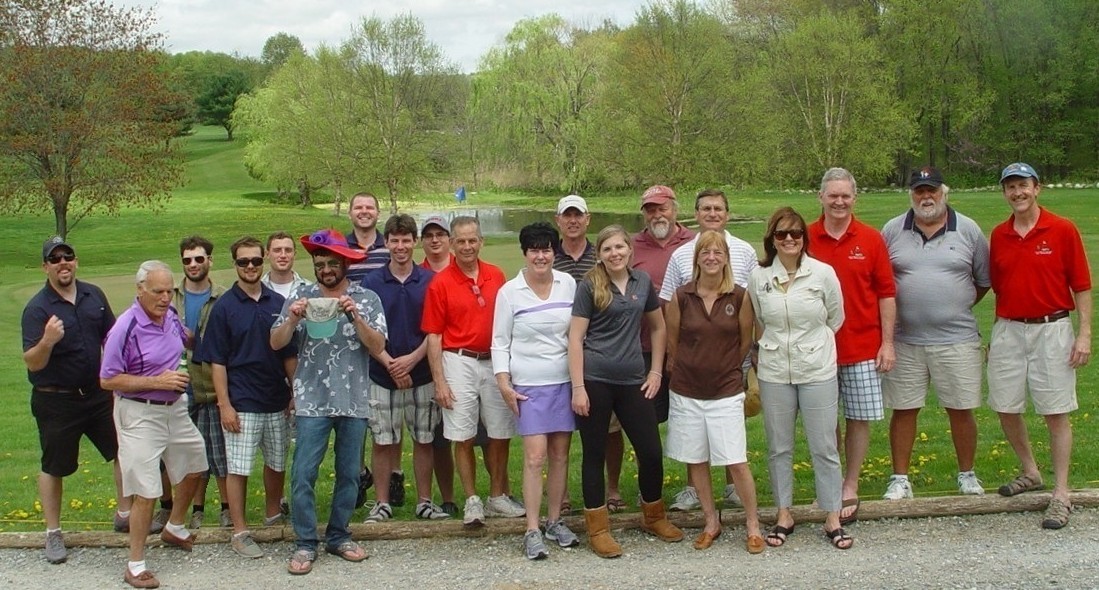 Golfers ready to party at the Flatbrook Tap House following the 21st 2015 Hidden Valley Closed Golf Classic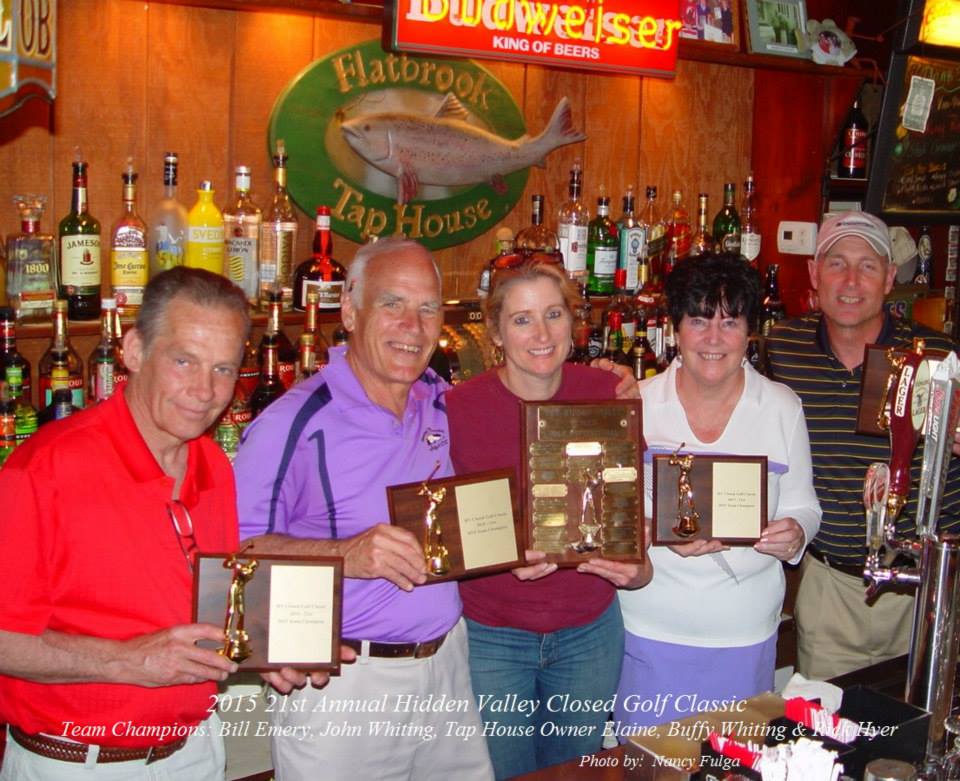 The 3-peet winners of the 21st HV Closed Golf Classic: Bill, John: Elaine (Tap House Owner) Buffy & Rick
Interested a personal or business web site. Click

HERE. Copyright 1998 © Dr. John T. Whiting/E-BMC E-Business Management Consulting
All Rights Reserved
Last modified: