FLASHBACK - SOUND MIXER DICK VORISEK, AD CIRCA 1967
WORKED ON 6 DE PALMA FILMS - SISTERS, CARRIE, THE FURY, BLOW OUT, DTK, & THE UNTOUCHABLES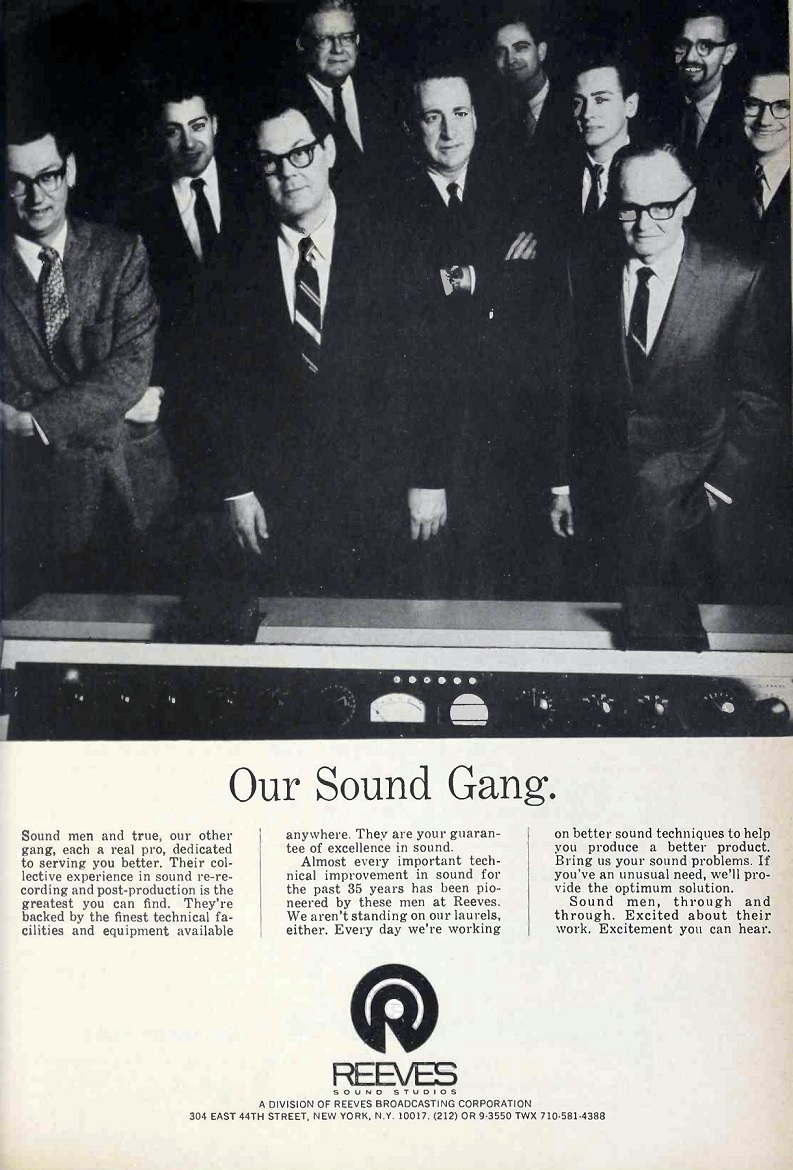 Eric Dienstfrey shared this advertisement on Twitter
, adding some interesting trivia. The ad for Reeves Sound Studios, according to Dienstfrey, is circa 1967. In the 1950s and 1960s, Reeves "was the premiere post-production sound facility in NYC," Dienstfrey continues. "The man in the front row with the glasses is
Dick Vorisek
. In the 50s, he mixed all of Cinerama's seven-track surround sound releases, and in the 60s he'd mix the bulk of
Sidney Lumet
's and
Elia Kazan
's movies. In the early '70s he and his brother Jack formed their own post-production studio, Trans/Audio, which was located in the same building as Studio 54. There they'd continue mixing Lumet's films as well as the soundtracks for
Brian De Palma
,
Robert Altman
, and
Elaine May
. In any event, this photo was taken circa 1967, around the time when Reeves tasked Vorisek with mixing
Mel Brooks
's
The Producers
. This crew of party animals mixed 'Springtime for Hitler'."
Not only that, but Vorisek worked on De Palma's Blow Out (1981), as well as Dressed To Kill (1980). Having worked with De Palma since Sisters in 1973, and then through Carrie (1976) and The Fury (1978), one wonders if Vorisek might possibly be the sound person who De Palma asked, during Dressed To Kill, to get some new sounds, thus sparking the idea that sets off Blow Out. Vorisek worked one more time with De Palma, on The Untouchables in 1987, which was written by David Mamet. Vorisek's final film was Mamet's excellent directorial debut, House Of Games, from that same year. He died two years later, in 1989.