EDGAR WRIGHT CONTRASTS PAST & PRESENT IN 'SOHO'
REMEMBERING THE MARQUEE, AND 'MOD', A LOST FILM FROM FINLEY, DE PALMA, FIORE, RUBIN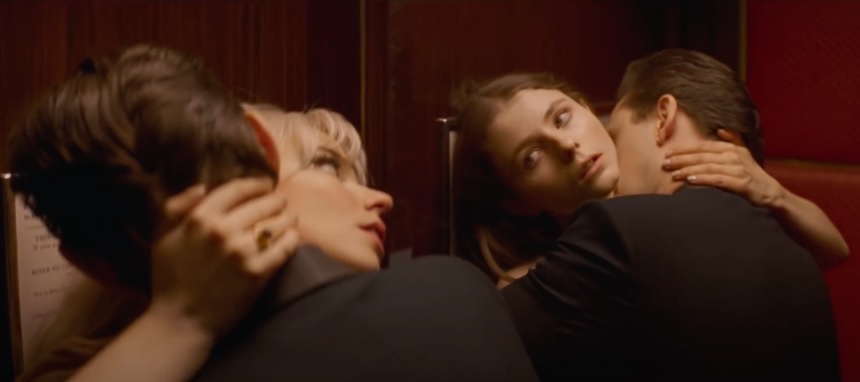 MovieMaker's Tim Molloy
posted an article today about
Edgar Wright
's new movie,
Last Night In Soho
:
"I sort of have this ongoing fantasy, like a lot of people do," says Edgar Wright, director of Last Night in Soho. "And I don't know whether it's a fantasy or a malaise or something, where you just think about going back in the past, all the time. But then I think it's always tempered with the knowledge that yes, it might be great to go back. But that doesn't mean that everything was great then."

As Thomasin McKenzie, who plays the protagonist of the film, puts it: "Nostalgia is a funny thing."

It's something Wright has always thought about, in 25 years of walking around Soho, seeing restaurants and clubs change even as the buildings stay the same. Strip clubs and dirty bookstores have given way to shoe-store chains. Packed record stores have turned into spacious restaurants. The Marquee, where Jimi Hendrix, Led Zeppelin and David Bowie played early shows, has been converted into lofts.

"You can't help but think about what these walls have seen in any building that you're in, that's 100 years old, or hundreds of years old," says Wright.

Last Night in Soho is a grand, sweeping, elegant time warp of a film, set to arrive in theaters after many months of many people saying big movies are over. Wright began kicking around the idea for the film around 2013, then co-wrote the script with Oscar-nominated 1917 screenwriter Krysty Wilson-Cairns, and began shooting it before the pandemic. When the streets went silent for a while, Wright seized on the opportunity to photograph one of the most celebrated neighborhoods on earth in empty stasis. Then the film did reshoots, and theaters reopened, and Wright saw a film in a theater for the first time in months, but not a new movie: A 35mm screening of Brian De Palma's 1981 Blow Out, inspired by Michelangelo Antonioni's Blow-Up, a film set in a swanky-to-seedy 1960s London milieu similar to that of Last Night in Soho. Time keeps collapsing in on itself, never more than in the recent past. We look to the future and hope for the past. McKenzie turned 19 during filming, 20 during reshoots.
In the early 1960s, De Palma worked on a lost documentary from earlier in the 1960s that was to be titled
Mod
. De Palma,
Robert Fiore
,
Bruce Rubin
, and
William Finley
had all shot footage in England. It was Finley's idea, circa 1964, a movie about mods and rockers within a then-burgeoning scene in London. In
Justin Humphreys
' book,
Interviews Too Shocking To Print
, Rubin explains that Finley's father had died and left him money, which he was going to use to finance the film. "And I was amazed at the audacity of somebody taking money that they had inherited and immediately spending it on making a movie," Rubin tells Humphreys. "But he was so enthralled by what was going on in London - the whole new music scene and he wanted to document it - to get it on film before it went away because this was the moment of birth for that whole [movement]. I mean,
The Beatles
were just coming out, and
The Stones
, and everybody -
The Animals
,
Herman's Hermits
, on and on."
After arriving in London ("there was a whole group of us," Rubin says in the book), Finley asked if Rubin would go to France with De Palma to pick up a light Eclaire sound camera, mentioning that he also needed another person to work on the film. Rubin had known Fiore from film school, and De Palma had known Fiore, as well. Fiore happened to be on a Fulbright grant in Paris, "and so he agreed to come back from Paris with us to work on the film," says Rubin, adding that they all had "an incredible two days" in Paris before heading back to London, where they worked on the film for two weeks, "through Christmas and New Year's."
Rubin continues in Humphreys' book:
"Bob Fiore and I went to Birmingham, I think... We drove up there and we went to the Beatles' Cavern (The Cavern Club in Liverpool] and there was a group showing there that night called Herman's Hermits. We got permission - I had a card that said I was from ABC News. I don't know how I got it but people thought that's who I was. They made a lot of things available. We went in and I had enough film to shoot one act of the concert. And it was Herman's Hermits, so I got the camera and Bob Fiore was my sound man at that point. I shot this amazing, exciting number using every element of the zoom lens. It was really very, early '60s exciting experimental cinema. I really shot a great roll of film of Herman's Hermits.

"And then, right after it was done, and we were out of film, the announcer onstage says, 'And, now, everybody - here's Herman!' I had shot the whole backup group without their leader, so I had wasted every bit of film of some of the most brilliant filmmaking of all-time.

"We were very ragtag as a group and we did what we could do. We did shoot some stuff of a group called The Who in a room in a hotel but nobody had ever heard of them, really, but people were saying, 'This is going to be a big group.' It was a small hotel performing area in a restaurant, like. I did shoot some of their performance."
I asked De Palma about this film in 2002. "It was never finished," he said. "The whole thing was sort of financed with some friends and I think they ran out of money. But I shot a lot of stuff, needless to say. I shot stuff in London, a lot of the rock and roll groups. I shot The Who at the Marquee Club, I shot the Rolling Stones at Fourteenth Street. I shot
Peter Gordon
. And then I think Bob Fiore went over and shot a lot of the Manchester groups. But we shot all this footage and then I think the producers ran out of money. And that was the end of it."
Previously:
Big-Screen Blow out at BFI Southbank