CRUISE CONSULTS SCHWAB
VALKYRIE'S 2ND UNIT DIRECTOR & VISUAL CONSULTANT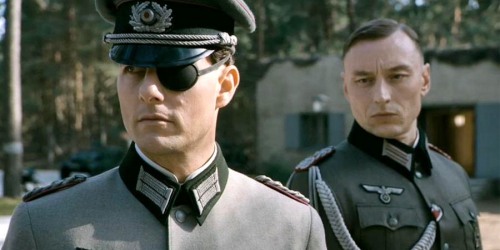 Eric Schwab
, who advanced from location manager to second unit director under
Brian De Palma
's wing throughout the '80s and '90s, is credited as second unit director on
Bryan Singer
's new film,
Valkyrie
, which stars
Tom Cruise
. Schwab is also credited as "visual consultant" on
Valkyrie
, a credit he was also given on Cruise's last big action film,
Mission: Impossible III
. It is nice to see Cruise putting his trust in the eye of Schwab after working with him and De Palma on the first
Mission: Impossible
film in 1996.
I saw Valkyrie recently, and found it a solid work of suspense that could be considered something like Mission: Impossible goes to World War II. The film moves quite rapidly, demanding the viewer's attention to keep up with the mechanics of the characters' plot to kill Hitler, and throwing us into moments of suspense that are deliciously fun to watch. It all leads to some pretty powerful scenes near the end as the coup plot comes undone.
Schwab was trusted by De Palma in 2007 to shoot all of the faux "French documentary" footage for De Palma's Redacted himself. In 2001, Schwab wrote and directed his own feature, The Learning Curve.