DE PALMA & PACINO LOOKING AT 'RETRIBUTION'
REMAKE OF BELGIAN THRILLER 'THE MEMORY OF A KILLER' (AKA 'THE ALZHEIMER'S CASE')
Screen Daily's Jeremy Kay
posted from the first day of the American Film Market today, with some news that includes talk of another new project that would team
Brian De Palma
and
Al Pacino
. According to Kay, buyers at the film market are "buzzing" about
Retribution
, a remake of
Erik Van Looy
's 2003 Belgian thriller
De Zaak Alzheimer
, which was released in the U.S. in 2005 with the title,
The Memory Of A Killer
. "Relativity International is understood to be in early talks with acquisitions executives on the story of a hitman and a cop who will go to any length to stop a Philadelphia child prostitution ring," Kay writes. The hitman, who would likely be portrayed by Pacino, appears to be in the early stages of Alzheimer's, according to
Roger Ebert's review of the original film
. Ebert quotes from
Manohla Dargis' New York Times review of the film
: "Here is a thriller that asks, Are men essentially good or do they just sometimes forget to be bad?" Both Ebert and Dargis mention
Christopher Nolan
's
Memento
in their reviews.
A remake has been in the works since late 2004. According to Screen Daily's Patrick Frater, when the film was still known as The Alzheimer Case, Focus Features bought the rights to an English-language remake. Later on, Philip Martin was listed as director of the project, with Matthew Michaud assigned to adapt the original film's screenplay (which had been written by Van Looy and Carl Joos, from a novel by Jef Geeraerts). Eventually, author Joshua Ferris was listed as a screenwriter on the remake, as well. No screenwriter is mentioned in Kay's article from today, and Kay also states that Relativity International could not be reached to confirm the project as part of its slate.
In writing about the original film almost a decade ago, Ebert mentions a list of actors whose names had been bandied about for the remake:
"Watch Jan Decleir's performance. He never goes for the easy effect, never pushes too hard, is a rock-solid occupant of his character. Everything he has to say about Angelo is embodied, not expressed. By the end, we care so much for him that the real suspense involves not the solution of the crimes but simply his well-being. Talks are already under way for a Hollywood remake of The Memory of a Killer, and the names of many actors have been proposed; the Hollywood Reporter lists De Niro, Caan, Hopper, Hopkins. But this performance will not be easily equaled. Gene Hackman, maybe. Morgan Freeman. Robert Mitchum, if he were alive. Decleir is the real thing."
VAN LOOY'S 'THE LOFT' SAID TO HAVE DE PALMA ELEMENTS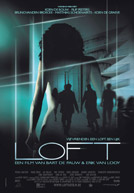 In early 2009, I posted about two reviews of Van Looy's Loft: Variety's Boyd Van Hoeij wrote that the film features "a nod to Brian De Palma in a standout sequence at a casino." FilmFreak's Alex De Rouck mentions that Van Looy and De Pauw emphatically wink to De Palma "in his Hitchcock period (especially in the long scenes in Dusseldorf and in the casino)."
Van Looy then shot an American remake of that film, starring Karl Urban and James Marsden, in New Orleans in 2011. The film's release was delayed when Joel Silver's Dark Castle production company moved from Warner Bros. to Universal. About a year ago, NOLA.com's Mike Scott quoted Marsden from 2011, talking about the remake: "It's just a great, classic thriller, with shades of Fatal Attraction and the Brian De Palma movies. It's got a little noir to it as well." The Loft is currently scheduled to be released January 23, 2015, three and a half years after it completed shooting.
A NOTE OR TWO ON 'HAPPY VALLEY'

You may have noticed, in the last day or so, articles popping up on the web with headlines announcing that "HBO has postponed Paterno pic," or items of that nature regarding the other current project between De Palma and Pacino. The source of these headlines is not new-- it simply stems back to Deadline's article from this past September announcing that HBO had suspended pre-production on Happy Valley to work out budget issues and rework the script. So why did all these articles suddenly pop up all over again? Because Page Six's Ian Mohr wanted to report a "source at a MoMA screening" of Amir Bar-Lev's documentary, which is also called Happy Valley, stating that "Al and De Palma are watching the film to do research on the characters." However, the headline used for the brief post ("Penn State sex scandal movie put on hold by HBO") was picked up and parroted all over the place again.
In fact, it was already known that Pacino had seen and been moved by the Bar-Lev documentary. Shortly before Deadline's HBO announcement, Pacino spoke about the film to two interviewers. Speaking with The Daily Beast's Alex Suskind, Pacino called the documentary a "Stunning movie. And I kept thinking, it's not the story of Paterno—that's part of it, but it's about Happy Valley. And it's about all of us. It's the way it's sort of depicted and the intensity and the thought and how it makes you think. You go feeling one way and you leave and you sort of don't know what to do."
Pacino also spoke to Vulture's Jada Yuan about it: "Well, for instance, Joe Paterno is a major subject. I really love that documentary they did [Happy Valley]. I found it really powerful. It wasn't about Paterno, it was about us, our world. And I was responsive to it. So this movie about Paterno, and Brian De Palma is my friend and I love him as a director, I've made movies with him. But yeah, we need to find a way to tell this story in a way that has the power and the tragedy that it deserves. So in order to do that, one has to come up with the text. And that's what we've been working toward."
One might be inclined to interpret Pacino's words above to suggest that the documentary may have led to a desire to tweak David McKenna's script a bit more, which may (or may not) be part of the reason for the postponing of pre-production.
A couple of weeks ago, Edward Pressman, who is producing Happy Valley, received the Abu Dhabi Film Festival 2014 career achievement award. That week at the festival, he spoke with The National's Stacie Overton Johnson, who wrote (without using any direct quotes from Pressman) that the film is currently in preproduction and due out next year.