THE RICHNESS OF CINEMA'S DREAM LANGUAGE - DTK
GUARDIAN CRITIC ERIK MORSE'S "FAVOURITE FILM AGED 12"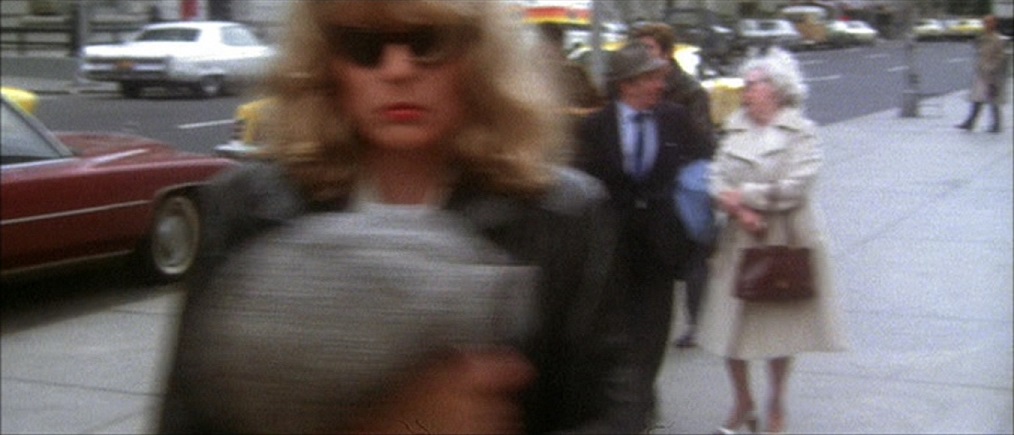 Today at
The Guardian
,
Erik Morse
writes passionately about
Brian De Palma
's
Dressed To Kill
, as part of The Guardian series, "My favourite film aged 12." "Despite
Dressed to Kill
's highly inappropriate content for a suburban child of 12," Morse explains, "I was instantly transfixed by a heavily edited version of the film that screened regularly on late-night TV." Here's an excerpt from Morse's essay:
Much more than the mature plot, however, Dressed to Kill's kaleidoscopic atmosphere – its watery, soft-focus lens, garish colour palette and flashy, optical tricks such as slow-motion, mirrored surfaces, split screens and dioptres – was a feast for my languorous, pre-teen senses. On several occasions, I would wake up to catch the film at its midpoint or nod off before the ending, allowing the collage of images and music to splice into the edges of my sleep. The tense melodies of Pino Donaggio's soundtrack and the likeness of an androgyne wielding a straight razor would soon become a Proustian madeleine from which countless reveries of my nocturnal childhood would unfold.

De Palma's mastery of atmosphere was on no greater display than in the film's early, museum set-piece – a 10-minute, dialogue-free sequence in which the director's viewfinder glides around Dickinson's character and through the Met's galleries and corridors while she pursues, then is pursued, by a potential suitor. As the scene's tension and pace builds, the labyrinthine interior assumes the contours of a De Chirico painting, or to my child's eyes, the floating floorplan of a dream. Multiple viewings would reveal another surprise: a split-second cameo of the murderer embedded in the set dressing.

This scene, followed by another silent, slow-burn sequence that culminates in Miller's grisly death in an elevator, proved to be an exhilarating initiation into the architecture of suspense. The lead character's abrupt exit from the screen and the subsequent narrative switcheroo to Blake's story also demonstrated how film could manipulate red herrings and false leads so that, more than mere plot devices, they appeared to me like celluloid apparitions captured in time. While the role reversals of the "good" doctor and "bad" hooker, and the multiple doubles in the film's climax, hinted at cinema's intimate bond to secret identities and masquerade.

These lavish visual and rhetorical sleights of hand fed into the richness of cinema's dream language.

The film's pleasures were not only abstract. Within the nests of set-pieces and dream sequences, De Palma's images also produced a montage of New York City at the beginning of the 1980s, a place and an era that I recognised only from a distance. The elegant uptown and slummy downtown, insular high-rise and turbulent subway car, baroque interior and darkened streetscape. These landmarks helped to plot my own imaginary atlas years before I would move to the city as a university film student and discover its very different, millennial landscape.

To a suburban child with an appetite for suspense, De Palma's masterpiece of urban atmosphere both terrified and enthralled, and inspired in me a lasting passion for genre cinema.