GENO SILVA HAS DIED AT 72
ACTOR PLAYED KEY ROLE AS 'THE SKULL' IN 'SCARFACE'
Geno Silva
, the actor who played a key role as The Skull in
Brian De Palma
's
Scarface
, has died at 72.
Mike Barnes
at
The Hollywood Reporter
reports that, according to Silva's family, "Silva died May 9 at his home in Los Angeles of complications from frontotemporal degeneration, a form of dementia."
Barnes later adds that in Scarface, Silva's "foreboding character never speaks a word while he guns down Montana with a shotgun from behind at the end of the Brian De Palma-directed classic. One poll placed The Skull No. 7 on a list of the best henchmen in movie history."
Silva also appeared in three of Steven Spielberg's films: 1941 (1979), Amistad (1997), and The Lost World: Jurassic Park (1997). In another significant film role, Silva was cast by David Lynch as the MC of Club Silencio in Mulholland Drive (2001). In 2002, Silva talked to the magazine Wrapped In Plastic about how that came about:
So I go there, and Johanna Ray is a wonderful, lovely woman. I'm talking to her, and she brings up this thing about being an ethnic actor in Hollywood, and she asked me about Spanish. So I threw some Spanish into the videotape mix - we're talking, and I spoke Spanish. I talked about doing Zoot Suit on Broadway. And that was it.


Nine months go by, and my agent calls me: "Geno, remember that David Lynch film?" "Yeah?" (I had assumed it had moved on.) "Well, he wants you to do it." I said, "Do what!? (Laughter) I couldn't believe it! He said, "Listen, I had some clients work on Fire Walk With Me, and this is the way he does it. He works on the fly." I said, "But is there a script?" He said, "Geno, do you want to work with David? And I said, "Well it's kinda of hard to say 'yes' when you don't know what you're going to do. Let me get a look at something." It was Friday and I said, "When does this go?" And he said, "It goes Monday." (Laughter) So he sends me over what, I guess, was supposed to be sides. All it said was, "Mexican emcee introduces Rebekah Del Rio." No dialogue. Nothing. I was really mad, and I threw it across the room! I said, "I'm not going to do this. this is s---!" You get really angry at stuff like that. You think you're being exploited, and you think that somehow you're Tom Cruise or something!

So I go to wardrobe, and they present that incredible, beautiful red suit. It fit like it was made for me. Then I found those old black-and-white shoes, and I thought, "Well this could be some fun."

...

"I had finished the day about four in the afternoon. We were shooting downtown, and my wife owns a dance studio in Hollywood. So I drive over there on my way home and call my answering machine to check my messages. There are these three frantic messages: 'Geno! Oh my God! Call us back as soon as you can! This is Frank -- the AD on Mulholland Drive -- you've got to come back! You've got to come back!' They were, like, nuts! I called back and they said, 'Can you come back now!?' And I said, 'What happened? Did you guys burn the film?' He said, 'David wants to know if you want to play another part.' I said, 'When?' 'Right now. Can you come back to the set?' I said, 'He wants me to play another part, now, at the same set?'

I go back there and as I drive into the lot a hundred walkie-talkies go off: "Geno's here!" It was echoing across the block. It was so weird. I said (to the costumer), 'Look, before anything happens, I need to talk to David. Give me a walkie-talkie.' So I get David and I say, 'David, what am I doing?' He said, 'Ah, Geno, I'm so glad you got back. I have an idea. I think it will be some fun.' I said, 'Do you want me to change my look? Change my hair or shave, maybe?' He said, 'No, no. I want you to look exactly the same.' Then he said, 'What it's going to be - this is your day job. The other one's your night job.' (Laughter) I had no idea. I still have no idea! But I'm just loving this!"

David was so happy. He said, "That was great, Cookie." He kept calling me Cookie. What was funny to me was that nobody makes movies like this. That's like guerilla filmmaking, except the guy is one of the top directors in the world. That's what you would do if you were on college. But he can pull it off because of his incredible vision in true collaboration. That's what's fun about it.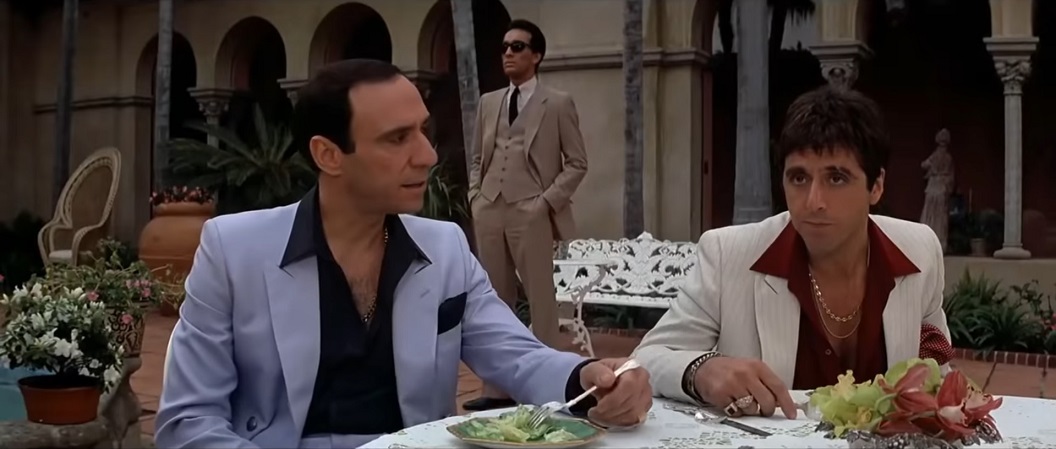 On May 11,
John Ortiz
wrote a heartfelt
Facebook post
in mourning tribute to Silva:
Heartbroken at the passing of Geno Silva. My love and prayers go out to his amazing wife, Pam, their wonderful daughter Lucia, and her family especially the beautiful grandchildren Eva & Levon.

Geno was my friend. A father figure. An artistic warrior brother. A confidante. A lover of life.

He was generous, passionate, bold, strong, intelligent, joyful with a regally imposing physical presence which never shut down his magnetic curiosity or spirituality. He was proud of his roots, and even prouder of his friends and family.

I knew him for 26 years, and since day one it felt ancestral.

In the first 5 years of knowing Geno, I was lucky enough to act alongside him on 3 different intense projects as his lover, his business partner, and his son.

By the end of the 3rd project, we knew we'd be in each other lives forever.

I loved having meals and conversations with him that lasted for hours and hours. I loved his stories. One of my favorite things to do was to ask him about any of the hundreds of beautiful photos in his home because he would regale me with the most vivid, entertaining stories. I admired his love for his family. I loved his home. So comforting, so cozy, and filled with so much love. I was always welcomed by him and Pam, and I took full advantage. Showed up at random times, sometimes unannounced, but always greeted with the warmest smile and the biggest hug. He had that amazing quality of making people feel like the most important person in the world, me included.

He often believed in me more than I did in myself.

The greatest gift my profession has given me is the ability to meet some of the most interesting and dynamic people in the world. If I'm lucky, a few of those meetings might grow into a long lasting, transformative relationship.

My relationship with Geno certainly grew into one of those meaningful relationships.

I'm so grateful for the time we had and for the Silva spirit that will continue to live on in so many people lucky enough to have crossed paths with him.

Thank you, Geno, you giant of a man.

Rest In Power.