NEW 'HOMECOMING' DIRECTOR 'LEANED INTO' DE PALMA
"WE NEED TO MAKE THIS THE BIGGEST, DE PALMA, OVER-THE-TOP KIND OF MEETING WE CAN"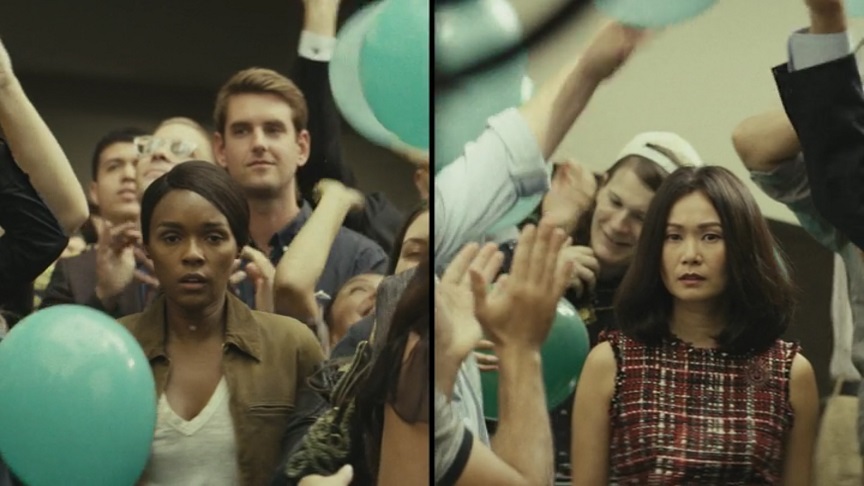 Brian De Palma
continues to be a main influence on the style of Amazon Prime's series
Homecoming
.
In 2018
,
Sam Esmail
, who directed all ten episodes of the first season, told an audience of television critics that the kind of continuous, fluid tracking shot he showed them from the series was inspired by the films of
Alfred Hitchcock
and Brian De Palma. Then, once the series hit in October of that year,
it was discovered
that the score used direct pieces from classic paranoia films directed by the likes of De Palma,
Alan J. Pakula
, and
John Carpenter
.
The second season of Homecoming premiered yesterday, with Esmail keeping no more than an executive producer role. It turns out that the new director, Kyle Patrick Alvarez, who directed all seven episodes of season two, was a big fan of the first season and fought hard to get the job. The Advocate's Daniel Reynolds has the details:
Another exciting addition is Kyle Patrick Alvarez, a gay Latinx director known for films like C.O.G. and The Stanford Prison Experiment; he also holds TV credits with Netflix's 13 Reasons Why. For Alvarez, these were great expectations of steering the second season of Homecoming after its acclaimed debut in 2018. "You want to live up to people's expectations," said Alvarez, who said his goal was to create a "digestible and fun season that moves quick and surprises you [and] keeps you really engaged throughout.

This is the first time Alvarez has helmed an entire season of television. Since The Stanford Prison Experiment, the director has worked in TV to direct episodes of various shows, but nothing of this scope. He landed the job the old-fashioned way, through lobbying a producer. "I was a massive fan of season 1," he said. He then "fought really hard" for the position; he pitched creators [Eli] Horowitz and [Micah] Bloomberg with specifics on how he would film the entire season. His pitch worked. "I'm grateful that they certainly took a chance on me," he said. "I'm not quite sure how I got that lucky."

One of the challenges for Alvarez was making the show his own following Esmail, who directed the first season with the distinctive visual style of aspect ratio changes, an "inspired move," said Alvarez. Alvarez said he had an "open-door policy" in his own artistic choices. While he did not "want to rewrite the book on how this show is shot," he also did not want to establish Homecoming as "that show where the bars change."

Thus, the bars no longer change in season 2 — although split screens between characters provide their own moments of dramatic tension and revelation that reference the techniques of the first season while also expanding their meaning. "I was trying to stay in the spirit of it while following my own intuitions," Alvarez said.

Additionally, Homecoming brought in a composer for the music of its second season; the first used classical scores. Alvarez characterized season 2 as more of a "traditional thriller," with chase and suspense scenes that require customized sound. Thriller titans Alan J. Pakula and Alfred Hitchcock were clear artistic influences in season 1. And while Alvarez also channeled these filmmakers, he additionally "leaned into" the "grandiose style" of Brian de Palma, especially in the split-screen sequences.

There's also the cast itself. Notably, [Julia] Roberts does not appear in season 2. While Alvarez did "love" her performance, he would have been "wary" of including her character with the way her storyline ended. "It was a relief to say hey we're going to start at a different place with a different person," said Alvarez. That person is [Janelle] Monáe, who Alvarez was "thrilled" to have on. "PrimeTime," from her work as a musician, is the most played song in his iTunes library, he admitted.
Alvarez discusses that split-screen scene in more detail with
ComicBook.com's JK Schmidt
:
What was your favorite scene, second season, that you've got to make?

Kyle Patrick Alvarez: Oh, man. Probably the end of episode ... There's a few, but I think the sequence I was most excited about, or the most invested in myself, was the end of episode two when Janelle and Hong see each other from across the crowd as the balloons are falling, and we go into split screen. Because I remember in my first pitch, I said, "Look, I think this season ..." Split screen was used in a very utilitarian way in season one. It was, "Hey, we're going to be ..." It's an immense amount of phone calls in season one, but it never weighs on you because the split screen is always keeping you engaged on both sides of it. So here it was like, "Okay, we only have two phone calls this season, maybe three. So how else can we utilize split-screen as a narrative device?"

And so for me, when I came in, I said, "Well, look. Episode two is all about her tracking this woman. She has no idea who she is, and tracking her and tracking her, and it's this labyrinthine thing going around this building. And we need to make this the biggest, De Palma, over-the-top kind of meeting we can, because obviously it leads to a bit of a twisty moment. And so for me, that's one of those rare moments where everything you conceive of, it ends up working and clicking.

Usually, filmmaking is about unexpected surprises, both good and bad ways, and that's one of those scenes that just ... It worked. It was how we storyboarded it, it was the score fit in how we imagined it. It all clicked into place, and so I watch it, and it feels very planned and fulfilling to me because I'm like, "Oh, that worked." So I'd say I'm the most proud of that. It was just technically really difficult having that incredible amount of extras, only being able to afford to drop those balloons a couple of times. There was a lot of pressure on how we're going to pull that off.
Queerty's David Reddish
also asked Alvarez about De Palma and Kubrick:
I would call this quite a departure from your work on Tales of the City or 13 Reasons Why. This is a potboiler thriller, and at times, a very surreal one. How did you land the job? How did you develop your approach?

Getting the job meant a lot to me. I was a big fan of Season 1, and actually watched it while we were shooting Tales. I was in New York and watched it all in my hotel room and loved it so much. It's a show that asks a lot from a director. The visual style is baked into what the show is and how it's built. Sam [Esmail, director of Season 1] had built this beautiful fresh thing for TV, so it became about evolving it, making it different. For me, the last movie I'd done was The Sanford Prison Experiment which was in the same style of 70s filmmaking, all the stuff Sam was drawn to. I suspect we like all the same movies, because watching Season 1, it felt like someone made the show for me.

Awesome.

In the interim, I'd done a lot of TV work with Tales and 13 Reasons. So was going back and forth between a lot of genre stuff. Honestly, I was waiting for an opportunity like this to get to direct every episode and have a voice. It's not like directors don't have a voice in TV, but it's different. You're the substitute teacher. You come in, do your episode, and leave. Here, I was there from the moments the scripts were finished until the very last special effects shot. It feels really gratifying.

Absolutely. And it is very much yours. That's one thing I love about it—it has a cohesive voice and visual style. You like to use a lot of very long takes, and a lot of split-screen. I'm guessing you're a fan of Brian DePalma, in that sense. The long zooms feel like something out of Kubrick, especially The Shining. What do you love about that approach?

You know, it's interesting. Even though I think the styles are relatively similar between the seasons, I feel like Season 1's North Star, in terms of a director, was Alan J. Pakula, with The Parallax View being essential. This season I kind of went into a little bit pulpier, like let's do DePalma. I always joke that there are a couple of moments where, if he is watching, he'll roll his eyes. I obsessively watched the end of Carrie and especially Blow Out. It's one of my favorite movies.

Right.

It's just about making sure you're not copying a filmmaker you love; you're taking inspiration from how they evoke a feeling. That's how you avoid imitation. Kubrick, obviously, the set was out of 2001. But zooms kind of went out of fashion. I love them. I think it's kind of wrong; there's a lot you can do with them. I just love what they do.

That's wonderful. And I wouldn't be too self-conscious about borrowing from DePalma. He's borrowed from other directors—Hitchock, Eisenstein, Antonioni—his whole career. It's everywhere.

That's very true. He may have invented the idea of referential directing.

But it fits. It adds an almost surrealistic feeling to the action. Do you storyboard or rehearse?

We didn't have the time to rehearse. We did storyboard a lot. Weirdly, for me, the process of storyboarding is where you get the value. Storyboards themselves are more for everybody else. Me and the storyboard artist would meet from 6-7:30 every morning before everyone showed up and try to draw as much as we could. When you have 500 extras, you can't improvise.

Sure.

A crane shot can take three hours to set up, so you have to be so exact. If not, you won't make the days.
See also:
More details on the Donaggio cues used in Homecoming