'ONE OF THE SADDEST HORROR TALES IN EXISTENCE'
SOPHIE MONKS KAUFMAN ON 'CARRIE' AS ONE OF 10 GREAT FILMS THAT MAKE STRIKING USE OF THE COLOR RED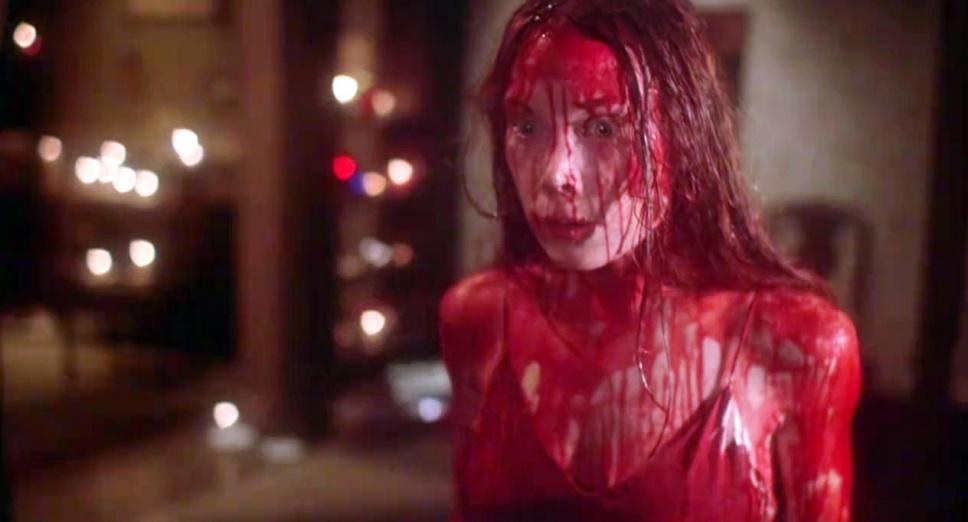 "A splash of red is rarely just a splash of red," begins
Sophie Monks Kaufman
in her
BFI article, 10 great films that make striking use of the colour red
. "Often it symbolises death. Two girls in red coats – one in
Don't Look Now
(1973) and one in
Schindler's List
(1993) – are tragic figures haunting film history. A woman lies dying in a house full of red walls in
Cries and Whispers
(1972). The moment of death is bloodless, as the colour of her spent lifeforce is outsourced to the walls.
"Plenty of films are less coy about bloodshed and whole genres are built on gore. It would be easy to fill every spot on this list with slashers and gialli, creating a similar impression to the elevator doors opening in The Shining (1980).
"Although there does seem to be a theme of sadness, loss, violence and death to movies that make the most unabashed use of red, it is also the colour of passion. Sometimes primal feelings are too much for gentle or defeated people to confront. Pedro Almodóvar and Wong Kar Wai use red in their production designs to express what their characters cannot.
"To lighten the mood: enter the scarlet seductress. 'She is always alluring,' says Catherine Bray in her Inside Cinema video essay, Women in Red. One such siren adds sparkle to this list: it's Marilyn Monroe, the greatest bombshell who ever lived in her star-making role.
"The Red Balloon is a seemingly simple children's film that won an Academy Award in 1956. Its use of red in both visual and emotional terms is the gold standard."
Kaufman's list is inspired by the 50th anniversary of Ingmar Bergman's Cries and Whispers. Brian De Palma's Carrie (1976) is included:
Pig's blood, a red convertible, Sissy Spacek's hair, wine-coloured candles and a pale pink dress seen as red through a fundamentalist mother's eyes. These are some of the key ingredients of Carrie. Brian De Palma adapted Stephen King's novel, which is one of the saddest horror tales in existence. Humiliation and rejection push Carrie White (white is an invitation to red), the shy loner with telekinetic powers, towards a finale of destruction. This bursts out of her as the culmination of feelings so powerful that they cause literal combustions.

Lured into a sweet and short-lived feeling of belonging at high-school prom, only to have pig's blood poured on her during a moment in the limelight, Carrie snaps, pushed to the edge by her violent mother. Hers is not a maniacal-laughter mode of vengeance; it is grief-fuelled. The red that has dripped steadily since the opening scene, where she gets her period, erupts in a torrent that makes a mockery of the fire trucks that arrive on the scene too late.
Kaufman's list also includes
The Red Shoes
(1948) --
As Brian De Palma would do later in Carrie (1976), Powell and Pressburger (the filmmaking duo known as The Archers) complement their use of visceral vermillion with the natural locks of a red-headed woman. Moira Shearer plays the ill-fated Vicky, an ingenue ballet-dancer beckoned under the oppressive wing of dance impresario Boris Lermontov (a brilliantly villainous Anton Walbrook, who is awarded the most memorable lines). Vicky is cast in the ballet of The Red Shoes, about a bewitched pair of ballet shoes that cause their wearer to dance themselves to death. The score is written by a young composer, also a redhead, and they fall in love, to the disapproval of Lermontov.

When Vicky is invited into a room to be offered the lead part, each figure of authority is surrounded by a splash of red, a portent of things to come. The Archers make a motif of red, white and blue, dressing Shearer, with her porcelain skin and auburn hair, in a colour wheel of blues.