PIC - 1994 - DE PALMA IN 'ROTWANG MUß WEG!'
HARD-TO-FIND GERMAN SATIRE CAST DE PALMA AS "FAMOUS AMERICAN MOVIE DIRECTOR"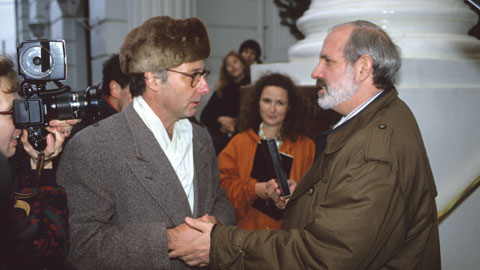 Something about
Hans-Christoph Blumenberg
's
Rotwang muß weg!
(1994) must have impressed
Brian De Palma
, because he agreed to appear in the German satire, billed in the credits as the "famous American movie director." The film itself has always been hard-to-find, but I located the images included in this post at
Zweitausendeins
. The film, also known as
To Hell With Rotwang!
and just plain
Rotwang
, was described by Blumenberg as a "the first German recession comedy," as it was shot in only 13 days on a minimal budget, using private homes of cast and crew as locations. Described as an impetuous and irreverent farce about the German film industry, the film casts a big star,
Armin Mueller-Stahl
, as its title character, but saves money by never showing his face (he apparently narrates from the grave, from what I can gather, having not seen the film itself). Six years later, De Palma would cast Mueller-Stahl in an uncredited role as a NASA commander in
Mission To Mars
.
Rotwang also includes a scene that quotes Sergei Eisenstein's Battleship Potemkin and De Palma's The Untouchables with a pram on a stairwell in a park in which Rotwang's possible murderers (forgot to mention, as the movie opens, Rotwang has been shot dead, and he had many enemies) are lurking on their victim. The funny low-budget catch is that the screaming baby is actually a Sony tape recorder that is easily switched off. Rotwang also alludes to Steven Spielberg's Jurassic Park, but the dinosaurs are plastic. Elsewhere, actor Udo Kier complains to the director of his "harsh tone," Blumenberg consistently urges his actresses to bare their breasts for the camera, and the German voice-actor who usually dubs the voice of Woody Allen is sometimes heard giving off-screen stage directions. Receiving mostly positive reviews as a biting satire full of political tension and darkly absurd humor, the film was originally advertised with the tagline, "Monty Python meets the Red Army Faction."