BRIAN DE PALMA WEEK AT TRAILERS FROM HELL
KICKS OFF TODAY WITH ALLAN ARKUSH ON 'CARRIE'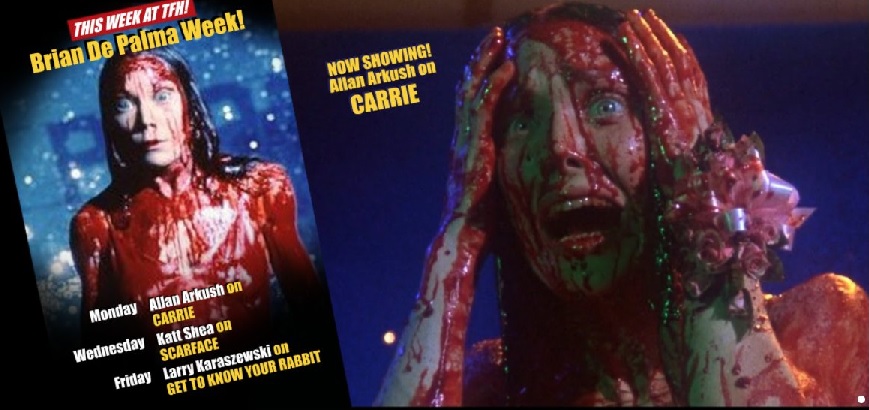 From Allan Arkush's
Trailers From Hell
commentary about
Carrie
:
Carrie was turned down by every studio because the male executives were put off by the now-iconic shower scene where Carrie has her first menstruation. But it got made because Marcia Nasatir, the first woman production executive, believed in the book, and in Brian De Palma.

Sissy Spacek was a method actor. She surrounded herself with religious icons, studied the Bible, and imagined being stoned to death for her sins. Piper Laurie had been out of the business for 15 years, and nonetheless, again, Marcia Nasatir insisted that she was perfect for the part.

De Palma's technical skills brought a visual sophistication to the high school horror genre. Split screens, diopters for deep focus, and spinning actors, lights, and camera for the celestial prom dance. There are heavily orchestrated crane shots inspired by Hitchcock, and the mother's death by flying cutlery is an homage to Kurosawa's Throne Of Blood. But battles with cowardly studio execs continued: "Pig's blood? Does it have to be pig's blood, Brian? How about confetti?"

On a $1.8 million dollar budget, it grossed $33 million. Roger Ebert wrote that it was "absolutely spellbinding." Every male UA exec claimed it was their project. Marcia Nasatir went on to develop Coming Home and Rocky. Then, there is the last scare-- Carrie's ultimate revenge. Sissy Spacek insisted that it be her hand, and she'd be buried in the grave. The audience is still screaming.
Previously:
Femme Fatale at Trailers From Hell