TERENCE WINTER TO TACKLE 'SCARFACE' SCRIPT
AND ANTOINE FUQUA DISCUSSES RELEVANCE OF THE STORY IN TODAY'S WORLD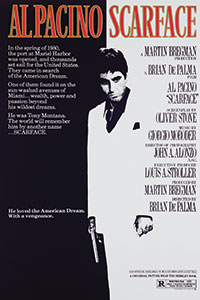 Variety's Justin Kroll
reported yesterday that
Terence Winter
has signed on to whip the
Scarface
remake screenplay into something-close-to-final shape. Winter has worked with
Martin Scorsese
on scripts for
The Wolf Of Wall Street
,
Vinyl
, and
Boardwalk Empire
, as well as on
The Sopranos
.
Antoine Fuqua
is the director currently signed to direct the new
Scarface
. In March 2015,
Jonathan Herman
was hired to rewrite the screenplay on the heels of his screenplay for
Straight Outta Compton
. The initial draft of this new
Scarface
was written by
David Ayer
, the writer of
Training Day
, which was directed by Fuqua. In between Ayer and Herman, Universal brought in
Donnie Brasco
screenwriter
Paul Attanasio
to do a rewrite on Ayer's draft.
Meanwhile, Fuqua has talked about the project a little bit in the past couple of weeks:
Fandango article by Erik Davis--
Fandango had a chance to talk with Fuqua in advance of The Magnificent Seven arriving in theaters (stay tuned for more of that conversation this week), and we asked about the current status of this Scarface remake. Is it still happening?

"I read the script they have and it's actually really interesting and very timely," Fuqua said. "We're dealing with a lot of stuff now coming out of Mexico. And again, we still have those issues dealing with the "American Dream", and the fact that the game is rigged, right? It's not really an even playing field, but the promise is that it is. The promise is that everyone gets a fair shot, but that's not always the case. So that's always relevant, and right now with what's happening in Mexico, which is where [the main character] comes from -- he comes out of Mexico -- that's relevant, especially when you've got people talking about putting up walls and other kinds of stuff. We're still dealing with immigration, we're still dealing with what would turn someone into Scarface."

Fuqua went on to talk about how this new contemporary version of Scarface will deal with the problems many immigrants face when they arrive in the United States looking for a fair shot only to find anything but.

"They all leave these small countries, and it's hard to become Scarface unless you're someone like El Chapo," he said. "It's hard to become that guy in America. But what happens when you have a guy who has that same appetite and the doors keep getting shut in his face? What happens when he only knows one thing, for sure -- which is how to go and take it? I just think being disenfranchised is dangerous. When people are disenfranchised and delusional, it's just dangerous. I think it's more relevant than ever right now, and it can be extremely entertaining. So we'll see."

Is he bringing his Training Day and Magnificent Seven stars Denzel Washington and Ethan Hawke with him to Scarface? "So far, no," Fuqua said. "We still need to do the casting and I have to have a couple more meetings on it. I would love to, though! I just haven't wrapped my head around it yet."

As for that Equalizer sequel currently scheduled to hit theaters next September, Fuqua says he'll make another movie before that, all but confirming there will be no Equalizer 2 in 2017. Will Scarface take its place? "Whether it's Scarface or something else, there will be another movie before that happens," he revealed.
HipHopDX article
--
HipHopDX: After the tumbleweeds clear for Magnificent 7 and everything, you are moving on to Scarface correct? You know that's like Hip Hop's favorite movie.

Antoine Fuqua: [Laughs] Yeah, I know. I'm having real conversations about it. It's something I'm talking about doing right now. I would like to do it honestly man; at one point I was hesitant. But again, when I read the script, even on that one, it's all about is it relevant today? Does it speak to today? And it does! This cat comes up in Mexico. He's not Cuban [like Al Pacino's 1983 character]. And it's pretty hardcore.

HipHopDX: That's how it should be.

Antoine Fuqua: Right? Because you dealing with El Chapo and everyone else, it's a different world now. That's where they're coming from. And it touches on a more modern day, not just gangsterism but how everything moves now on the streets. How money moves now. The Scarface [from 1983], he couldn't survive today. We saw that. The Pablos came and went. El Chapo is about to go. So what's next?

HipHopDX: Could you see a rapper playing that role?

Antoine Fuqua: I'll say never to anything. If somebody come in the room and they have what it takes and they got the right skill set and presence to do that, then why not? I believe in those kind of movies. You gotta be raw. You gotta be a fuckin' animal, man. You gotta be highly intelligent but you gotta be an animal. Now Scarface was an animal. He was a fuckin' beast. Period. So that's how I see that. It's gotta be somebody that young people connect to because Scarface was all about taking the dream. You can't wait for somebody to give it to you.
Previously:
The Scarface remake just got a lot less interesting
Scarface remake is Larraín's dream project
The Scarface remake just got a lot more interesting