BRINKE'S "RIDICULOUS" RESIDUALS
FROM "ALMOST INVISIBLE" ROLE IN BODY DOUBLE

Cult star Brinke Stevens, credited as "Girl #3 in Bathroom" in Brian De Palma's Body Double (1984), was asked by Fangoria's Sean Abley about "the weirdest film, TV show or commercial from which you still earn residuals"-- Stevens' reply:
I've made SO much money from Brian De Palma's BODY DOUBLE, it's kinda ridiculous. The residuals are now down to about $8 per check, but they still come in the mail. Back in the 1980s, I'd turned down that movie three times (my agent thought he was making a porno film), but I finally agreed to a meeting. De Palma and I got along great (I was a big fan of PHANTOM OF THE PARADISE). At the end of our meeting, he said, "I really like you and want to use you in this film, but I'm not sure how yet. Just show up for work on Monday."

I showed up at the studio on Monday. Every time De Palma walked past me, I'd raise an eyebrow, as if to ask "Got anything for me yet?" He'd merely shrug, and say, "Come back tomorrow." I returned every day that week. Usually, I went home at the end of the day, not having worked at all. Finally, he put me in a few scenes, and my name is listed in the credits. With residuals, I've made over $10,000 for that almost invisible performance. But what a joy to hang out on-set for a week and watch such an interesting filmmaker in action!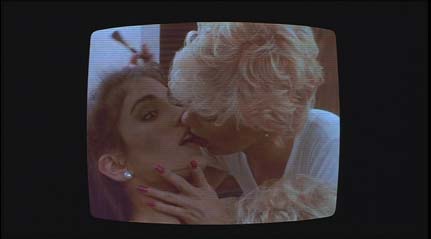 Abley then tells Stevens, "OK, my friend, actor Michael Kearns, had the exact same story about BODY DOUBLE! He sat around for a week, then had three lines or something and continues to make bank from it! Nice."
GLEIBERMAN ON CROSSOVER ADULT STARS
Meanwhile, Entertainment Weekly's Owen Gleiberman blogs about the recently deceased Marilyn Chambers, calling her "the first crossover adult star." After making her mark in adult films, David Cronenberg cast Chambers in the lead role of his 1977 horror film Rabid. Gleiberman runs a link from there to De Palma's initial idea to cast porn star Annette Haven in Body Double:
By starring in Rabid, Chambers effectively blazed a trail, one that, as it turned out, went cold fairly quickly. In our own time, we've seen adult-film stars become icons of kitsch -- like Ron Jeremy, the burly "Hedgehog" who gets cast in bit parts whenever a director wants to lend a comedy a bit of cheap "underground" cachet (e.g., Class of Nuke 'Em High 3), or Traci Lords, who has carved out a TV and movie career lampooning her earlier infamy. And, of course, the adult superstar Jenna Jameson is a one-woman self-promotion machine. Marilyn Chambers, though, enjoyed her short-lived mainstream breakthrough near the end of the porno-chic era, when it wasn't just a cool-cred joke or a naked PR stunt. Her role in Rabid seemed to open the door to further possibilities. Seven years later, in 1984, director Brian De Palma flirted with casting another '70s adult-film star -- Annette Haven -- in the role of triple-X actress Holly Body in Body Double. But the idea fell by the wayside (there were reports that it was nixed by the studio), and the part went to Melanie Griffith instead. By that point, it was clear that these two worlds were not destined, at least in America, to do much in the way of cross-pollinating.