HURD LAYS OUT STRANGLERS STORY
AICN USERS SUGGEST IMPERIOLI AS DESALVO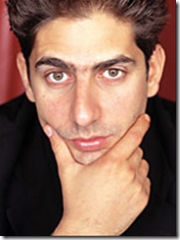 Gale Anne Hurd
was interviewed by
UGO Movie Blog's Jenna Busch
a few days ago. Hurd told Busch that her production company,
Valhalla Motion Pictures
, is gearing up to seek financing and distribution on
Brian De Palma
's
The Boston Stranglers
, with intentions to begin filming in 2009. Hurd layed out the film's story line for Busch:
It's based on Susan Kelly's book called The Boston Stranglers, because everything that we think we know is wrong. There was a film made right after the events called The Boston Strangler starring Tony Curtis and Henry Fonda. And it posits that Albert DeSalvo was the Boston Strangler, but the truth is, if you scratch beneath the surface, Albert DeSalvo was never charged with the crimes. He was actually incarcerated for another series of assaults, and there was not one shred of evidence linking him to the crimes. So the film is very much (about) how did things go so wrong, that to this day we all think Albert DeSalvo was tried and convicted as the Boston Strangler?
When Busch told Hurd that that sounded "really interesting," Hurd responded by saying, "Yeah. With media, with fear, with the cult of celebrity, so many of the things that are part of our life today, were just beginning in the late sixties."
EARLY VERSION OF SCREENPLAY
Mr. Beaks over at Aint It Cool News provides a brief synopsis from an earlier draft of Alan Rosen's screenplay. (Rosen has been with the project since 2001, when Hurd was trying to get it set up for Carl Franklin to direct at Paramount. Now that De Palma has signed on to the project, the screenplay is being revised under his direction.) Mr. Beaks writes:
The massive-in-scope screenplay (a recent draft by Alan Rosen ran over 160 pages) starts small with DeSalvo's first string of crimes (he talked his way into the homes of lonely/neglected women by pretending to be a scout for a modeling agency), but quickly turns into a multi-layered dramatization of the botched police investigation, the intense, often unhelpful media scrutiny (courtesy of an ambitious young female reporter for The Boston Herald), and DeSalvo's jailhouse confession to convicted murderer George Nassar (who got F. Lee Bailey involved). It's kinky, bloody and full of betrayal; in other words, it's ideal material for De Palma. Right now, he's just got to find the narrative throughline.
MICHAEL IMPERIOLI
A user named blackmantis, posting in the "Talk Back" section following Mr. Beaks' AICN post, stated, "Michael Imperioli is DeSalvo's doppelganger! He absolutely must play that part." Several other users agreed that Imperioli would be perfect for the role. Imperioli is best known for his role on HBO's The Sopranos, and can currently be seen carrying an authentically distinct '70s vibe as a cop working for Harvey Keitel on ABC's Life On Mars. No casting has yet been mentioned for The Boston Stranglers.