Whose Endorsing Who?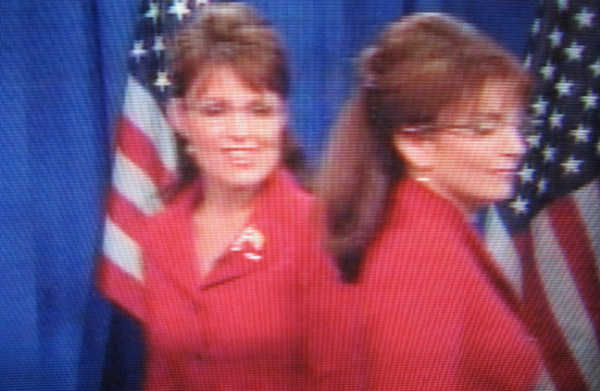 POLITICS AS ENTERTAINMENT AS POLITICS
The above photo is posted at
Eric Harvey's Marathonpacks
with the caption, "A Brian De Palma film waiting to happen." The photo, apparently snapped from in front of a television screen, shows
Sarah Palin
entering on the left, while
Tina Fey
, impersonating Palin, exits to the right during the opening segment of last Saturday's
Saturday Night Live
. Harvey rants that both
Saturday Night Live
and "politics" treat politics "less as a contest of ideas than as a cast of characters," and he mentions
Oliver Stone
's just-released
W.
as another instance where a cast of characters, some reprising their roles from a dozen years earlier, seem to have taken over our collective stream of politics.
Meanwhile, over at the Huffington Post, Michael Showalter cites James Ellroy's L.A. Confidential to explain why he thinks Palin keeps using the tough-to-pronounce word "Ahmadinejad" to con her audiences into thinking that she is making sense. Palin then leads Showalter to think of The Bonfire Of The Vanities:
With the latest revelation that Sarah Palin has spent more than four times what Joe the Plumber makes in a year, $175,000 to be exact, on her wardrobe so far, I couldn't help but thinking of another book: The Bonfire Of The Vanities. I also thought of the movie, or to be more exact, the making of the movie. The making of the movie version of Bonfire of the Vanities as detailed in the book The Devil's Candy by Julie Salamon is the story of a pretty good idea that became a really, really bad idea really fast. I think that the publisher's comments sum it up well: "When Brian De Palma agreed to allow Julie Salamon unlimited access to the film production of Tom Wolfe's best-selling The Bonfire of the Vanities, both director and journalist must have felt like they were on to something big. How could it lose? But instead Salamon got a front-row seat at the Hollywood disaster of the decade...This riveting insider's portrait provides a timeless account of an industry where art, talent, ego, and money combine and clash on a monumental scale."

If only John McCain's presidential bid were just a movie. Then again who thought really thought that the movie about the chihuahua would do so well?