DE PALMA AWAITS BOSTON REWRITE
AND UPDATES ON OTHER PROJECTS
I had a chance to exchange e-mails with
Brian De Palma
last week regarding the status of some of his recently announced projects. De Palma said that he is waiting for the rewrite on
The Boston Stranglers
, which could be his next film. This news shows promise that the film will reflect De Palma's sensibilities from the ground up, as the script is being rewritten (presumably by
Alan Rosen
) under De Palma's direction, and under no apparent rush for a release date.
PRINT THE LEGEND
But what has happened to Print The Legend, De Palma's proposed Iraq-themed follow-up to Redacted? De Palma said he would love to experiment with these new forms of storytelling again, "but we couldn't get it financed. No one wants to make this kind of anti-war [film] now." Print The Legend had been announced by The Film Farm at Cannes last May, along with an untitled political thriller written by De Palma, with the understanding that Print The Legend would be made first. One can guess that if no one wants to finance an anti-war picture right now, investors might be similarly wary about financing a political thriller by the same man who has made his views on the current war in Iraq abundantly clear. While De Palma said that he still has no title for said political thriller, he was able to provide a clue as to what it is about (which he nevertheless presented in the capitalized form of a title): "Sex and Lies on the Champaign Trail."
CAPONE RISING, AND DE NIRO...
I also asked De Palma if he thought Capone Rising might get off the ground again (that project was stalled over questions about who owns the rights to the property). De Palma said it's "always possible-- it's a very good script." When I mentioned there had been rumors that Robert De Niro may appear in the film as the Mayor of Chicago, De Palma replied, "Haven't heard that one."
OTHER TIDBITS: LUDIVINE SAGNIER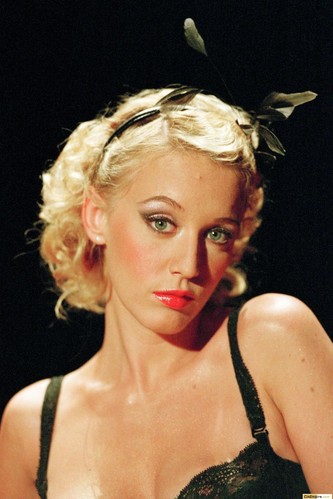 A couple of weeks ago, Ludivine Sagnier, now appearing in Claude Chabrol's A Girl Cut In Two, was interviewed by Mick LaSalle of the San Francisco Chronicle. Sagnier mentioned a conversation she'd had with De Palma while auditioning for a role in one of his films (which must have been The Black Dahlia). Sagnier recalled:
I auditioned once for a part with Brian De Palma, but he decided he didn't need a European actress for the role. But I remember he said, "Why don't you learn better English, learn a proper accent, and come down to L.A.?" And I was like, "No, I'm sorry, sir. I don't want that." And he was like, "Come on, you lazy cow." And I said, "No, it's not a question of being lazy. I just want to blossom in nice roles, whatever the geography." It's very difficult, the path of young actresses. For example, Scarlett Johansson started out to be a very indie actress, with very edgy roles. But even she - it seems like, ooh, suddenly something has reached her, and that, ooh, she's falling into the trap of too much exhibition, too much money, too much advertisement. And I want to say, "Oh, slow down girl! Slow down! Life is so long! Don't take it as a sprint. Take it as a marathon."
SNOOP DOG & JAKE SULLY
Finally, here are two more little tidbits, courtesy of Rado. Snoop Dog is currently on tour, and the screens behind the stage are showing clips from Scarface edited with Snoop-reenacted versions of them. Rado also notes that the main character in James Cameron's upcoming 3-D extravaganza Avatar is named Jake Sully. Of course, the main character in De Palma's Body Double was named Jake Scully, but there is another odd connection here in the fact that Gale Anne Hurd, who was once married to Cameron and once married to De Palma, has produced projects for both directors (but neither Body Double nor Avatar). Hurd, no longer married to either director, is currently producing The Boston Stranglers for De Palma to direct.