45 YEARS AGO TODAY, THE FURY OPENS IN U.S. THEATERS
PAULINE KAEL: "IT COULD BE THAT HE'S DEVELOPING ONE OF THE GREAT FILM STYLES"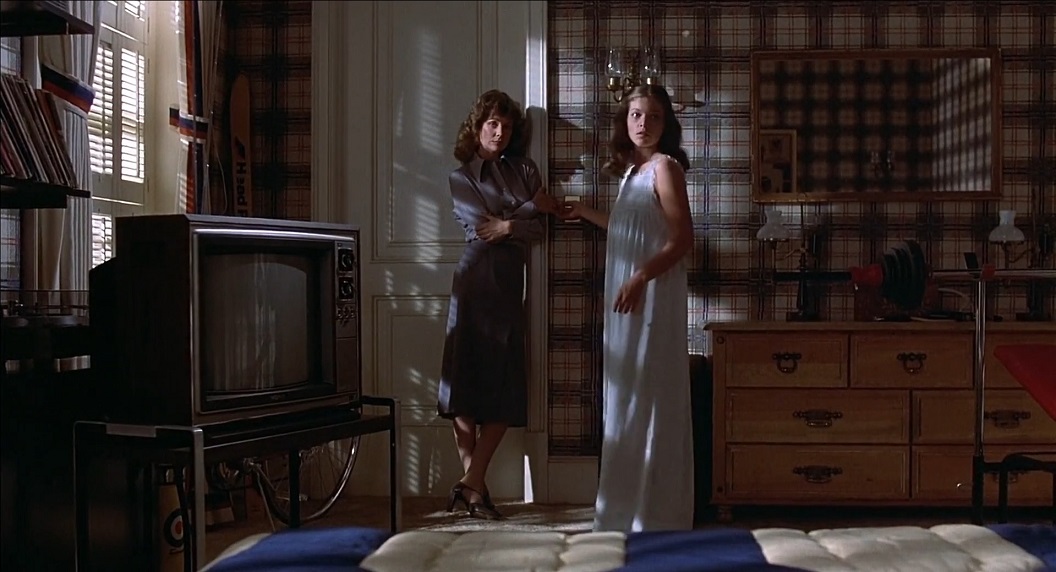 Brian De Palma
's
The Fury
was released in U.S. theaters 45 years ago today. Filmed largely in the Chicago area (including a memorable sequence filmed at "Old Chicago" in Bolingbrook), it features an extraordinary score by the great
John Williams
. It's a magnificent film.
In a 1980 interview with Rolling Stone
,
Jean-Luc Godard
mentioned
The Fury
's standout use of slow motion, "where it was used for an entire sequence and wasn't just a gadget."
The movie critic
known as
Pauline Kael
, enraptured, wrote of
The Fury
in The New Yorker:
No other director shows such clear-cut development in technique from film to film. In camera terms, De Palma was learning fluid, romantic steps in Obsession; he started to move his own way in Carrie—swirling and figure skating, sensuously. You could still see the calculation. Now he has stopped worrying about the steps. He's caught up with his instructors — with Welles in Touch of Evil, with Scorsese in Mean Streets. What distinguishes De Palma's visual style is smoothness combined with a jazzy willingness to appear crazy or campy; it could be that he's developing one of the great film styles—a style in which he stretches out suspense while grinning his notorious alligator grin. He has such a grip on technique in The Fury that you get the sense of a director who cares about little else; there's a frightening total purity in his fixation on the humor of horror. It makes the film seem very peaceful, even as one's knees are shaking.
At
The Spool
this week, Chicago-based critic
Peter Sobczynski
writes about
The Fury
at 45:
If this project, with its obvious echoes of Carrie, seems like an odd choice for De Palma to have chosen to follow, it appears that he looked upon it largely as a means to a particular end. At the time, he was keenly interested in doing an adaptation of Alfred Bester's 1953 novel The Demolished Man, a sci-fi-thriller involving a murder in a futuristic telepathic society, and had even co-written a screenplay for it with author John Farris. As a way of working out the elaborate visual storytelling and special effects required to bring that project to life, De Palma elected to first make a film of Farris's 1976 novel The Fury with the author doing the screenplay, changing a considerable amount of the narrative in the process.
At the time of release,
Roger Ebert
wrote in his review for the Chicago Sun-Times
:
De Palma's almost nonstop action carries the film along well (and distracts us from the holes in its plot), and Kirk Douglas was a good casting choice as the avenging father. In his best roles, he seems to be barely in control of a manic energy, and this time, being chased down the L tracks, he seems just right. Cassavetes always makes a suitably hateful villain (he plays the bad guys as if they're distracted by inner thoughts of even worse things they could be doing), and Carrie Snodgress, returning to movies after several years of voluntary retirement, is complex and interesting as the government employee who falls in love with Kirk Douglas.

Big-eyed and beautiful Amy Irving, vulnerable and tough at the same time, is just fine. She was Sissy Spacek's "friend" and final victim in De Palma's "Carrie," and I guess it's only fair that this time she gets to unleash the Fury in the final scene. Is it as scary as the final moment in "Carrie"? Not quite, but it'll leave your head spinning.