'TWO MOVIES RELEASED IN 1980 CHANGED MY LIFE'
HIGH-DEF DIGEST'S DAVID KRAUSS REVIEWS KINO'S NEW 4K ULTRA HD 'DRESSED TO KILL'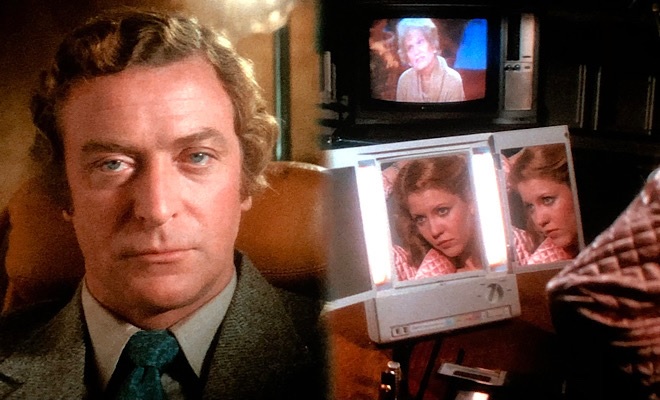 At
High-Def Digest
,
David Krauss
reviews the new Kino edition of
Dressed To Kill
:
Writer-director Brian De Palma's brilliant thriller gets the 4K UHD treatment from Kino, and the brand-new Dolby Vision/HDR master struck from a 4K scan of the original camera negative delivers stunning results. This twisted tale of split personality, sexual frustration, and the hunt for a brutal killer still enthralls, titillates, disturbs, and delights, and it's never looked better or felt more immersive than it does here. Two solid audio tracks and an entire disc of supplements make this the definitive edition of Dressed to Kill and it comes very Highly Recommended.

Two movies released in 1980 changed my life. One was Martin Scorsese's Raging Bull. The other was Brian De Palma's Dressed to Kill. Both films bowled me over with their brash technique and both fostered within me a deep appreciation for cinematic innovation and lyrical storytelling that continues to this day.

Raging Bull made the biggest impression on me, but I was obsessed with Dressed to Kill. The intricacies of its plot, jaw-dropping twists and turns, Hitchcockian flavor, agonizing suspense, split screens and slow motion photography, and yes, all the sex and gore (hey, I was 18 then!) held me spellbound during multiple viewings. I bought the soundtrack album as soon as it was available and played Pino Donaggio's elegant score over and over. I was a classic movie maven even then and caught all the Psycho parallels, but instead of dampening my enthusiasm for Dressed to Kill, they enhanced it. Watching De Palma take Hitchcock's blueprint, amp it up for contemporary audiences, and put his individual stamp on it exhilarated me.

Dressed to Kill might seem tame today, but it was pretty hot stuff four decades ago, and more than a little controversial. Allegations of misogyny, gratuitous female nudity, and violence against women plagued the film and dogged De Palma. The criticisms weren't unfounded - they also could be leveled at Hitchcock and Hollywood itself, which began exploiting and mistreating women as far back as the early talkies when James Cagney smashed that half-grapefruit into Mae Clarke's face in The Public Enemy - but as the years passed it became clear if De Palma had any agenda at all it was simply to produce an artistic, edgy, psychosexual thriller.

It's hard to believe it's been 42 years since my first exposure to Dressed to Kill, but the passage of time hasn't dulled the picture's impact. If anything, I find the story of Kate Miller (Angie Dickinson), a sexually frustrated wife and mother who gets picked up by a stranger at New York's Metropolitan Museum of Art and gets slashed to death hours later in the elevator of his apartment building by a mysterious "blonde woman," more disturbing and unsettling now than I did then. As I age, I appreciate more fully the ironies of life, the consequences that can result from moments of weakness, impulsive actions, and lapses in judgment, and the devastation and senselessness of random acts of violence. More than a slick thriller and absorbing mystery, Dressed to Kill worms its way into our psyche and taps into our fears and vulnerabilities as it spins its intricate web. Any of us could be Kate Miller, any of us could be at the wrong place at the wrong time, and that's what makes the movie so damn scary.

And like so many scary movies, Dressed to Kill is also a helluva lot of fun. De Palma does for elevators what Hitchcock did for showers...and then some. As I watched the film this last time I had to steel myself and fight off a queasy feeling of dread during the lead-up to that fateful scene. Four decades later, it's still brutally effective and completely terrifying (maybe more so in 4K UHD), but just like there's so much more to Psycho than the shower scene, there's so much more to Dressed to Kill than that vicious elevator encounter.

De Palma's flashy technique keeps the eye constantly engaged without feeling self-conscious and his snappy script contains plenty of memorable dialogue. While it's a hoot to see Nancy Allen, who plays a high-class call girl who witnesses Kate's killing, verbally spar with police detective Dennis Franz, whose loud, cheesy wardrobe makes him look more like a pimp than a cop, it's the lengthy sequences without dialogue that really sing. All of them are meticulously and impeccably choreographed to evoke myriad emotions, but the knockout scene in the art museum (which borrows a bit from Hitchcock's Vertigo) is a bona fide tour de force and arguably the most compelling and masterfully constructed sequence of De Palma's career. Watching Dickinson and her mystery man play a game of cat and mouse as they navigate a maze of galleries in what amounts to a self-contained mini-drama is pure cinematic bliss. The prelude to Kate's murder ranks a close second, and though the dream sequence denouement is far different in tone and a little gimmicky, I can't deny its dazzling execution and off-the-charts fright quotient.