'MIDNIGHTS' REVIEW AT BEATS PER MINUTE
"SWIFT IMAGINES HERSELF AS CARRIE IN THE CLIMACTIC MOMENTS OF BRIAN DE PALMA'S INTERPRETATION"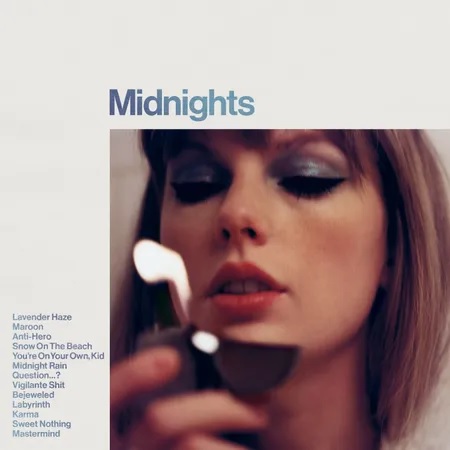 At
Beats Per Minute
,
John Wohlmacher
reviews
Midnights
, the new album by
Taylor Swift
:
Another track that will endure due to its violent honesty follows in "Anti-Hero", where Swift faces self-hatred and depression head on, imagining herself surrounded by the people she's ghosted and a scheming family that is only after her inheritance. The scar on her collarbone returns here as she imagines herself a giant monster with a pierced heart, unable to die. There's faint irony here, but also fatigue as she repeats the signature chorus: "It's me / Hi / I'm the problem, it's me". This connects with much of Swift's self-reflection chronicled in the documentary Miss Americana, where she discusses her vast insecurities, but it also points out her standing in the music business, where the 'family' of surrounding industry players see her merely as a money-making annoyance. The midnight here stretches into the afternoon, further characterizing the moment as a feeling, as Swift goes to war and shock imagery abounds: "Did you hear my covert narcissism I disguise as altruism like some kind of congressman? / A tale as old as time / I wake up screaming from dreaming, one day I'll watch as you're leaving and life will lose all its meaning / For the last time".

Thankfully, the darkness lifts a little with "Snow On The Beach", which introduces a very interesting sonic inspiration. The minimalist classical background has hints of modern composers like Philip Glass and Steve Reich, with the short up-and-down of pulled strings looping as the vocal line extends over it. It's incredibly cinematic, with the use of bells also introduces a somewhat wintery nuance, but the orchestral bed drives the song and makes it softly avant-garde in a manner similar to Bowie's equally Reich-inspired "Weeping Wall". Much has been made of the Lana Del Rey feature here, which is already being memed as inaudible – if anything, Del Rey's voice adds a subtle shade of melancholia, contrasting the pure happiness of the miniature love story the lyrics chronicle. It indeed does feel like, as Swift points out, a moment from a movie.

This theme that into "You're On Your Own, Kid", where Swift returns to her hometown, attending what could be read as a homecoming dance only to find her friends ignore her and have moved on. After referencing the 'Daisy' persona from Reputation's "Don't Blame Me", Swift imagines herself as Carrie in the climactic moments of Brian De Palma's interpretation as the scene turns apocalyptic: "From sprinkler splashes to fireplace ashes / I gave my blood, sweat, and tears for this / I hosted parties and starved my body / Like I'd be saved by a perfect kiss / The jokes weren't funny, I took the money / My friends from home don't know what to say / I looked around in a blood-soaked gown / And I saw something they can't take away".

As on the first two tracks of the album, the musical composition on "You're On Your Own, Kid", with its plucked guitars and subtle synths reminiscent of The xx, hides the emotional darkness quite well, and opens many questions. In a way, it feels like Swift is using pop music to cast a shadow over the brightly illuminated truths within her lyrics on Midnights. Maybe this polarity is not so much a contrast but – similar to the industrial and noise elements on Reputation – an open admission, like a wizard who will introduce his show by exclaiming his work is illusory, but still distracting the audience during the process to alleviate the performance.

Swift portraying herself as Carrie puts into sharp focus who the "monster" in "Anti-Hero" is, illuminating a worldview where women are driven to violence and madness by a world that confronts them with brutality until they break under the punches. That's where the earlier mention of Courtney Love and Laura Palmer makes a lot of sense – the dark side of the homecoming queen has been a classic staple of modern American pop culture. But in Swift's equation there is no Bob and no Kurt Cobain; there's just the very real loneliness of a person constantly bombarded with her own reflection, and her attempts at finding new personas to confront this isolation, which shift and mutate.

As an example, the image of cold blooded vengeance extends to "Vigilante Shit", where Swift takes the role of Catwoman, all lascivious eyeliner and dressed for revenge. It's the album's most minimal track, all quiet anger with its hushed beats and subdued synth lines. Funny enough, the closest sonic reference here is Talking Heads' "Listening Wind", which imagines a very different type of revenge and a different kind of vigilantism. This familiarity shouldn't be read as direct reference, but the similarly eerie-yet-beckoning atmosphere showcases how there is a thematic basis within the emotional core message.

There's another link here: "Vigilante Shit" is one of multiple appearances of Zoe Kravitz's presence (the others being her co-credit as writer of "Lavender Haze" and bonus-track-title "High Infidelity" riffing on her show High Fidelity). The actor and the songwriter reportedly quarantined together during the lockdown and Swift later praised her friend's interpretation of Selina Kyle in The Batman – and the subtle but clever parallels (the cat's eye, the need for revenge, the double identity, the vigilante character) are too numerous to not work. Kyle can be lined up with Palmer; Carrie and Love as mythical American women who are being demonized for being maladjusted and fighting back against a system that is all too ready to bend them until they break. Their demons are, in a way, manifestations of the structure they reside in – and while Palmer, Carrie and Kyle have Twin Peaks, Santa Paula and Gotham respectively, Love and Swift have LA and New York. This is where the cover art of Swift staring in the flame becomes much more than just an image – to banish the demon or to burn it all down?