MUBI ON ALMODOVAR & DE PALMA - POINTS OF CONTACT
FROM LAWRENCE GARCIA'S ESSAY ON ALMODOVAR'S EARLY FILMS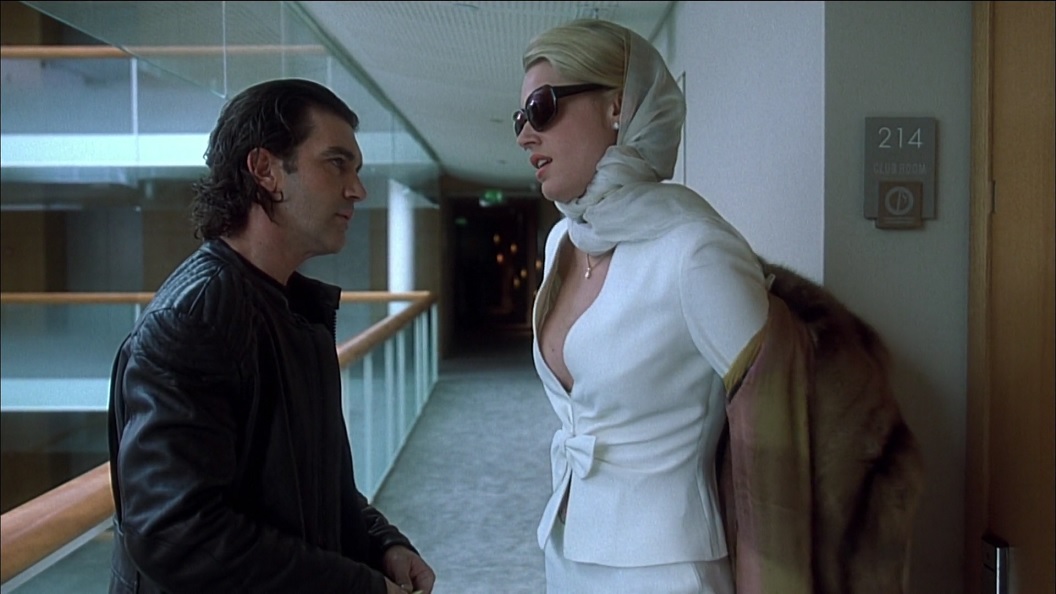 At
MUBI
,
Lawrence Garcia
looks at the early films of
Pedro Almodóvar
, and brings up the cinema of
Brian De Palma
in the process:
Unlike some of his contemporaries, Almodóvar was never much of a niche director, having achieved a fair measure of success from the start. Pepe, Luci, Bom and Labyrinth of Passion both played at the San Sebastian Film Festival, Dark Habits bowed at the Venice Film Festival, while What Have I Done to Deserve This? and Law of Desire had the (backhanded) distinction of being selected for the annual New Directors/New Films showcase in New York. But Women on the Verge of a Nervous Breakdown (Mujeres al borde de un ataque de nervios, 1988), which again saw Maura take the lead, would vault him into another level of success entirely. The recipient of an Oscar nomination for Best Foreign Language Film, it's quite handily the most well-known of his 1980s output.

Although it at one point lifts Psycho's score directly—prefiguring Alberto Iglesias' supremely Herrmann-esque score for Julieta (2016)—the film's rhythms are that of a bedroom farce. Opening with separate dubbing sessions of the famed "Lie to me" scene from Nicholas Ray's Johnny Guitar (1954), the film is, at bottom, about a woman's emancipation from a feckless, fraudulent man—though along the way, it manages to work in subplots involving a Shiite terrorist cell and a blender of gazpacho laced with sleeping pills. That general arc, though, had something of an unfortunate real-life mirror, since Women on the Verge would be the last time Maura would work with Almodóvar until Volver, a full two decades later. But the film did inaugurate Almodóvar's collaboration with cinematographer José Luis Alcaine, who could go onto shoot six of Almodóvar's films. With reference to this long-standing partnership, Brian De Palma, for whom Luis Alcaine shot 2012's Passion, would off-handedly remark: He "lights women beautifully."

De Palma turns out to be a rather useful point of comparison for Almodóvar. The first scene of Matador, after all, anticipates the American director's deployment of Double Indemnity in the opening of Femme Fatale (2002)—a film in which, lest one forget, Banderas does an absurdly campy impression of a gay man going on about floppy disks. Likewise, one might recognize shades of Blow Out (1981) in Almodóvar's own work, such as in the recording sessions of Law of Desire and Women on the Verge. As is the case for most cinephiles of a certain age, Hitchcock looms large for both directors, but in addition, the two share voluptuous visual styles, a taste for scuzzy, voyeuristic pleasures, not to mention a weakness for the bravura set-piece—though Almodóvar's camerawork never quite reaches the same vertiginous, whirligig intensity as De Palma's, weighted as it is towards the materials of performance.

Of the films included in the retrospective, the closest point of contact between Almodóvar and De Palma is Kika, an antic slapstick comedy that over its runtime presents a veritable catalogue of scopophilic antecedents: a phallocentric photoshoot in the vein of Blow-Up (1966); an intrusive survey of domestic activity à la Rear Window (1954); a crucial narrative turn from The Prowler (1951); and a prominently placed poster of Peeping Tom (1960) for good measure. Add to this the throughline of an exploitative reality show—sordid true crime, with none of the desired moral/ethical balance—and the film would seem to have the makings of a De Palma-esque thriller. But in keeping with Almodóvar's filmography, the film's primary draw is how melodrama and farce serve as containers for these varying interests—seen most clearly in the lengthy, slapstick sequence of Forqué's eponymous lead character being raped by a recently escaped convict. For this scene, Almodóvar courted a fair amount of controversy—which he had done before, and would continue to do in the decades following. His early reputation as the enfant terrible of Spanish cinema, though diminished, has yet to disappear entirely. But there's nothing quite like the shock of a first encounter, and if nothing else, Kika makes for a potent one.
See also:Almodóvar Video Essay by Adrian Martin and Cristina Álvarez LópezVulture's William Penix on Almodóvar's Tie Me Up! Tie Me Down!