SACHLI GHOLAMALIZAD TALKS ABOUT 'DOMINO' ROLE
"I HAVE NO PROBLEM PLAYING A TERRORIST...BUT THEN THE STORY MUST BE GOOD"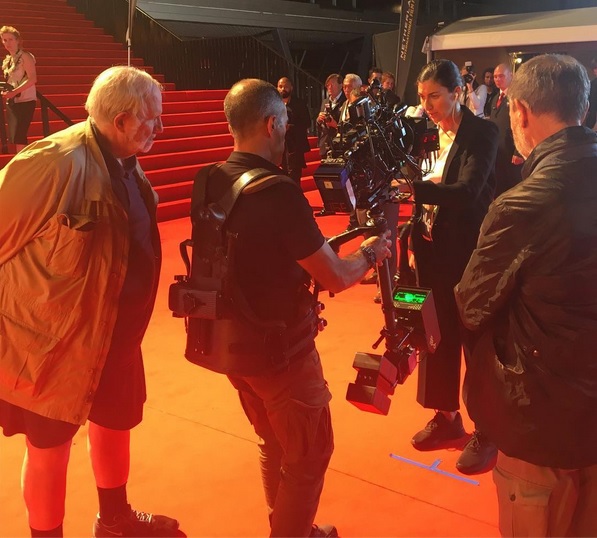 Following up
yesterday's post about Ella-June Henrard
, I've come across an interview from last year with Belgian/Iranian actress
Sachli Gholamalizad
, seen in the pic above, with
Brian De Palma
and
José Luis Alcaine,
during a June 2017 overnight shoot on
Domino
in Amsterdam. In an interview with
Filip Tielens in De Standaard, posted July 20, 2018
, Gholamalizad brings up her role as a suicide bomber in
Domino
:
"I think people often don't get me," Gholamalizad says about acting. "I am very gentle, but I am always asked for extreme roles. In the new Swedish series Stockholm Requiem I play an Israeli-Palestinian double agent whose child is murdered. I had to play a very emotional scene in Hebrew, in the middle of the night at minus ten degrees. In Brian De Palma's movie Domino, I play a suicide bomber. That is actually the film in which Mourade Zeguendi did not, on principle, want to play. I also struggled with it myself. I have no problem playing a terrorist, such roles are sometimes more interesting than good women roles. But then the story must be good. If it is only told to confirm cliches and to contribute to the heroic acts of a white protagonist, then I ask myself enormous questions. I am not afraid to play people with a color or other origin, but I want those roles to be three-dimensional and flesh and blood."
In April of 2017, Mourade Zeguendi, an actor from Brussels,
posted a video on Facebook and Instagram
saying he had turned down a role as a "terrorist from Molenbeek" in De Palma's film because he was fed up with "this kind of typecasting." Zeguendi elaborated a few days later, telling
De Standaard's Jeroen Struys
, "I am fed up. Apparently, someone with a darker skin always has to play someone with only one characteristic: his skin color. That hurts me. There is a difference between playing a Mafioso and a terrorist. And when I heard that phrase: 'terrorist from Molenbeek', I said stop. This is not Afghanistan here, huh. As a father, a Belgian and an inhabitant of Brussels, I say: stop. Stop with that simplistic view of the world."