VISUAL RHYMING - DON'T LOOK NOW - RAISING CAIN
JUXTAPOSED IN TWEET FROM ROBIN FENDER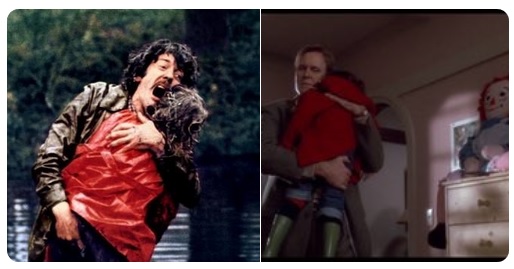 After watching the
Peet Gelderblom
re-cut of
Brian De Palma
's
Raising Cain
,
Robin Fender tweeted
the above juxtaposition as part of a series of tweets about the film. "Many winks/homages to #Psychosis in #
Raising Cain
," Fender states, "starting with the fate reserved for the main female character (as in
Dressed To Kill
)...Funny how the beginning of the movie - Jack & Jenny inside a heart on a television screen - ironically adulterates the adulteress of the female character. DePalma remains virtuoso and relevant in his frame compositions...In any case, DePalma uses screens / images here to reveal or pervert the truth, or even to fragment the personality of the child psychiatrist...Although TDI [Trouble Dissociatif de l'Identité/Dissociative Identity Disorder] may be a controversial diagnosis in the psychiatric community, it provides a great deal of inspiration for screenwriters. #
Raising Cain
is a little #
Split
before its time!...
"I also like how Brian DePalma reverses certain codes: normally, a rebound would have revealed that a certain character was actually fictional, a hallucination of the main protagonist; here, the twist is to prove the existence of this character...#Raising Cain is a very personal film for DePalma, which directly evokes elements of his own journey (the adultery of a parent experienced as traumatic life event, his father doctor ...)."