FUQUA DROPS OUT OF 'SCARFACE' REMAKE
'ROGUE ONE' STAR DIEGO LUNA ATTACHED AS LEAD; UNIVERSAL WANTS TO START SHOOTING BY SPRING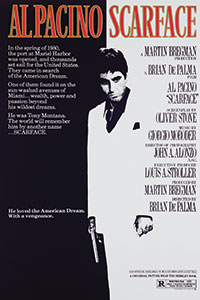 Variety's Justin Kroll
posted an exclusive last night about Universal's
Scarface
remake, indicating that, as the studio is eager to get the production up and running by this spring,
Antoine Fuqua
has decided to drop out due to scheduling conflicts with his
Denzel Washington
-starring sequel to
Equalizer
. "Sources say Fuqua very much wanted to do the film," states Kroll, "and that he and his team were still trying to figure out a way to make it work even as Uni was meeting with other directors. But ultimately, Fuqua had already spent so much time developing the script for the next
Equalizer
that he simply couldn't move on from a project he had so much invested in." (Now would be a great time to see if
Pablo Larraín
is available again.)
Kroll also states that
Rogue One
-star
Diego Luna
is now attached to play the lead, according to "sources". The most recent draft of the screenplay is by
Terence Winter
.
Previously:
Terence Winter to tackle Scarface script
The Scarface remake just got a lot less interesting
Scarface remake is Larraín's dream project
The Scarface remake just got a lot more interesting