PAPUSHADO LISTS DE PALMA AMONG INSPIRATIONS
'BIG BAD WOLVES' CO-DIRECTOR LISTS DUO'S FAVES, AND TALKS ABOUT BLENDING GENRES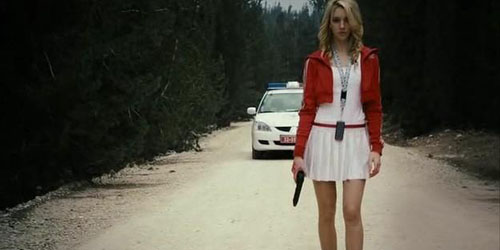 Back in 2013,
I posted some quotes from Fantasia Film Fest co-director Mitch Davis
enthusing about
Big Bad Wolves
as a mix of the
Coen Brothers, Park Chan-wook and Brian De Palma
. Later that year,
Quentin Tarantino
declared the film his favorite of 2013.
Today,
Impact's Sam Todd
posted an interview with
Navot Papushado
, who co-directed
Big Bad Wolves
with
Aharon Keshales
. Prior to
Wolves
, the pair had made a feature called
Rabies
(pictured here), and they more recently provided a short film for the horror anthology
ABCs of Death 2
.
When asked by Todd to talk about what films or filmmakers have influenced Papushado and Keshales, Papushado replies, "Rabies was not only influenced by horror films. Our favourite directors, if I had to list them, would be Martin Scorsese, Steven Spielberg, Brian De Palma, Francis Ford Coppola, Roman Polanski and William Friedkin. We realised that many of the great directors started in horror. Specifically for Rabies, we wondered what it would be like if Robert Altman directed a horror film, or something like Magnolia, where all these people are brought together by terrible circumstances. We drew inspiration from a lot of genres, horror films and just films we liked. We also took influence from recent Korean films, specifically their blending of genres, it's dramatic, it's horrific, it's funny, it's everything. We are great fans of the Coen brothers and Quentin Tarantino. Rabies was our first attempt at mixing it all up. We took everything we liked and mixed it up in one crazy film."
Near the end of the interview, Todd asks, "Which director should every aspiring filmmaker be familiar with?"
Papushado: "I'd go straight for the source: Sergio Leone, especially The Good, The Bad and the Ugly, it was the bible for me as a kid. I watch it every time I begin shooting a movie. Obviously Martin Scorsese and Steven Spielberg, the way Spielberg uses the camera to tell a story is a masterclass, it's the best school for moving the camera. Of course Tarantino and the Coen Brothers from recent years. I can't not put Francis Ford Coppola and Brian De Palma. Everyone is inspired by these 70's filmmakers because they invented everything."