AMC BLOG LISTS 'DE PALMA'S BEST MOVIES'
WITH A COUPLE OF SURPRISING CHOICES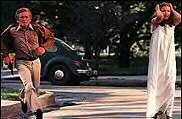 Yesterday,
AMC-TV Blog's Robert Silva
posted a nicely-written list called "Flashback Five - Brian De Palma's Best Movies." Calling De Palma "the most unappreciated of the so-called Movie Brats," Silva goes on to add, "Gifted with an impeccable visual style, his pulp stories are always more complex than they appear at first." AMC notoriously screens De Palma's
Scarface
repeatedly throughout the year, so it is no surprise to see that film listed at number one. But look at what Silva picks for number 2--
The Fury
. "Contrary to common belief," Silva writes, "
The Fury
isn't all about exploding heads but rather a visceral exploration of young people on the cusp of adulthood who find themselves victimized by adults. The flick is a stylistic tour de force, with the director's signature plot puzzles and self-referential violence. And then there's the top-notch cast: you wouldn't expect to find
Kirk Douglas
and
John Cassavetes
in a thriller about psychic warfare, but here they are."
Time and time again it seems like
The Fury
is said to be too complicated, or too bogged down in the action plot of Douglas' character, or Robin isn't in the film enough, etc., etc. They have been showing this film on cable quite a bit lately, and every time it comes on, I get engulfed in its sumptuous images and intricate plot. De Palma pulled off a lot of terrific, interesting visual tricks with this film, almost like a kid in a candy store. And the performances are excellent. I recently read someonoe complain that the staircase shot, where
Amy Irving
appears to be standing in front of a giant movie screen showing an incident that happened with Robin in that same staircase, was somehow a shoddy effect. On the contrary, I feel the effect is very powerful, with the camera moving around Irving, watching the action unfold. It is a key part of
The Fury
's motif of "letting the screen fill your mind." So it is nice to see someone do a list such as this, and to put
The Fury
up so high.
Filling out Silva's top five are Blow Out ("a heady mix of Blow-Up, The Conversation, and The Parallax View"), Carrie (the prom sequence is "a masterpiece of apocalyptic glitz"), and The Untouchables, another AMC mainstay. Silva then adds a list of "Honorable Mentions," essentially giving us his top ten De Palma films, which includes one film that I never expected to read about on an AMC blog: Redacted. "With this Iraq-war movie," Silva writes of his number three honorable mention, "De Palma trades his sumptuous visuals for lo-fi digital camerawork that proves just as dazzling. Still, there's no shortage of the director's usual violence in this YouTube video from hell." Filling out the honorable mentions are Body Double (#1), Carlito's Way (#2), Dressed To Kill (#4), and Mission: Impossible (#5). Of the latter, Silva writes, "Some complain about a labyrinthine plot, but this is still one of the most stylish event movies of the nineties, with a knockout sense of visual storytelling."