SEAN CONNERY HAS DIED AT AGE OF 90
MAMET SHARES BRIEF STORIES OF LEGENDARY ACTOR, WHO WON OSCAR FOR ROLE AS MALONE IN 'THE UNTOUCHABLES'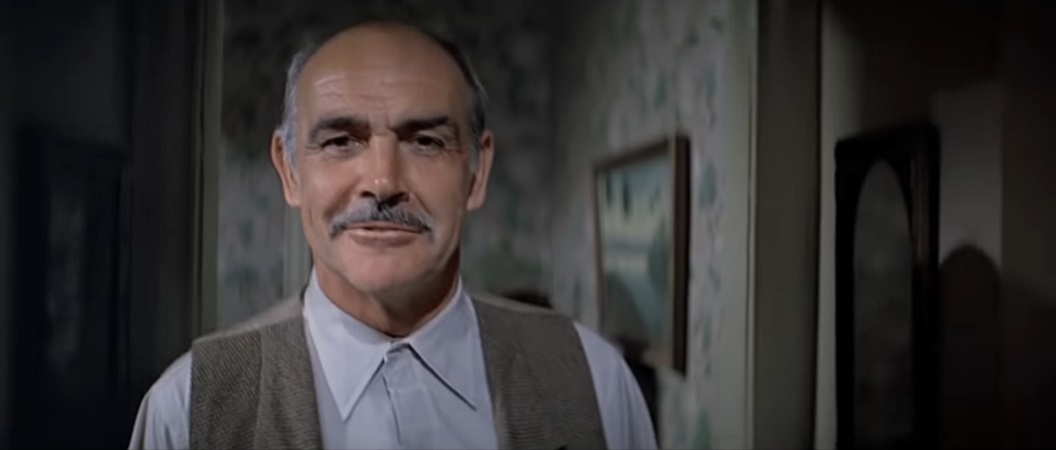 Sean Connery
has died following a long illness at the age of 90, accoring to a
BBC News
report, citing his family. Connery, beloved as the original on-screen James Bond, won an Oscar for his role as Jimmy Malone in
The Untouchables
(1987), which was directed by
Brian De Palma
from a screenplay by
David Mamet
.
In the wake of the news today, Mamet shared two personal stories about Connery with The Hollywood Reporter's Seth Abramovitch:
Sean Connery, who died on Saturday at age 90, was nominated just once for an Oscar — and won.

It was for his work in 1987's The Untouchables, in which he played Jimmy Malone, a veteran Irish-American cop who teams up with federal agent Eliot Ness (Kevin Costner) to put Al Capone (Robert De Niro) behind bars.

Malone's most famous Untouchables monologue — and arguably the most memorable line from the film — involves a scene in which he advises Ness: "You want to know how to get Capone? They pull a knife, you pull a gun. He sends one of yours to the hospital, you send one of his to the morgue. That's the Chicago way."

The author of those words, Untouchables screenwriter David Mamet, shared two stories about Connery with The Hollywood Reporter.

The first is a reminder of Connery's dry and self-effacing wit.

"I met Sean [for the first time] on set," says Mamet. "Me: 'I am very pleased to meet you.' Sean: 'I never made a dollar off of James Bond.'"

The second story involves a gesture of kindness by Connery that forever stuck with Mamet.

"During post-production [Sean] was in Majorca, and we made a date to speak on the phone," he recalls. "Before our scheduled call my cousin called. She was in Ohio with a failed marriage, a husband who'd just lost his job, and, no doubt, the attendant kids down sick."

"In any case," he continues, "she was beyond despair. I told her I'd have to get off the phone as I was expecting a call from Sean Connery, and I'd call her back after the business call."

"'Give him my love,'" the cousin implored. "'Please; I adore him. Tell him first thing.'"

"Then Sean called. I said, 'My cousin adores you.' He asked about her, and I sighed, and told him the tale of her troubles."

"'What's her number?'" was Connery's reply.

"I gave it to him, he rang off, called her in Ohio, and chatted for half an hour. Rest in Peace," Mamet says.
Connery's James Bond debuted in
Dr. No
(1962). He would go on to play Bond in six more films, while also working on other films in between. In 1964, he was cast in
Alfred Hitchcock
's
Marnie
, and he also made several films with
Sidney Lumet
(
The Hill
,
The Anderson Tapes
,
The Offence
,
Murder on the Orient Express
,
Family Business
). Other movies he appeared in include
John Boorman
's
Zardoz
,
John Huston
's
The Man Who Would Be King
,
John Milius
'
The Wind and the Lion
,
Richard Lester
's
Robin and Marian
,
Terry Gilliam
's
Time Bandits
,
Steven Spielberg
and
George Lucas
'
Indiana Jones and the Last Crusade
,
John McTiernan
's
The Hunt for Red October
,
Fred Schepisi
's
The Russia House
,
Philip Kaufman
's
Rising Sun
, and
Michael Bay
's
The Rock
, among many others.