HOLLYWOOD ACTRESSES WANT TO PLAY 'CARRIE'
LINDSAY LOHAN & MEGAN FOX SAID TO BE PSYCHED FOR LEAD ROLE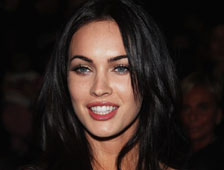 Well, MGM's remake of
Carrie
received quite a boost from
Stephen King
's off-the-cuff mention of
Lindsay Lohan
as a potential Carrie White. The gossip sites that quote unnamed sources are abuzz.
According to TMZ
, "sources close to" Lohan said the actress was "stoked" to hear that King mentioned her name, adding that working with the author "would be epic." Even more surprising,
Megan Fox
is said to be gunning for the lead role in
Carrie
, according to
ShowbizSpy
. Like TMZ, ShowbizSpy quotes a "source close to" Fox as saying, "Megan is a huge fan of the original and would love the chance to play the lead. She's 25 now but she's sure she could still do justice to teenage Carrie. She's told her people to make it happen." In 2009, Fox played the antagonist in the
Carrie
-esque
Jennifer's Body
, and later had a
public falling out
with
Michael Bay
over her role in his
Transformers
series. The ShowbizSpy article stresses that Fox wants to get away from her "
Transformers
image," and is hoping to start mixing theater work with her film career.
GLEIBERMAN ON 'CARRIE': "THE ULTIMATE PROM MOVIE"
Speaking of
Carrie
, a couple of weeks ago, in the print version of
Entertainment Weekly
, critic
Owen Gleiberman
reviewed the new Disney film
Prom
, pointing out that "a mere decade ago, the event was still called '
the
prom,' but in
Prom
... it is never referred to as anything but 'prom'-- as in,
Who are you asking to prom?
It's not even fully clear whether prom is now a noun or a verb (are you going to prom?
We're going to prom like it's 2099!
). And that signals that the prom is no mere party but, in fact, a state of mind."
In the print version of his review, Gleiberman includes a section in which he tours through proms as depicted in various films, including Napoleon Dynamite, Romy and Michele's High School Reunion, Pretty In Pink, Saved!, and Footloose, while devoting a separate paragraph to Brian De Palma's Carrie:
There's no doubt that the ultimate prom movie is Carrie (1976), a suburban Cinderella daydream-turned-blood-drenched nightmare. As the pale senior-class mouse who gets duped into becoming prom queen (all so she can get a bucket of blood dumped on her during the crowning), Sissy Spacek makes Carrie the cringing wallflower in all of us: one who both covets and fears acceptance. Then she becomes an avenging angel, and the film's slow-motion majesty turns it into the most lyrically emotional of all modern thrillers, a vision of high school as hell.