GLOWING?
PODCAST DELVES INTO THE DETAILS OF 'BODY DOUBLE'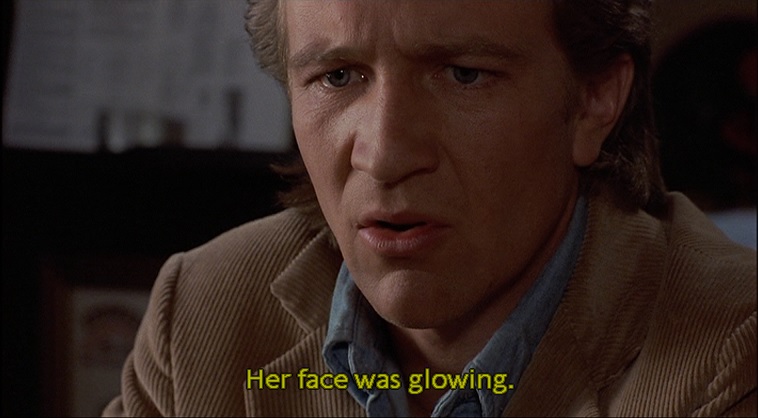 This week's episode of the podacst
TheNecronomi.Com
finds co-hosts
James Sabata
and
Don Guillory
welcoming guest
Bob Pastorella
to talk about
Brian De Palma
's
Body Double
. As they delve into the devious machinations of Sam Bouchard, one of the hosts defends some of the elements involved, saying that "De Palma doesn't tell us every detail of the story," and that some of those details display "a great level of forethought on De Palma's part." Yes, indeed.
Then the host brings up a radical possibility that makes the other two involved in the discussion stop to think: was Sam Bouchard the man who is, er, with Carol when Jake Scully walks in on them? It would make Sam's scheming even more extreme, but I do think after the people on this podcast go back and review the film, they will spot the telling moment when Sam, already on the lookout for a poor schmuck to play the part of the witness in his murder scenario, overhears Jake asking a friend if he knows of any apartments available.
Sam Bouchard here is a bit like Jon (Robert De Niro) trying to manipulate Judy (Jennifer Salt) in Hi, Mom!, taking what his pawn gives him and then bonding with him, improvising a story that may have been roughly sketched in his mind beforehand. Although De Niro's Jon in Hi, Mom! has actually weaved his way into Judy's life after surreptitiously spying on her with his camera from across the street, I think we can see the very moment in Body Double when Sam Bouchard begins to pay attention to Jake Scully: