MR. PEEL REVISITS 'MISSION TO MARS'
LONELINESS & ISOLATION BRING A NEW FOCUS TO THE FUTURE DEPICTED IN THE FILM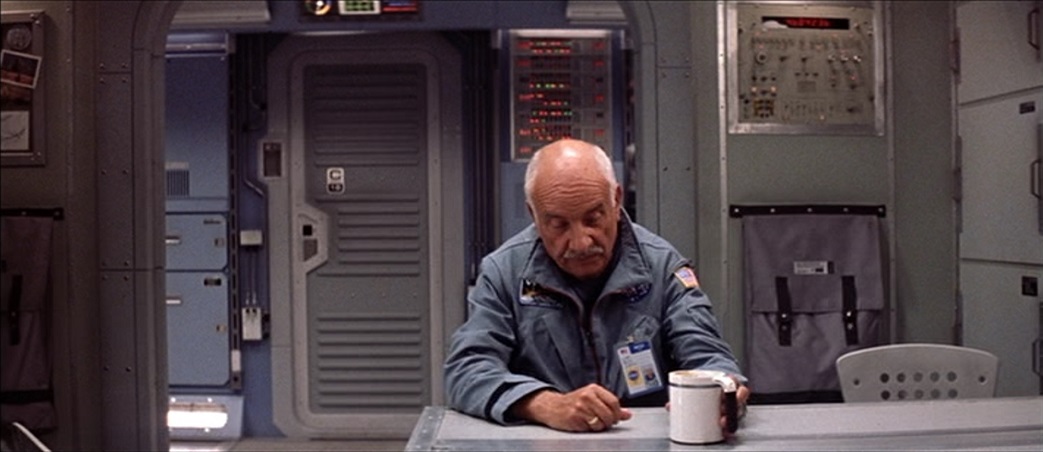 "In our real 2020 it feels like loneliness is unavoidable," states Mr. Peel, aka
Peter Avellino
,
in a post last Friday about Brian De Palma's Mission To Mars
, "but this is a film that wants to reject that through the pure love it portrays and even the way
Don Cheadle
compares the union he creates with the plant life on Mars to a marriage, that companion who gives you oxygen."
Here's the start of Avellino's lengthy post at Mr. Peel's Sardine Liqueur:
Well, we didn't know this was going to be the future. Stuck like this, away from the people we've known and care about. But even now they stay with us as we close our eyes, wishing we were back with them. It's the naiveté of youth, I suppose, the dream that you grow up and as the future appears the world will grow with you, eventually turning things into that life one dreams of. But the real future, the one we're going to get, is always closer than we think and those people just get further away. So by the time we actually get there, it's too late to do anything about it. That's when we realize there's no one else around.

Brian De Palma's 2000 film MISSION TO MARS is set in what was then the future. But revisiting this film during its 20th anniversary is not simply about addressing when it opened but how it actually begins in the year 2020, on June 9th to be exact although the preciseness of the date serves little purpose. It's still a pretty familiar looking future except that people appear to be drinking boxed beer at a crowded barbecue which, boxed beer aside, hasn't been happening or at least it shouldn't—I was going to add that we're also not going to Mars anytime soon but there's actually a mission happening, go figure, even if there won't be any humans onboard. Living in this actual time as we are, if you call this living, we already know that the 2020 of this film has little to do with the reality we currently know even if the film doesn't spend much time on Earth. My main recollections of seeing this film opening night way back in March of that year at the El Capitan on Hollywood Blvd. are that the packed house violently booed when the end credits rolled and someone threw what looked like a Snapple bottle at the screen. But time changes things. For one, this is a film where a character gets marooned all alone and who the hell knew back then that the very idea of isolation would turn out to have the most to do with what life in 2020 really is. Like many films that have been loudly rejected on opening night, MISSION TO MARS is more interesting than that initial response indicated and even though it does still have more than a few issues, it's a film striving to be about hope and connection in a way that makes me think a little more fondly about it these days. There's a lot to figure out right now about the way things are going and even if there aren't any real answers in the film I'm watching, there's always the dream that maybe something can still be found there.

As the first ever crew on the surface of Mars explores the red planet, they discover the possibility of water which would allow for earth colonization. But when they try to investigate, the entire team except for Commander Luke Graham (Don Cheadle) is wiped out by a mysterious vortex of massive size leaving the lone astronaut remaining stranded there. When news of this reaches the World Space Station via a message that indicates Luke is still alive, plans for the next ship for Mars are changed to turn it into a rescue mission which will include Commander Woody Blake (Tim Robbins), wife Terri (Connie Nielsen), Phil Ohlmeyer (Jerry O'Connell) and Jim McConnell (Gary Sinise), who gave up his own shot at commanding Mars One when his wife Maggie (Kim Delaney) fell ill and soon died. But months later when their ship begins to orbit Mars things immediately don't go as planned and once the team reaches the ground to search for Luke, they soon discover the existence of a massive stone face which may lead to the answer of what sort of life once existed on that planet and what may have really happened to it.

For one thing, it's definitely the second best Brian De Palma film with the word "Mission" in the title but this is of minor importance. Even after all this time MISSION TO MARS is still a tough one to figure out, a film which on the surface doesn't seem to be anything other than a showcase for spectacular digital effects but somewhere deep down feels like it has other goals in mind that it hasn't entirely worked out. Maybe it wants to be more of an interior journey into outer space but even with several big names in the cast the characters are never interesting enough to warrant this approach so what's left becomes the focus on those effects and the way De Palma builds his own visual methods around them. Right from the very first moment as the title flashes onscreen a rocket blasts off, only to be revealed as a toy in a suburban backyard giving the impression the film wants to play with our expectations, finding a way to turn kid stuff into the adult regret of lost dreams and back again, to understand what the dream in those toys meant in the first place. It's an idea that doesn't feel entirely formed and the film is forced to pay more attention to all that hardware while still looking for ways around all the expected tropes, like how in place of the expected spectacular launch sequence is a simple transition to the surface of Mars done with a cut from a playful footprint in a backyard on Earth. This is an attempt at hard science fiction which at times seems more interested in finding unexpected ways to tell the story rather than acclimating us to the drama at hand and plays at such a distance that it's a little too easy to check out early on. There's no mission control populated with familiar character actors, no cutaways to worried loved ones back home, no bogus conflict between the astronauts played by big names and even an early sequence involving cross cutting that plays with notions of time within the narrative for reasons that still seem a little hazy.

A few plot points, like how Cheadle's command will presumably be joined at a later date by Mars II commanded by Robbins, seem vague in the way they're casually discussed but I'm not sure it matters and I'm not sure the director really cares about making such generalities clear. Complicated exposition gets doled out in a way that hasn't taken into account what anyone watching the film doesn't know so not enough of it registers, lost to whatever De Palma is actually interested in focusing on. Even when the film opens with one of his patented endless Steadicam shots it's not about the technology surrounding a Mars launch but the simple act of the astronauts socializing at a farewell barbecue, giving us more info about the relationships than the actual mission which is fine but the mundane setting doesn't seem to warrant such a complex visual approach (which features a cut partway through as if a decision was made in editing to rush things along) and it also makes the film feel unexpectedly small with the interactions never registering all that much as the camera swirls around them. There's so little drama in the friendships of the main characters which means right from the start we're facing a Brian De Palma film where everyone gets along, no ominous foreshadowing in the air, so earnest that the scenes barely seem about anything.

The way the writing credits read (screenplay by Jim Thomas and John Thomas & Graham Yost, story by Lowell Cannon & Jim Thomas and John Thomas) along with the very nature of the project (presumably inspired by the Disneyland ride that closed back in '92 but it has the Touchstone Pictures logo) one imagines many, many drafts of various scripts written but the story still feels either not quite smoothed over or maybe had whole sections deleted for whatever reason. One major plot point is even relayed via news delivered remotely at another location and there's something to be said about how the film seems more interested in dwelling for a long moment on the sight of Armin Mueller-Stahl silently drinking a cup of coffee than the spectacular landing we didn't get to see. But the question is are there really plot points to this film or just several specific events leading up to the final revelation. So much of what appeals about films directed by Brian De Palma more than the necessities of story structure is his portrayal of the madness that surrounds the main characters as they try to make sense of this increasingly insane world while the plot happens around them. The characters in this film are all good and pure, which makes sense since they're astronauts, but the earnestness doesn't feel all that fleshed out as if he doesn't quite know how to make it ever seem genuine. They can each be described simply via who means the most to them, nothing more; Woody and Terri are the happy couple, Jim is sad because his wife died, Luke misses his son back on Earth and Phil is the joker who constructs the DNA of his dream woman using M&M's in zero gravity. There's no real conflict between the characters at all beyond how to address whatever any given immediate issue might be, saying things like "Let's work the problem" as they get to it, all of them so idealized as heroes that there isn't much else to them beyond the perfection. These are the types who normally get sacrificed, if not totally destroyed, in the cruel world of De Palma films so maybe in being forced to portray people without flaws it removes all the fun and doesn't replace it with anything particularly interesting.

This has never been a director known for showing much interest in healthy relationships between men and women (maybe with the exception of Kevin Costner as Eliot Ness and Patricia Clarkson as "Ness' Wife" in THE UNTOUCHABLES) which makes it feel like there's not much to portray here beyond the simple idealization. Tim Robins and Connie Nielsen are played as being totally devoted to each other, such a mirror image of Gary Sinise and his late wife played in flashback by Kim Delaney that it almost feels a little confusing as if husband-wife missions have somehow become a NASA requirement in the future. But even if the perfection plays like a neon sign that something bad has to happen, this is still a rare Brian De Palma film with next to no cynicism, no irony or real sense of the fates conspiring against all the goodness in the universe. Even when a sacrifice has to be made, even when an American flag is planted upon arrival at the new planet, it seems to insist on holding onto some kind of optimism so the movie is never embarrassed by its own inherent dorkiness coming out of the science fiction technobabble or how much these people love each other as if it wants to actually believe in this dream of everything being ok.