PIERS HANDLING ON IDEA OF DE PALMA FILMING AT TIFF
"I WAS AMUSED BY IT. I READ THAT AND THOUGHT, 'THAT'S BRIAN BEING OUTRAGEOUS'"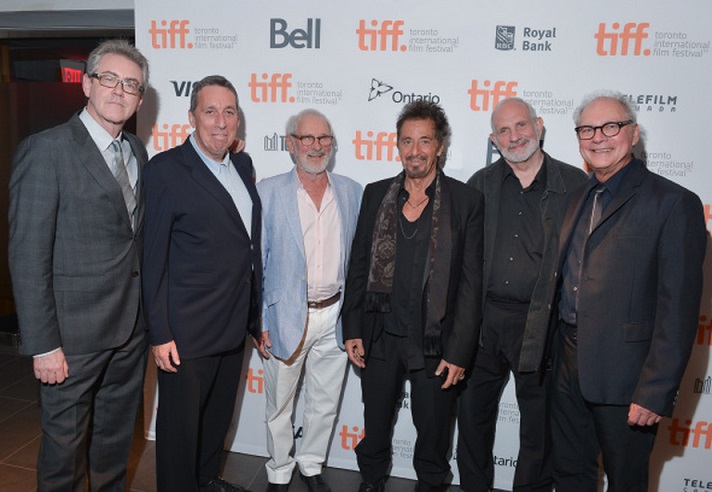 2018 will be the final year that
Piers Handling
(pictured above from 2014 with
Ivan Reitman, Norman Jewison, Al Pacino, Brian De Palma
and
Barry Levinson
) will be in charge of the Toronto International Film Festival. As
Barry Hertz
writes today at
The Globe And Mail
, Handling has been TIFF's "director and chief executive for the past 24 years." In a sort of "exit interview" prior to next week's start of TIFF's 43rd edition, the name
Harvey Weinstein
("the great unnameable") comes up several times. "The festival wasn't obsessed with awards," Handling tells Hertz, "but it was increasingly important, and the landscape totally changed in the 90s, as studios got more comfortable using festivals, largely because of the great unnameable, Harvey Weinstein, who revolutionized the way award campaigns were run. Toronto now tees off the award season because it's basically a free press junket for North American media."
Later in the interview, Hertz delves more into questions centered around Weinstein:
You say that Weinstein changed the game for festivals. When the allegations came out against him last year, did it cause you to re-examine TIFF's dealings with Weinstein? How close were you with him and his company?

We were negotiating with him every year, as we did with every other single North American distributor and studio. We obviously in no way condone any of what happened, and we were the first festival to come out in support of the women who came forward. You have no sense of what's going on in your festival behind closed doors and in hotel rooms. But we've tightened up and we've always had a sexual harassment policy in place, which we're going to make more public. There will be a hotline to call, signage, a code of conduct. We take it very seriously.

Did the allegations shock you? There was always talk about him being a bully, certainly ...

That's a tough question to ask because is there any behaviour that surprises me at the end of the day? You're in the movie business. Go back to the old Hollywood studio bosses – read Marilyn Monroe's memoirs for Christ's sake. The casting couch syndrome goes back to theatre. Does it come as a surprise that there are people still continuing that bad behaviour? No. Does it come as a surprise that that's the person? Yes. It's something you wish would go away, and I have no idea if at the end of the day it will. I know the #MeToo movement is going to make great inroads, and all of us are clamping down. But it's going to take more than one year, two years, to change the industry.

What do you think of Brian De Palma's plans to make a Weinstein-inspired horror movie set during TIFF?

[Laughs] Well, Brian's made a movie set in Cannes, and Harvey was here all the time … I'm not going to have to deal with the issue in my position as CEO, someone else will. Whether the film gets made or not, who knows? I was amused by it. I read that and thought, "That's Brian being outrageous."

Were you ever tempted to go elsewhere?

I was approached, but you're running the most important, biggest festival in the world. Some approaches were to run institutions where I'd be an administrator, and I didn't want to be an administrator raising money. I wanted to be the film guy who had the luxury and opportunity to run an institution with people around me who could do most of that work, exceptional fundraisers who know their business. This is one of the best film jobs in the world, and it's allowed me to dream my own dreams.
It was announced this week that
Joana Vicente
will be the new executive director and co-head of TIFF, joining the previously announced co-head and artistic director
Cameron Bailey
. Vincente is married to
Jason Kliot
. As co-presidents of HDNet Films, Vincente and Kliot co-produced De Palma's
Redacted
in 2007. At the New York Film Festival that year,
Kliot jumped on stage during an after-screening Q&A
(moderated by
J. Hoberman
) to try to explain the legal issues involved that led to the real-life photos from Iraq in
Redacted
's final sequence being themselves redacted, against De Palma's wishes:
Hi, I'm one of the producers on the film, and I've been dealing with the legal issues with Brian for a very long time. I think... what has to be understood here, is that, first of all, Brian absolutely tried to indemnify Magnolia, and Mark [Cuban] and Todd [Wagner]. So did myself and the other producers of the film. We were willing to put ourselves on the line to actually get the unredacted pictures out there. But that is not legally acceptable. That doesn't mean that people can't go after Cuban and Wagner, and the people who financed the film. And ultimately, it's their decision whether or not they want to take that risk. What I think is really horrible here, and, you know, what is becoming in the press, a sort of "Cuban vs. De Palma" type of silly debate, is that, E&O insurance, since 9/11, errors and omissions insurance, has become incredibly difficult to get for American films. And the Fair Use laws in America are completely unfair. And they set it up so that we cannot use images of our own culture to tell the truth about our own culture. And that is a restriction that occurs to documentaries that are out there, as well as feature films, and this is a much larger issue.