'PHANTOM' #49 ON GREATEST ROCK MOVIES LIST
THAT'S WAY TOO LOW, OF COURSE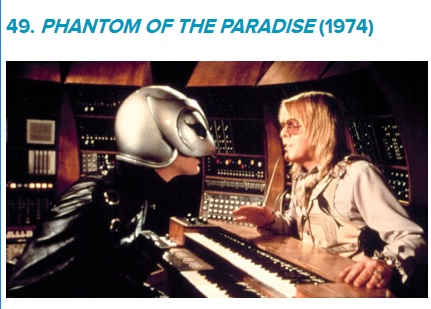 Last week,
Consequence Of Sound
posted its list of "The 50 Greatest Rock and Roll Movies of All Time."
Phantom Of The Paradise
made the list at number 49 (
Edgar Wright
's
Baby Driver
is number 50). "
Phantom of the Paradise
is
Brian De Palma
's most whimsical and traditionally funny film," states CoS'
Mike Vanderbilt
in the film's entry blurb. "Good rock and roll has a sense of humor amid the cynicism and melodrama of the music.
Phantom
sardonically skewers the music industry, turning a record contract into a Faustian deal with the devil.
Paul Williams
brilliantly plays against type as the evil Swan and provides a wonderfully bizarre collection of tunes for the soundtrack, featuring faux '50s nostalgia with "Goodbye, Eddie, Goodbye", the
Linda Ronstadt
-style country-tinged pop of "Special to Me", the glammy "Life at Last", and the gloriously cynical closer, "The Hell of It".
The Rocky Horror Picture Show
makes the list at number 4.