MORODER'S 10 BEST
THE GUARDIAN'S JEREMY ALLEN ON 'TONY'S THEME' - "ONE OF MORODER'S MOST AMBITIOUS"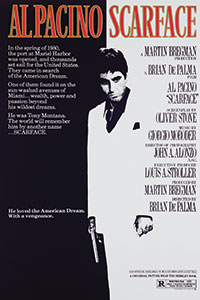 The Guardian's Jeremy Allen
picks
Tony's Theme
as #7 on his "10 of the best"
Giorgio Moroder
list:
"The commissions kept rolling in, and, in 1983, Moroder got to record perhaps his finest soundtrack of all for
Brian De Palma
's
Scarface
, starring
Al Pacino
as Cuban immigrant and white powder enthusiast Tony Montana.
Tony's Theme
(not to be confused with the Pixies' song of the same name) is a moody and moving requiem featuring synthetic voices chanting in unison like a choir, with a simulated cello chugging underneath. Musically, the instrumental track is one of Moroder's most ambitious, an elegiac mass that bursts into a full widescreen experience before tapering away again at the end; it's just a shame that the full orchestral flourishes weren't actually played by an orchestra. According to the director, Universal had intended to re-release
Scarface
in 2004 with a rap soundtrack, but De Palma put the kibosh on it, saying the score was already perfect. Whether they were going to use
Mobb Deep
's 1997
G.O.D Part III
single, which purloins a hearty sample from
Tony's Theme
, is a moot point."