LOFT NODS TO DE PALMA
BELGIAN HIT IS A THRILLER WITH ONE TWIST AFTER ANOTHER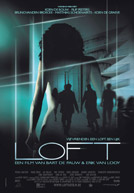 Erik Van Looy
's
Loft
, written by
Bart De Pauw
, opened to great success last October in Belgium. The film apparently features several nods to
Brian De Palma
.
Variety's Boyd Van Hoeij
wrote that the film features "a nod to Brian De Palma in a standout sequence at a casino."
FilmFreak's Alex De Rouck
mentions that Van Looy and De Pauw emphatically wink to De Palma "in his Hitchcock period (especially in the long scenes in Dusseldorf and in the casino)." The film currently has no release date for the U.S., but, despite both critics' feeling that the film has one twist too many, it seems worth keeping an eye out for...