GASPAR NOE TRACES HIS INTEREST IN SPLIT SCREEN
RICHARD FLEISCHER, BRIAN DE PALMA, PAUL MORRISSEY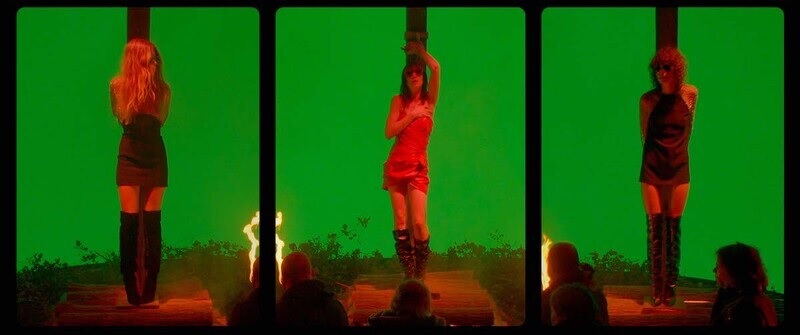 At RogerEbert.com
,
Carlos Aguilar
asks
Gaspar Noé
, "Can you trace your interest in using split screen to a particular film or piece of art that you encountered before you started working on
Lux Æterna
in 2019? Or was this an aesthetic choice that was born specifically for this premise?"
As everybody else, I had seen many movies with the split screen effects. Movies from the seventies, like the ones of Richard Fleischer, like "The Boston Strangler." I had also seen movies by Brian De Palma with split screen since, but probably the movie that impressed me the most about the use of split screen is a movie that was not released in the states, but it was released in France, although it was an American movie. In France it was called "New York 42nd Street," but in America the name it had was "Forty Deuce." It was a theater play that Paul Morrissey adapted into a film with two cameras. I guess it was for legal rights that it was not released here. You can barely find it on a bootleg DVD with French subtitles.

I was a film student when I saw that feature film that was shot from the beginning to the end with the split screen and I said, "Wow, that looks great. It's a great idea." Unfortunately, they didn't really think how to make it more powerful. And so, I've had that movie in mind all my life. When I started shooting my previous movie "Climax," the [fashion] brand Saint Laurent proposed to give money to make a short film. They said, "It can be five minutes long or it can be 70 minutes long. Whatever you want, but just use actors that are icons of our brand and use our clothing."

I had an idea to do with Béatrice Dalle and Charlotte Gainsbourg, but we had a limited budget, so we decided we could shoot this short film in five days. The first day of shooting, I tried to film it as I had I shot "Climax," which means I wanted to shoot it with long master shots and we were so unprepared that at the end of the day, I had like a six-minute shot that wasn't working. And I said, "Well, now I have four days left. I cannot keep on working this way because I'm not prepared enough and there are too many people around." I decided that from the second day on, I would shoot with many different cameras.

We had two cameras on the set and the guy who was playing the director of the making-of in the movie had a small video camera. I said, "Let shoot every single with two or three cameras and I'll see how to edit the movie, but it will not be a movie with just master shots." In the editing process I decided to use the split screen or the triple screen. I really enjoyed doing a very playful edit with one, two, or three screens inside the screen. One year after doing this short film that became at 52-minute movie and was shown theatrically in many countries as a feature film, I did another short film for the same brand called "Summer of '21." It's on YouTube and Vimeo. Once again, I filmed that with two cameras and it's a split screen fashion film that I am really proud of.

After those experiences with fashion short films, why did you feel that this formal choice could also work for "Vortex"?

Last year in the month of January, I came back from seeing my father in Argentina and my French producers suggested I do a confinement movie. Confinement movies are those kinds of productions in which you have one or two actors in one single apartment because we could not shoot in the streets. I said, "I have an idea. It's about an old couple. We could make it using split screen. We would see the lives of the two members of the couple. It would be shot with two cameras." In my head, because I was already used to the split screen, I thought it would make even more sense than for the two shorts I had done before.