'UNTOUCHABLES' IN 4K, NOW ON VUDU, iTUNES, APPLE TV
THE DIGITAL BITS: "THIS DOES APPEAR TO BE A NEW SCAN" - 35TH ANNIVERSARY LATER THIS YEAR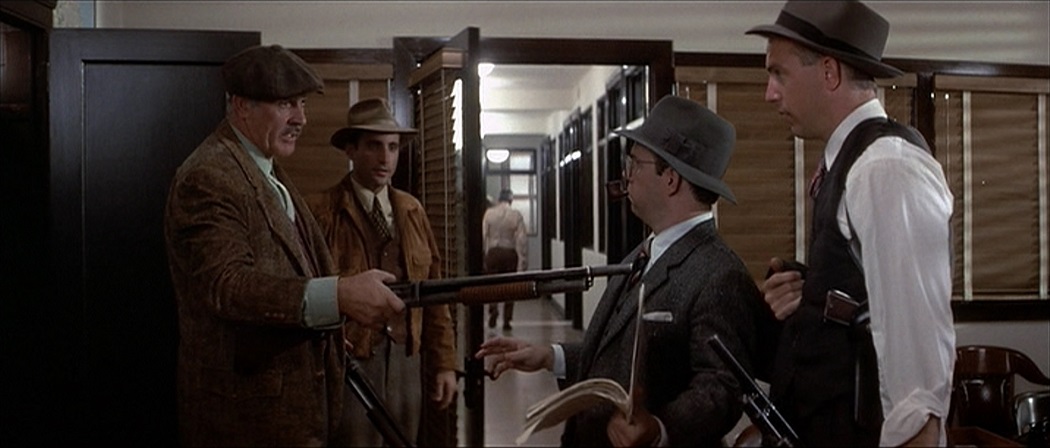 "And here's something interesting," states
The Digital Bits editor Bill Hunt in his "My 2 Cents" column today
. "Paramount has made
Brian De Palma
's
The Untouchables
available for purchase in 4K Digital on Vudu, and we expect it to begin appearing on other digital services too. This does appear to be a new scan, and it's worth noting that the film celebrates its 35th anniversary on 6/3. So it's very likely that we'll see a physical 4K Ultra HD release sometime around then as well. Thanks to Bits reader Chris R. for the heads-up! [Editor's Note: It's up on iTunes/Apple TV now too.]"
Meanwhile, Liam Gaughan at /Film includes The Untouchables on his list of "The 12 Best Mob Movies You Need To See Immediately" ...
There's a fear that sometimes mafia films can try too hard to humanize gangster characters, and as a result the audience may end up sympathizing with violent men who have done truly horrible things. However, some of the best mob movies are those that focus on the law enforcement officers that attempt to bring these dangerous criminals to justice. Based on the 1957 novel of the same name, Brian de Palma's 1987 classic "The Untouchables" tells the true story of the Chicago cops that brought down the notorious Al Capone (Robert De Niro). De Palma has experience working in the horror and thriller genres, and here he combines flashy stylistic flourishes with a more classic version of the old-school gangster epic.
Gaughan's dozen also includes
Carlito's Way
:
Brian De Palma always creates an interesting tone with his crime films, which combine well developed characters with more elaborate stylistic flourishes. "Carlito's Way" is a fascinating look at a gangster's career that features one of Al Pacino's best performances ever; Pacino is known for giving exaggerated performances and can often be quite hammy, but he's remarkably restrained here in his role as Puerto Rican gangster Carlito Brigante. There are obvious similarities within De Palma and Pacino's other famous collaboration, 1983's "Scarface," but "Carlito's Way" is the stronger film.