De Palma a la Mod
E-mail
Geoffsongs@aol.com
-------------
Recent Headlines
a la Mod:
Domino is
a "disarmingly
straight-forward"
work that "pushes
us to reexamine our
relationship to images
and their consumption,
not only ethically
but metaphysically"
-Collin Brinkman
De Palma on Domino
"It was not recut.
I was not involved
in the ADR, the
musical recording
sessions, the final
mix or the color
timing of the
final print."
Listen to
Donaggio's full score
for Domino online
De Palma/Lehman
rapport at work
in Snakes
De Palma/Lehman
next novel is Terry
De Palma developing
Catch And Kill,
"a horror movie
based on real things
that have happened
in the news"
Supercut video
of De Palma's films
edited by Carl Rodrigue
Washington Post
review of Keesey book
-------------
Exclusive Passion
Interviews:
Brian De Palma
Karoline Herfurth
Leila Rozario
------------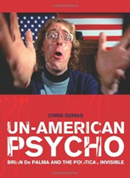 ------------
Interviews...
De Palma interviewed
in Paris 2002
De Palma discusses
The Black Dahlia 2006

Enthusiasms...
Alfred Hitchcock
The Master Of Suspense
Sergio Leone
and the Infield
Fly Rule
The Filmmaker Who
Came In From The Cold
Jim Emerson on
Greetings & Hi, Mom!
Scarface: Make Way
For The Bad Guy
Deborah Shelton
Official Web Site
Welcome to the
Offices of Death Records
Hope Lies at
24 Frames Per Second