PRESSMAN SON REMEMBERS FATHER'S LAST DAY
WITH FAMILY & COMPANY GATHERED, WATCHED 'PHANTOM OF THE PARADISE' TOGETHER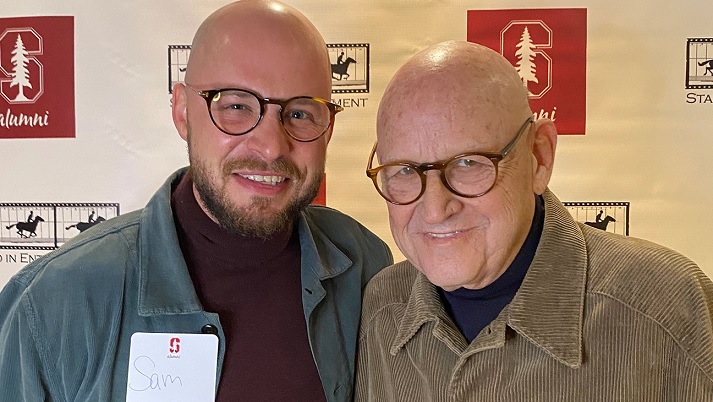 Sam Pressman
, son of
Edward R. Pressman
, wrote a guest column that was published at
The Hollywood Reporter
on Tuesday - here's an excerpt:
A life well-lived is best directed by doing what you love with people you love. And my father, Edward R. Pressman — a film producer, jazz lover, student of philosophy, constant reader and Dodgers fanatic who would have turned 80 on Tuesday — had a life filled to the brim.

On Jan. 17, in the last moments of my father's life, his family and his company, which has always been family to Ed, surrounded him. We listened to "Gassenhauer," the theme of Badlands, my father's fourth film as a producer. He looked so peaceful and beautiful.

Earlier, on this last day, we watched Phantom of the Paradise. I've always been in awe of that film. The joy and chaos that is in each frame; the music that, like old souls, lasts forever. You can feel the way that Ed and director Brian De Palma were experimenting together, pushing cinematic boundaries while also not knowing where the boundaries lay.

The film begins with the song, "Goodbye Eddie, Goodbye." The lyrics read, "We'll remember you forever, Eddie, through the sacrifice you made. We can't believe the price you paid for love."

What sticks with me is love. My father really loved a lot. He didn't have to say a lot. I could feel it in the slightest curl of his smile or the gesture of his hands. He loved his family. He loved my mother, Annie. He loved film. He loved working. He loved his company. He loved the Hollywood and independent film community.

In remembering my father, a lot of people speak about his determination. When he committed to a film he never gave up. I think a lot of that strength came from his childhood. His family and childhood friends shared a lifelong bond that gave him the strength to never be afraid.