AFFLECK'S 'AIR' BORROWS DONAGGIO'S 'TELESCOPE'
MAIN THEME FROM 'BODY DOUBLE' USED FOR THE UNVEILING OF THE SHOE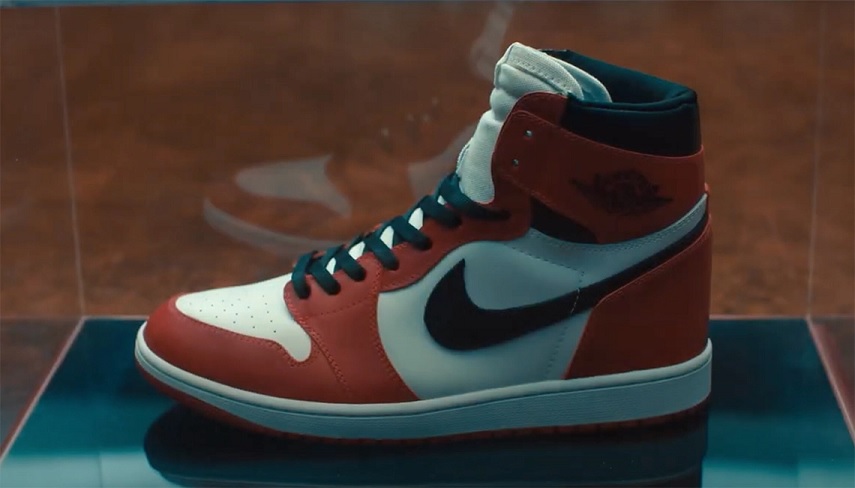 I haven't seen
Ben Affleck
's
Air
yet, but several mentions have been made about the film's use of
Pino Donaggio
's "Telescope" from
Body Double
. "
Air
is a joy," tweets
Paul Ridd
. "A dryly funny, breezily cynical film about business strategy and the power of personality and persuasion. Loved the retro styling and music, particularly the strategic deployment of Donaggio's 'Telescope' from
Body Double
+
Tangerine Dream
's
Risky Business
score."
Brett tweets, "Air is the last movie I expected to feature the most iconic bit of Pino Donaggio's score for Body Double, one of my very favorite pieces of music movie ever, for the shoe reveal." And in a review posted today at JoBlo, Chris Bumbray concludes, "All in all, Air really is a terrific package, with Affleck having a ton of fun telling this story. It definitely has one of the best soundtracks of the year, with the needle drops running the gamut from Bruce Springsteen to 'Axel F'. Affleck even repurposes Pino Donaggio's main theme to Brian De Palma's Body Double to complement the Tangerine Dream music. It's a nice touch in a movie that's full of them."
Film Music Reporter has the lowdown:
The full list of music cues featured in Ben Affleck's biographical drama Air has been revealed. While the film doesn't have a credited composer, Paul Haslinger (Underworld, Halt and Catch Fire, Resident Evil: The Final Chapter) appears to have contributed a few original music cues, credited in the end titles as I Want to Sign Him and Sneaker AnthemRunning Out of Tim. The movie also features tracks from multiple 80s scores by the German electronic music group Tangerine Dream (which Haslinger was a member of in the late 80s), including Running Out of Time & Through the Dark/Run Across the Street from Miracle Mile, Shop Territory from Firestarter, Jerry's Decision [Ed. note: a comment at that site states this is not a Tangerine Dream track] & To the Head of the Class from Three O'Clock High, Love on a Real Train from Risky Business and Breathing the Night Away from Heartbreakers. Harold Faltermeyer's music from Beverly Hills Cop and its first sequel makes an appearance in a couple of scenes. Other score cues featured in the movie include Leave Atlantic City from Desperately Seeking Susan (by Thomas Newman), JP Brenner Emerges from Raw Deal (by Christopher Boardman), Votes for Women from Suffragette (by Alexandre Desplat), Closing from The Times of Harvey Milk (by Mark Isham), The Girl from Flinch (by Miami Nights 1984) and a track from Pino Donaggio's score from Brian De Palma's Body Double.

Andrea von Foerster serves as the music supervisor of the movie, which also features numerous 80s hit songs, including Money for Nothing by Dire Straits, My Adidas by Run DMC, Legs by ZZ Top, Sister Christian by Night Ranger, Ain't Nobody by Rufus & Chaka Khan, All I Need Is a Miracle by Mike + The Mechanics, Time After Time by Cyndi Lauper and Born in the U.S.A. by Bruce Springsteen. Air starring Matt Damon, Affleck, Jason Bateman, Viola Davis, Chris Messina, Chris Tucker, Marlon Wayans, Matthew Maher, Jay Mohr, Julius Tennon centers on the game-changing partnership between a then rookie Michael Jordan and Nike's fledgling basketball division. The drama will be released in theaters nationwide on April 5 by MGM/Amazon Studios.
Previously:Baena had Donaggio's Body Double score "in the back of my mind", thrilled to work with composer on Spin Me Round