TARANTINO ON SPLIT-SCREEN IN 'SISTERS', 'KILL BILL'
FROM HIS BOOK, 'CINEMA SPECULATION' - "IT'S ALMOST AS IF BRIAN DE PALMA HAS SEIZED CONTROL OF THE MOVIE FOR A MOMENT"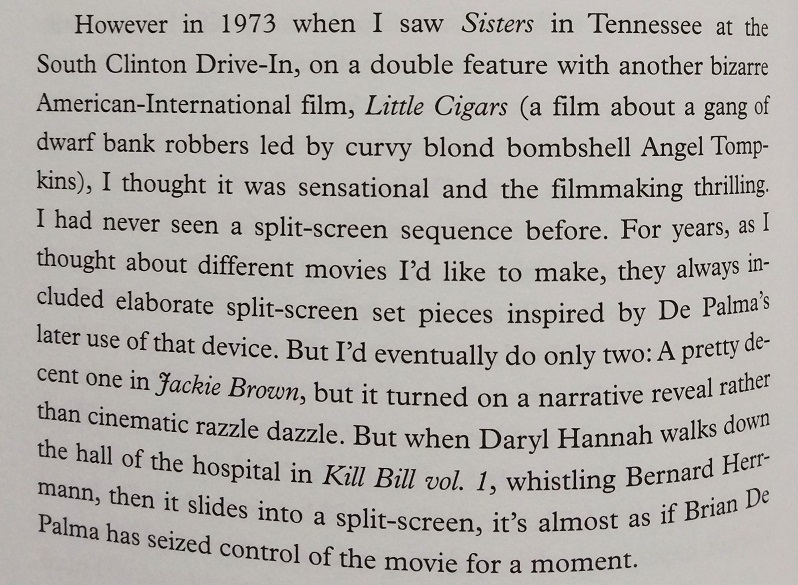 Previously:

Posted April 13 2004
TARANTINO TALKS KILL BILL
EXPLAINS HIS "LITTLE BRIAN DE PALMA SCENE"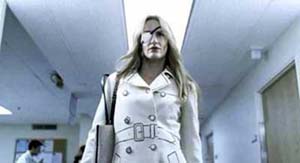 It seemed logical that the split-screen sequence in Quentin Tarantino's Kill Bill Vol. 1, where Daryl Hannah dons a nurse's uniform and whistles a Bernard Herrmann melody while carrying a deadly syringe down a hospital corridor, was inspired in great part by a combination of Brian De Palma's Sisters and Dressed To Kill. On the new DVD release of the film, Tarantino even calls it his "little Brian De Palma scene." But the filmmaker tells Premiere that this particular split-screen sequence was inspired by the trailer for a John Frankenheimer film-- a scene in the trailer that was cut and scored differently than it was in Frankenheimer's film. Tarantino explains that he does not duplicate other directors' shots when he references their films in his work, but rather "a feeling in the shot or an aspect about the shot I liked." He then explains how he has a collection of 35mm trailers from movies, particularly from the '70s, and how these trailers are works of art in and of themselves in that they used techniques that Tarantino likens to the work of Godard. Having seen the films that these trailers promote, Tarantino claims that many of the scenes or sequences shown in the trailers are not in the actual films. "It's just in the trailer," he tells Premiere:
There's this one trailer for Black Sunday by John Frankenheimer that has a scene in it that's done differently than it is in the movie. It's amazing. There's a scene in the movie-- it's like, you know, killer terrorist shit-- where Marthe Keller is going to kill Robert Shaw, who works for the Israeli Army. He's in the hospital, so she dresses up like a nurse with a syringe full of lethal injection, and she's going to go into his hospital room and inject him. Well, in the movie it's an okay sequence, but not really that special. They don't really milk it that much. It's routine.
But in the trailer for the movie, when it gets to showing us that sequence, they do the whole thing in split screen. And where they just had natural sounds playing in the movie, they have John Williams's Black Sunday theme [humming the tune] pulsing through the whole trailer, so it's just ticking beats to the images. This is not in the movie anywhere. This is one of the best split-screen sequences I've ever seen.
So for Kill Bill, I say, "We're doing this when Elle Driver shows up at the hospital."
And then I have another, like, weird movie reference in there because I have Daryl Hannah whistling-- she learned how to whistle Bernard Herrmann's theme to this movie called Twisted Nerve. And the thing is, when she leaves the frame, the Bernard Herrmann score kicks in, you hear the same theme done in this lush Bernard Herrmann melody, and then it goes into split screen and it looks like I'm doing an homage to Dressed To Kill-era De Palma.
Bernard Herrmann scored two De Palma films: Sisters (1973) and Obsession (1976). Daryl Hannah made her film debut in De Palma's The Fury (1978), which was scored by John Williams. One character, Bobbi, steals a nurse's uniform to wear in De Palma's Dressed To Kill (1980). Sisters and Dressed To Kill each feature memorable split-screen sequences.