STUDENTS POSE ON STAIRS WHERE 'CARRIE' WAS FILMED
AND THEY'RE HOSTING A SCREENING OF THE MOVIE SATURDAY, INSIDE THAT HERMOSA BEACH BUILDING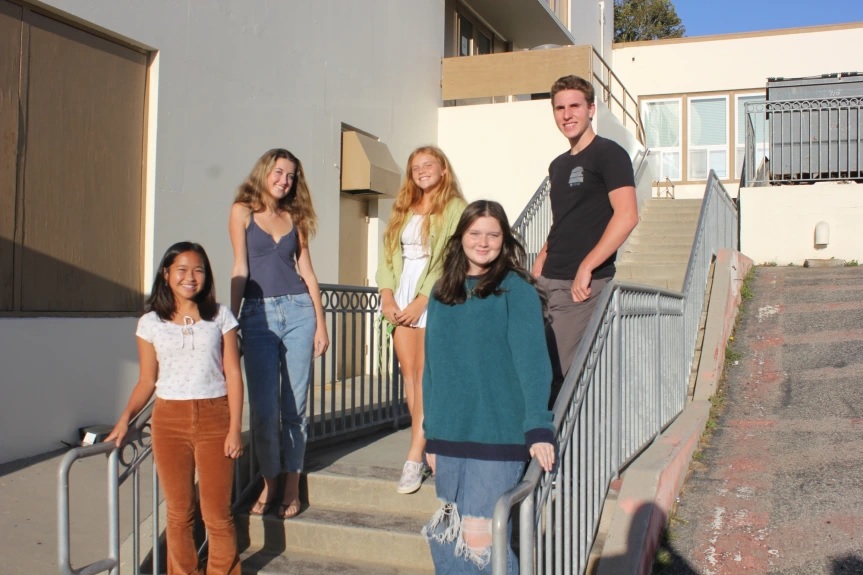 "Admission is free with a $2 charge for pizza,"
Michael Hixon states at the end of today's Daily Breeze article
. The photo above comes from the same article, showing five South Bay teenagers standing on the stairs that featured in
Brian De Palma
's
Carrie
. The teens will host a free screening of
Carrie
inside that building, which is now the Hermosa Beach Community Center, this Saturday, October 30th, at 6:30pm (and the pizza, of course, for an extra two dollars). Here's more from Hixon's article:
In 1975, when the film was made, the community center was the just-closed Pier Avenue School, on the corner of Pacific Coast Highway and Pier Avenue in Hermosa Beach. The art deco building today operates as a theater and public gymnasium, and is the home to the Hermosa Beach Historical Museum.

The building's exterior and the outside stairway in the back played pivotal roles in "Carrie," according to Jack Fisk, an art director on the film who has also been married to Spacek since 1974.

Pier Avenue School was one of three schools used to represent Bates High in the film, Fisk said in the 2001 documentary "Visualizing Carrie." The bone-chilling final indoor scene was shot on a sound stage to take advantage of special effects involving fire, he said.

This week's film screening, hosted by students from Mira Costa and Redondo Union high schools, will include a 1970s-themed costume party and a discussion of the film's Hermosa Beach history.

Jamie Erickson, director of operations at the Hermosa Beach Historical Museum, will also show off a portion of the girl's shower stall with the original pink tile that was part of a key scene. That part of "Carrie" happens early in the film, when classmates tease the shy Carrie White, whose fanatically religious mother fails to tell her what to expect when she gets her period.
Two additional photos are included in the Daily Breeze article. One shows the pink tile that has been preserved from the time of filming: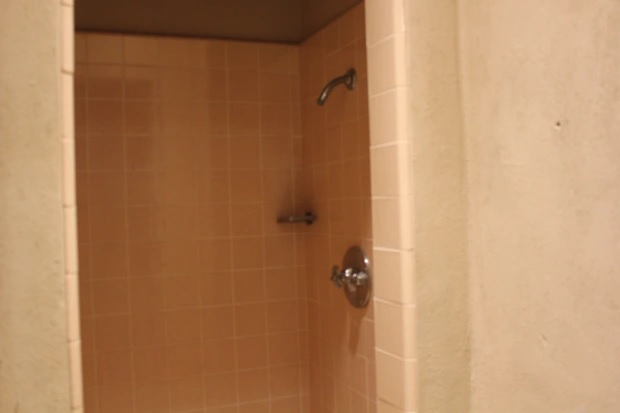 The other photo was taken at a 2018 screening of Carrie at the Hermosa Beach Museum. It shows the shower that can be seen in the film, and which is currently in a city storage area at the Hermosa Beach Community Center and is not accessible to the public: