'SISTERS' ON FSR 10 BEST HORROR-OPENING-CREDITS LIST
SCORED BY BERNARD HERRMANN, SEQUENCE WAS EDITED BY PAUL HIRSCH FROM A SWEDISH DOC LENSED BY LENNART NILSSON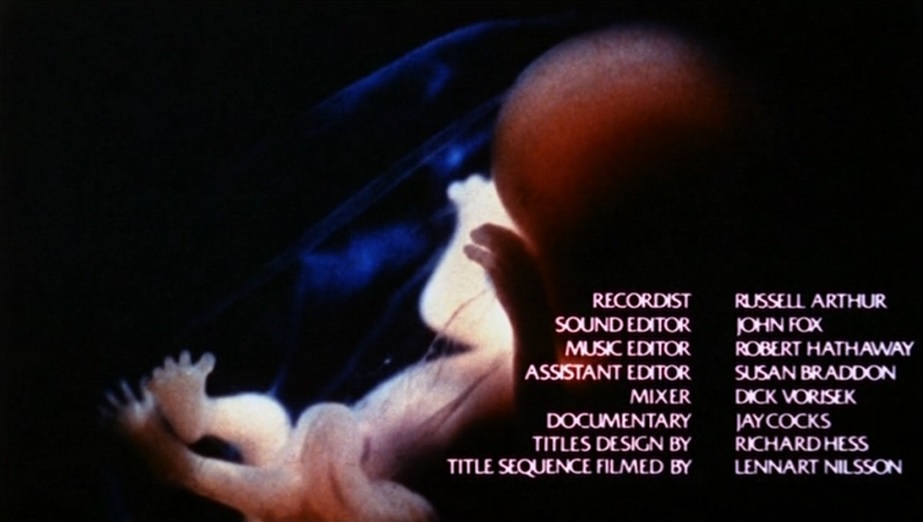 "The main title sequence Benny had insisted on began to take shape," writes
Paul Hirsch
about
Sisters
in his book,
A Long Time Ago In A Cutting Room Far, Far Away
. "We found a Swedish documentary that featured the world's first intra-uterine photography of developng fetuses. Borrowing shots from it, I constructed a montage of close-ups of body parts: a hand, an eye, an ear, and so on. In the final shot we reveal that there are two babies, twins. It was very effective and laid the groundwork for the movie's backstory.
"Benny's music, when it arrived from the sessions in London, was astounding to me. The main theme was based on the universal child's singsong playground taunt, nya-nya nya-nya nyaahh-nyaahh. His deranged version of this melody included metallic sounds; tubular bells struck with hammers, which suggested knives; and also Moog synthesizers howling a kind of demented accompaniment. The effect is immediately unsettling, even overwhelming. Variety's review of the film would later say that 'Herrmann's score would make blank film compelling.'"
Two days ago, Meg Shields shared a few words about the title sequence from Sisters, as it was included at number seven on Film School Rejects' "10 Best Opening Credits Sequences in Horror Films"...
Featuring cinematography by accomplished Swedish medical photographer Lennart Nilsson, the opening sequence to Brian De Palma's Sisters is an unnerving melding of the satanic and the sacrosanct: two fetuses, rendered alien, imposing, and devilish under Nilsson's macro lens. As the titles roll and the embryonic humans loom, the aural anxiety is ratcheted up to a fever pitch thanks to the shrieking strings of Bernard Herrmann, whose plinking, swooping score endows each close-up image with an uncanny sense of monstrosity. A montage of sinister fetus close-ups is the perfect way to kick off a film at the intersection of Hitchcock, giallo, and the psychosexual sci-fi fare of David Cronenberg. Sisters embodies essential 1970s genre film wickedness. And what could be more wicked than endowing the unborn with a palpable sense of menace?