MEGAN ABBOTT TWEETS 'CARRIE' - 'DARE ME' ECHO
FIRST EPISODE OF CHEERLEADER DRAMA OPENS WITH DIRECT HOMAGE TO 'CARRIE'
Megan Abbott
is co-showrunner of the TV series
Dare Me
, which ended its first season last month on the USA Network. The series is based on Abbott's 2012 novel of the same name. A week ago, Abbott tweeted the above juxtaposed images from
Brian De Palma
's
Carrie
and the very first episode of
Dare Me
. The latter, which originally aired last December, was written by Abbott and co-showrunner
Gina Fattore
, and directed by
Steph Green
.
Back in December, Abbott talked to Refinery29's Leah Carroll about why so much of her writing is about teenage girls, and also about the visual look of the pilot episode:
Refinery29: Dare Me is adapted from from your crime novel of the same name — so many of your books are about teenage girls. Why do you think you return to that subject in books, film, and TV?

Megan Abbott: "I think we're all in some ways haunted by our adolescence. It is sort of that moment, especially for women, when you really decide who you are and what you want and what you don't want. Teenage girls are just on the cusp of adulthood and they crave experience, but might not always be quite ready for it when it comes. And it just is such a precipice age and just so ripe for drama. And I think as a culture, we so mistreated the subject and are so diminishing of young women. There's a stereotype of these selfie-taking, vapid girls we see so much in media and in film and TV, but we know it's obviously not true. Adolescence is a time of roaring complexity for young women. It's endlessly fascinating. I would really only write about teenage girls."

Visually the show is so stunning. The girls are shot covered in glitter but it looks like war paint. What was behind that aesthetic choice?

"Well, the 'war paint' thing comes straight from the book. And my novels are so influenced by movies. So I do think when I'm writing, I'm also creating a visual image. But it really was so much a part of a pilot director, Steph Green, who really established the look, and our director of photography on the pilot, Zoe White, who does handmade palettes. And together with Gina Fattore, my co-showrunner, we really had all these visual ideas that we wanted to use to tell a story that is very internal. We really wanted to find a way to convey these inner feelings through visuals because you're not always really able to articulate those feelings at that age.

"So we wanted to go with a slightly elevated style to reflect how it feels to be a teenage girl, where the colors are even brighter and the world is more intoxicating and mysterious. All of that was part of the very first discussion, even when we were pitching the show. we really wanted this to be, you know, Virgin Suicides-esque: that kind of dreaming, moody, murky, dark. We had this amazing production designer, Michael Bricker, who also did Russian Doll. And he had this great idea that the girls would be the one pop of color in this sort of gray, muddy-looking, weary city. And so it was this great collaborative effort to try to bring this interior life of teenage girls to a visual form."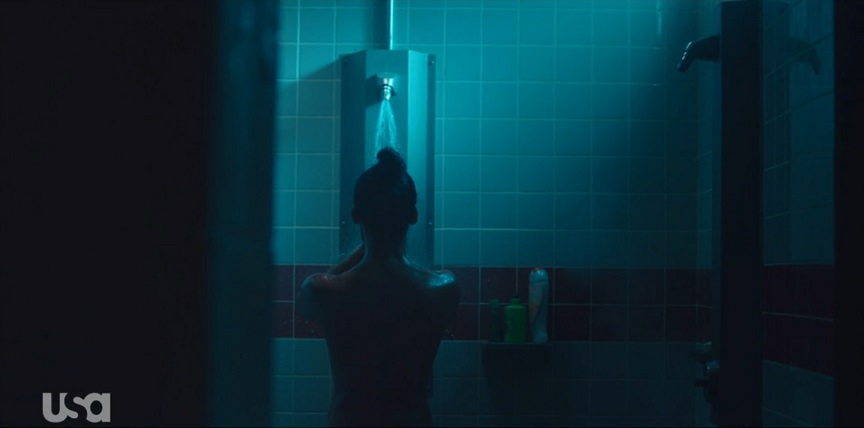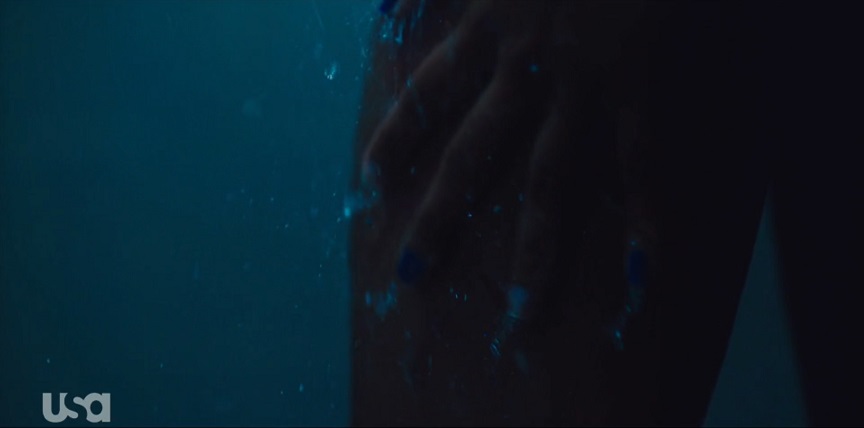 PREVIOUSLY:
Friday, November 16, 2012
MEGAN ABBOTT INFLUENCED BY LYNCH & DE PALMA
"I CAN NEVER THINK OF A FEMALE LOCKER WITHOUT THINKING OF THE BEGINNING OF 'CARRIE'"
Megan Abbott
's latest book,
Dare Me
, takes place in the world of high school cheerleading, and has been described as
Heathers
meets
Fight Club
. Abbott is currently working on the screenplay adaptation of
Dare Me
for a film version in development with producer
Karen Rosenfelt
at Fox 2000. In an interview with
William Boyle at Fiction Writers Review
, Abbott discusses, among other things, the influence of
David Lynch
and
Brian De Palma
on
Dare Me
. Here are the first few paragraphs of the interview:
--------------------------------------
William Boyle: You cited Twin Peaks as a big influence on The End of Everything and you mentioned Laura Palmer in your article about competitive cheerleading for The New York Times a few weeks ago. I feel David Lynch's presence in Dare Me, as well. There's a Laura/Donna dynamic between Beth and Addy and a very palpable erotic tension throughout. Did Lynch influence Dare Me?

Megan Abbott: With me, it's never one-to-one or conscious exactly. But this is interesting: when I had the title for The End of Everything I watched Mulholland Drive again and it's a line in that film: "This is the end of everything." Someone told me, "Oh, it's also a line in your first book" [Die A Little], which I had written the year Mulholland Drive came out, so clearly that line is/was tattooed in my brain. So I think it mostly comes out in unconscious ways.

But that's a great analogy. The Laura Palmer/Donna relationship is such a fundamental female friendship dynamic and that's a perfect example with Beth and Addy. There's always the one friend who takes all the air out of the room or is such a presence and the other one who is secondary and is longing to be that bigger person. There are those moments when Maddy comes and looks like Laura and then Donna realizes that she's going to be dethroned again. There's something about that complicated female dynamic that I think has been a pulse through a lot of my stuff.

And then sometimes I look at Lynch when I'm trying to add odd tensions to a scene. I get that a lot from him. It's never direct either. But I'll just sort of watch a bunch of his stuff to remind myself of why things are scary that wouldn't necessarily seem scary. There's a scene in Dare Me where Beth is talking about a dream she had and that definitely feels like a Lynch kind of thing. You know, when someone's telling you the dream, but they're telling it in a way that it becomes terrifying to the listener.

Also, in Lynch's films everything is infused with eroticism. That's something that's probably characteristic of maybe all my books, but certainly the last two where it's adolescence, so it takes over everything anyway.

William Boyle: Early in the book you confront the fetishization of cheerleaders head-on: "All those misty images of cheerleaders frolicking in locker rooms, pom-poms sprawling over bare bud breasts. All those endless fantasies and dirty-boy dreams, they're all true in a way." This put me in mind of Brian De Palma. It's almost as if you're playing a kind of trick he'd play, making us believe that's true but yet undermining it with the portrait of the Cheerleader Real that you wind up painting. Was that your intention?

Megan Abbott: Absolutely. De Palma. I can never think of a female locker without thinking of the beginning of Carrie, which is exactly what "dirty boy-dreams" I had in mind. And it's funny because I always feel like I go both ways with that. I love De Palma. I'm a big De Palma fan. And I want to diffuse the fantasy, but then it also turns out to be partially true. That's always the thing—it's the two sides of me. My Times essay is my intellectual take. I want this to be real. But when I write, it's a different part of my brain—it also wants it partially to be a fantasy. And for it to be a fantasy part of it has to be true. So there are moments in the book where the fantasies are made real, they are kind of literal, there is a sensory pleasure the girls get from each other's bodies even in just touching each other during stunts. I wanted that to be in there. The sort of thinking feminist part of my head wants to puncture this stuff, but the other part of me knows it is part of the Real in some ways, that all fantasies have some basis in reality. People always say De Palma's a misogynist, but I think he's actually really a feminist. And I think he gets to have it both ways. I mean, that's sort of his trick. He's making fun of it, but he's still indulging it.