JOHN C. REILLY - HUMOR, DRAMA, 'CASUALTIES OF WAR'
"HE'S A FUNNY CHARACTER WITHIN A VERY SERIOUS MOVIE"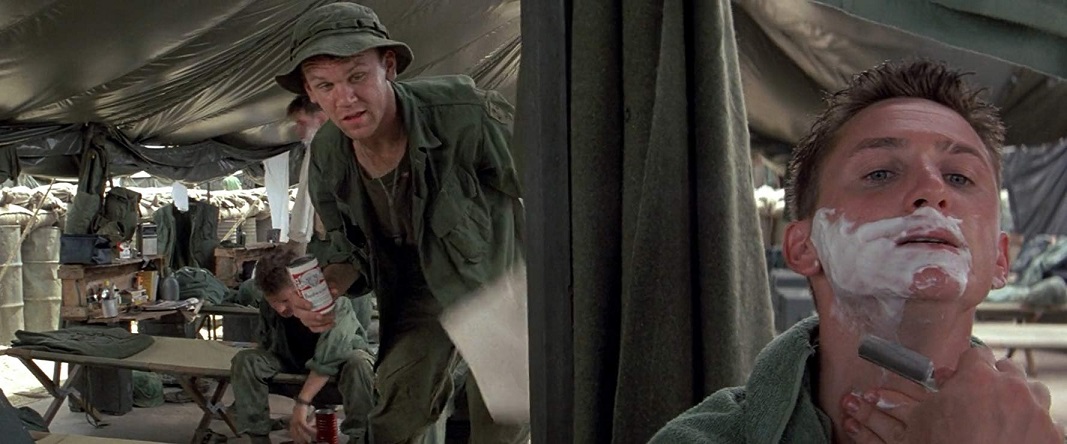 John C. Reilly
sat down for several interviews last week at the Toronto International Film Festival to promote
Jacques Audiard
's
The Sisters Brothers
, which Reilly stars in (with
Joaquin Phoenix
) and also co-produced with his wife,
Alison Dickey
. At least two of those TIFF interviews have led to some discussion about Reilly's film debut in
Brian De Palma
's
Casualties Of War
(which Sony has just released on Blu-ray for the first time, but not with the extended director's cut). Here are a couple of links and excerpts:
When you hear stuff like this, you can understand why directors liked working with Reilly right from the beginning and why Sean Penn, of all people, suggested De Palma give Reilly a lead role in Casualties of War. "I think Sean saw something that I always aspire to be," says Reilly: "Guileless."

The Casualties story is amazing. After graduating from the Theatre School at DePaul University, Reilly worked at Chicago's Steppenwolf Theatre, then flew to Thailand to be a "day player" in De Palma's war film. When a supporting actor was fired, Reilly got a bigger part. After flying home to the U.S., he learned another actor had been fired and De Palma and Penn wanted him back to play one of the leads. He'd missed the last flight of the day going west across the Pacific, so he flew, he says, "across America, across the Atlantic, over to Asia, and then down back down to Bangkok," where he was promptly whisked to the set, given a haircut and a costume, and escorted to a rice paddy, where he had to pretend to snooze and be jarred awake.

I ask what he thinks they saw in him, and he tells me about the days in "a weird conference room" in a Thai hotel: "It's full of guys trying to out-impress each other, because Sean sets a high bar. The two guys that got fired were doing that shit: 'I'll out-Method you. I'll outdrink you after work. I'll fucking say something insulting to you because you think you're such a fucking hotshot actor.' I'm like, 'Guys, What are you doing? Are you insane? You can't say that to that person. Aren't we trying to put on a play?' "

"A play," as in what he was doing in Chicago, where actors who pull out-Method-you shit don't last. "You're not going to get discovered in Chicago," he says, "the way you might in New York or L.A., so that takes some of the pressure off. You're part of an ensemble. You're there to play." In that Bangkok hotel, he says, he was ready to do anything. "I'd go nuts. I'd read not just my part but an old Vietnamese man or whoever wasn't there. 'Have John do it,' they'd say." Penn was so taken with Reilly's gung ho spirit that he recommended Reilly for parts in We're No Angels (1989) and State of Grace (1990). As a bonus, on Casualties Reilly met Dickey. She was Penn's assistant.
Mike Ryan, UPROXX
Speaking of more relevance, you're never going to admit to this, but it felt like you were making a statement in this movie. I looked and 26 of your first 27 movies were dramas.

That never occurred to me. When my wife read me that part of that review, I was like, "Wow, that's amazing. I should start using that line: Well, I made 26 before I did any comedies!"

I feel like you're on screen going, look, I can carry a drama Western, how about that?

You know, the truth is, I don't really have to remind people. My work has a lot of variety to it and the last few things I've done haven't been comedy. And even though, like you say, the first 26 movies I did were not necessarily thought of as comedies, but I was often a funnier character. Even my first movie, Casualties of War, he's a funny character within a very serious movie.

That was on TV the other day and I was shocked when you showed up in it.

Yeah, it was the first time I was on an airplane! The first time I left the country. It was a surreal time.

Your first director was Brian De Palma.

I know, Sean Penn and all these people. The thing is, I would never lecture an audience (over not being remembered for dramatic work).

It would be funny if you did. "Look, people…"

"You forgot!" No, because the truth is, I actually feel really grateful to audiences. Because actors often get stereotyped into things and it's not their fault. It's often because an audience wants people to be a certain way. They find you really appealing when you play this kind of role and they want that over and over again. And I feel really lucky and grateful that, over the years, the audiences allowed me to be all these different things. So even though certain kinds of moviegoers might know me for comedy, it just depends what you're into. At this point, I've made almost 80 movies or something. So the chance is that I've made some kind of movie that you like at some point in my life.