DAVID SIMS: 'THE MARTIAN' IMPROVES UPON 'M2M'
DE PALMA'S FILM "IS BETTER WHEN IT FOCUSES ON THE SCIENCE, LOSES GRIP WHEN STORY TURNS HOKEY"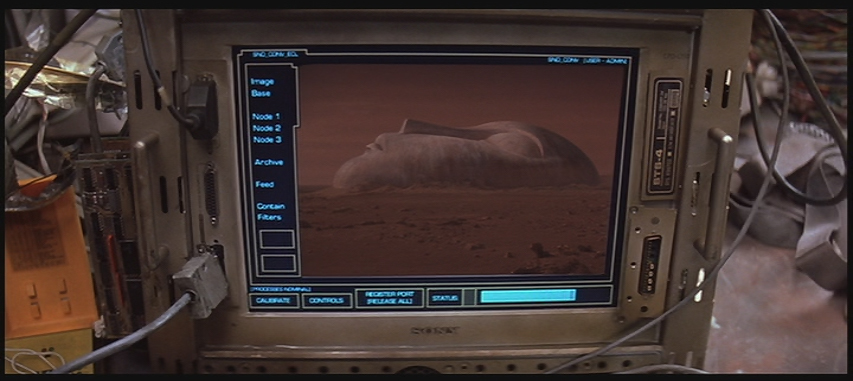 David Sims, associate editor for The Atlantic, covering culture:
"In 2000, two films emerged that were obviously inspired by recent successful NASA missions that uncovered evidence Mars had once borne water (and possibly life). As such, they felt less rooted in that Western spirit—instead, both serve as darker parables on the dangers of exploration. Antony Hoffman's Red Planet, starring Val Kilmer and Carrie-Anne Moss, is a grunting techno-thriller with a terrific electronic score but horrible, muddy visuals. In the 2050s, Kilmer's character and his NASA team discover evidence of giant insect life on Mars, somehow awakened by human exploration. It's ultimately a grim tale of survival against the odds, with its colorful ensemble (including Terence Stamp and Benjamin Bratt) getting picked off one by one. At the end, Kilmer blasts off the surface with a middle finger raised to it, screaming 'Fuck this planet!' Budgeted at $80 million, Red Planet grossed only $33 million worldwide.
"Brian De Palma's Mission to Mars is a more elegant beast in the hands of a director who happily apes Stanley Kubrick's greatest hits from 2001. The film is most assured when its crew is in space, en route to Mars to rescue the survivors of an exploration mission gone wrong. It also plays on some of the planet's most recognizable and strange surface features, like the Cydonia region that features an outcropping that looks, from satellite imagery, like a giant face. But on the whole, Mission to Mars feels like a religious pilgrimage. There are nasty moments, like when a sand tornado rips one astronaut into pieces, but the film dwells on its final realization that the planet once harbored alien life that seeded human existence on Earth. Like its genre-mates, Mission to Mars is best when it focuses on the science, and it loses its grip when the story turns hokey.
"That's the ultimate achievement of The Martian. When Watney grows his potatoes, the director Ridley Scott makes each sprout feel like an achievement; every effort to cross Mars's terrain follows weeks of forethought. Though it's lacking Martians, ancient edifices, or even a threatening algae bloom, it comes closest to Burroughs's original romantic conception of the world as one so similar, yet so frighteningly different to the one we know. There's a reason pundits are predicting the film will set off renewed interest in manned exploration of the Solar System. Though Watney clings to survival throughout, the idea of creating life and a home in such an empty new world is as challenging and stirring as the most idyllic visions of the Wild West."