DE PALMA ATTENDED NYFF SCREENING MONDAY
TO SEE HIS FRIEND MATHIEU AMALRIC'S NEW MOVIE, 'THE BLUE ROOM'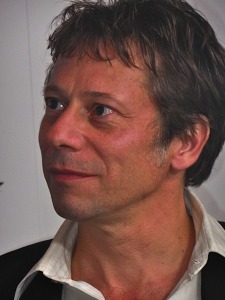 French superstar actor
Mathieu Amalric
, who gives a truly great performance in
Roman Polanski
's latest film,
Venus In Fur
, co-wrote, co-stars, and directed the psychological thriller
The Blue Room
, which screened at the New York Film Festival Monday night. The film is based on an early '60s mystery novella of the same name by
Georges Simenon
. While discussing the film with
Showbiz 411's Paula Schwartz
on the red carpet at the fest's Monday night screening, Amalric spotted
Brian De Palma
, who was there to see the film, and the two made plans to meet up later. Here's the passage from Schwartz' article, from which the photo seen here was taken:
------------------------------
[Discussing why he chose to do The Blue Room] "It was I think a sort of love for a genre and to do a small budget film quickly, a police film, with love as a theme. It is about this sexual attraction that we are all capable of falling into and the fact that those moments you are someone else but maybe you are in fact yourself in those moments and you're not allowed to live that."

Added the charming actor who looks a bit like an elf, "You have to restrain that inside you in every day life, the fact that the body just talks at your place and you have to listen to it and that's, I don't know…Oh God!" Amalric called out. He just spied famed director Brian De Palma on the other side of the barricades where no one else noticed him.

De Palma came racing over to the red carpet and hugged Amalric, who thanked him for coming.

"The film is not long," Amalric told the "Dressed to Kill" director. They made plans to meet afterwards at a restaurant around the corner.

After De Palma went inside the theater, Amalric– who played the villain in "The Quantum of Solace" — pretended to bite his fingernails in nervousness.
----------------
The next day, Schwartz posted a slightly reworded version of this story in her
Reel Life With Jane
column, adding, "Amalric seemed surprised and touched that De Palma was there to see his film... After De Palma went into the theater, Amalric turned to me and said softly, 'That was Brian De Palma.' Nervously, he pretended to start biting his nails. Then looking a bit like a charming elf, he smiled with those hugely expressive eyes and walked lightly into the theater."
O'HEHIR: 'THE BLUE ROOM' MAKES FASCINATING EUROPEAN COMPANION PIECE TO 'GONE GIRL'
In his Salon review of The Blue Room, Andrew O'Hehir states that Amalric's film "makes a fascinating European companion piece to David Fincher's Gone Girl." O'Hehir adds, "I suppose it's just coincidence that both movies are premiering at the New York Film Festival and then opening in theaters right away, but it feels like fate. In relative terms, almost nobody will see Amalric's movie, and that's too bad: Like Gone Girl, it's a study of a middle-class marriage in terminal decay that contains both a dreamlike, symbolic level and also a more conventional murder mystery, built around the archetype of the 'dangerous woman.' But this film hews an entirely different path to reach essentially the same destination."