'PASSION' & CANNES UPDATES
eONE CONFIRMS AUGUST RELEASE DATE FOR 'PASSION'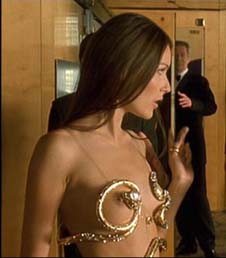 Thanks to Lindsey for
tweeting eOne
to ask for clarification on the U.S. release date for
Passion
. They tweeted back that "
Passion
will be in August." The distributor has already begun posting
Passion
teases on its
TwitPic page
, and have noted the August release date on its Facebook page, but with only generic dates so far (August 1 for VOD and August 31 for theatrical release, neither of which is likely to be the actual date for either).
Meanwhile, a
BBC news report
this morning has shades of De Palma's
Femme Fatale
, which centers around a jewelry heist at the Cannes Film Festival. According to the BBC report, "More than $1m (£650,000; 777,000 euros) worth of jewels have been stolen from a hotel in Cannes, French police say. The jewels were to be loaned to celebrities who have arrived on the French Riviera for the famous annual film festival. They were stolen from a safe in the Novotel Hotel room of an employee of exclusive Swiss jewellers Chopard. Chopard is one of the official sponsors of the festival, which opened on Wednesday." The theft in De Palma's film is different, of course, with the jewels being stolen almost in plain sight off of the model's body. The BBC report also notes a curious resemblance to
Sofia Coppola
's
The Bling Ring
: "The theft happened on the same day that the festival was shown
The Bling Ring
, a new film by director Sofia Coppola about some high-school students who find out when celebrities are attending red carpet events in order to break into their homes and steal their designer clothes, bags, and shoes."
On a final note, several tweets this morning mention that De Palma attended a Cannes screening of Katell Quillevere's Suzanne.