DE PALMA & BEN SAID WORKING ON NEW PROJECT
ALSO: THE TWO ACTRESSES DE PALMA HAD ORIGINALLY APPROACHED FOR 'PASSION'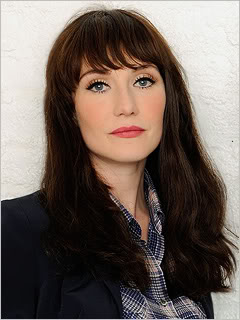 At left is
Carice Van Houten
, who, according to
CineObs' Nicolas Schaller
, was originally going to play Isabelle in
Brian De Palma
's
Passion
, but had to drop out as she was unavailable during the planned shooting schedule. The part, of course, went to
Noomi Rapace
. Schaller also notes that De Palma had originally offered the part of Christine (played by
Rachel McAdams
) to
Uma Thurman
, an actress De Palma has considered for roles on past projects, but who has never actually appeared in one of his films.
"A KIND OF FILM TESTAMENT"
Toward the end of the article, Schaller states that De Palma currently has two projects in development. One of them is the previously-announced
Happy Valley
with
Al Pacino
, but the other has not been mentioned publicly until now. There was no title given, but it is being developed with
Passion
producer
Saïd Ben Saïd
, who told Schaller: "This is a film about cinema that is not devoid of humor or cruelty. It happens on a shoot between a director, an actor and an actress. De Palma wrote it by drawing on things that have happened to him. It is a kind of film testament." (Definitely sounds like one to look forward to.)
"THE WORLD OF MY FILM IS SURREAL"
Ben Saïd told Schaller that he proposed a remake of Love Crime to De Palma, and sent him a DVD. "24 hours later," he said, "De Palma called me to say he wanted to do it." De Palma told Schaller that he changed the story "to further exploit the tension and mystery. The world of my film is surreal." He added that he envisions Passion as a return to the fundamentals of cinema, but in a new context.
DE PALMA ON JURY DUTY IN NEW YORK
The article opens by explaining that while De Palma was supposed to go to France to promote Passion, "the American filmmaker was indeed stuck in New York, assigned by the judicial officer as a juror in a big criminal trial." Thus the interview was conducted by phone, although Schaller notes that ironically, De Palma was able to free himself later after the defense counsel challenged De Palma's place on the jury, "when he learned he had to deal with the director of Scarface!"
OVERPRAISED & OVERRATED
Schaller's opinion of Passion is that, while not a displeasing film, it is "a lazy self-parody" that nevertheless "does not prevent its usual apologists of the French critics to argue that it navigates the genius of Dressed To Kill and Body Double." Schaller's article ends by asking De Palma which classic film he deems has been overrated. "When, in the 1950s," De Palma replied, "critics began to realize that Hitchcock was a great director, they began to praise everything he did. But later films such as Torn Curtain or Topaz prove that his career was behind him. They are not worthy of Hitchcock at his best."