CRONENBERG ON HOW/WHY MOVIES GET MADE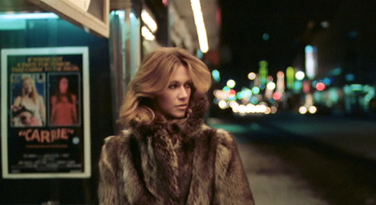 Vulture's Jada Yuan
recently interviewed
David Cronenberg
, who delved into a frank discussion about the way projects come and go in a filmmaker's career. As some here have had questions about why some De Palma projects seem to disappear, or struggle to get financed, or even how he almost got involved with
Paranormal Activity 2
, it seems useful to excerpt the following passage in which Cronenberg urges folks to lose their preconceived notions about why filmmakers make the films they make. It starts when Yuan seems to be trying to find "a through line" from Cronenberg's earlier horror films, to his latest film,
A Dangerous Method
:
A lot of critics, though, have talked about how this isn't necessarily a natural through line for your career. That A Dangerous Method doesn't seem as natural a progression from even Eastern Promises.
That's totally, totally irrelevant. See, this is very common. I'm often telling critics that they should not confuse their process with mine. I don't care what movies I've made before. I don't care what people think is Cronenbergian or not. It's irrelevant to me. It's as though I'd never made another movie when I'm making this movie. There's nothing that I can take from those other movies, or what people think that I do, that is creatively of use to me. When I'm making this movie, once I've decided that yeah, this is a subject that interests me, I'm going to make this movie, I just focus on it. It's of the moment. The movie tells me what it wants. I listen to the movie; it tells me what it wants in terms of style, visual style, dramatic style. And I have no desire to impose some preconceived idea of Cronenbergness on the project. The movie grows organically out of itself rather than having me impose some sort of pattern or template on it. So, to me, all talk about natural progression from one movie to another is completely irrelevant. And the other thing is, too, what is amusing to me is what is assumed, even if it's not exactly expressed by these people who write this stuff, is that I have total control over what I do, and when. It's like, "Oh no, I think at this point of my career I shall do a biopic. Because I have not done that before, and I need to show that I can do that." They probably think that's exactly how it goes. Well, not really. It's like, this movie is the one that got financed, so that's why I'm doing it now. I might have done it ten years ago — which is actually when I approached [playwright] Christopher Hampton to do it. But we couldn't get the financing. Christopher thought maybe he wanted to direct it. I would've done it ten years ago, if all of that had come together. You see? So all talk about natural progression is kind of a laugh for me. Because it has nothing to do with the reality of moviemaking. And particularly, movie financing.

Are you more able than others to jump from subject to subject because of who you are? At this point, does your reputation allow you to do whatever you want to do?
No, it's the reality of filmmaking. Look, I talked about it with Marty Scorsese, because people think that Marty can do anything he wants. Because he's Marty, right? He can't! He's got projects that he can't get off the ground, because people think they won't make enough money, or they're too expensive, or any of those things. So, maybe Spielberg can do almost anything he wants — although I did hear he had trouble getting Schindler's List actually made — [but] money talks. We're all completely vulnerable to the financial environment. I think of moviemakers as being like amphibians. We're like the frogs with the thin skins. We're the first ones to react, to have an allergic reaction to the toxicity of the air. When the financial meltdown came, it really affected what movies you could make. Sources of financing dried up, sources of distribution folded. Warner Independent disappeared. Places that you used to go to be able to pre-sell your film, suddenly you couldn't pre-sell your film. And that meant that only the most blatantly commercial, repetitive movies like sequels and remakes and stuff could get made. So all of those things, when people are being theoretical and analytical about why you made this movie now, they ignore all that stuff. And they're ignoring the actual reality of moviemaking, that's what I mean.